Family trapped atop waterfall send SOS message in plastic bottle and someone finds it
Dad, partner and son were stranded and desperate – but long-shot plan resulted in helicopter rescue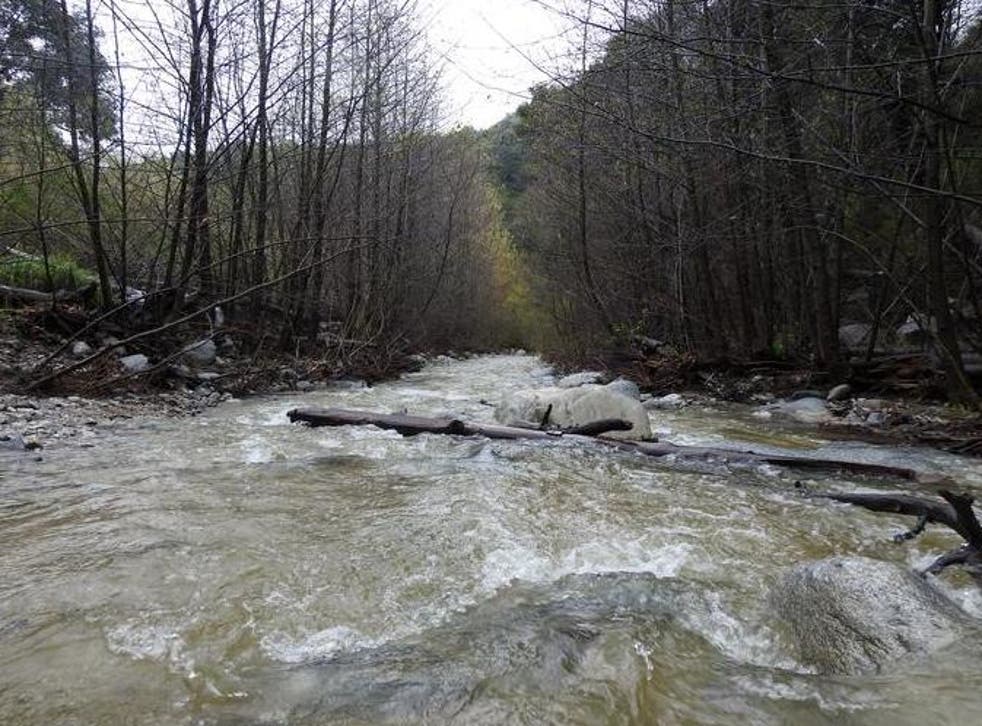 It was a desperate act of hope by a father fearing he had brought his family into mortal peril.
When Curtis Whitson found himself, his partner, and his 13-year-old son trapped atop an isolated 40-foot waterfall in California, his only solution for possible escape was a plan he did not dare dream could really work.
He scrawled a message on a bar tab which the trio happened to have with them, placed it into a plastic bottle, scratched "HELP" on the side and threw it into the raging water below.
Within hours, a helicopter search team had launched a rescue – after hikers downstream saw the bottle and called emergency services.
Now, the family have opened up about their remarkable escape while on holiday in June.
"It blows me away how it all came perfectly together," Mr Whitson, 44, told The Washington Post. "What are the odds?"
World news in pictures

Show all 50
The answer, it seems, is: long. They're very long.
California Highway Patrol, which performed the airlift rescue, said it had never before extracted anyone from a life-threatening situation after being alerted to their plight by a message in a bottle.
"A lot of pieces fell into place just right for these folks," said Joe Kingman, the helicopter pilot who found the family.
The astonishing episode started as Mr Whitson, a self-employed door repairman, hiked down the Arroyo Seco tributary with son Hunter and partner Krystal Ramirez, a bartender.
At the top of the 40-foot waterfall, they had expected a rope to assist hikers descend the treacherous drop – but it had broken away. There was no way down. Looking up the gorge they had penetrated to this point, they realised there was also no way to climb back up and out. Their phones had zero reception.
"It was a little scary," said Hunter with apparent understatement. "We hadn't seen a single soul the entire trip."
So, Mr Whitson tried his water bottle trick.
He scratched "HELP!" on each side, scribbled the SOS note – "WE ARE STUCK HERE @ THE WATERFALL GET HELP PLEASE" – and signed off with the date before tucking it inside the bottle and throwing it over the rocks.
"We've done all we can do," he recalled saying. "The only thing left to do now is wait."
They did not have to do so for very long.
Within hours, at about midnight, the trio were woken by a helicopter and voice from a loudspeaker: "This is search and rescue – you have been found. Stay put and we'll be back to get you tomorrow morning."
Two hikers a quarter of a mile downstream had, it turned out, spotted the bright green bottle, read the note and headed to the Arroyo Seco Campground to alert emergency workers.
Support free-thinking journalism and attend Independent events
Although it was quickly growing too dark for a rescue operation, California Highway Patrol helicopter pilot Todd Brethour decided to do a flyover with his crew before the end of their shift.
Using night vision goggles and infrared technology to detect heat from a campfire, they were able to spot the stranded trio and alert them they had been found.
The next morning, 16 June, a second helicopter crew arrived at 10am to airlift them to safety.
Register for free to continue reading
Registration is a free and easy way to support our truly independent journalism
By registering, you will also enjoy limited access to Premium articles, exclusive newsletters, commenting, and virtual events with our leading journalists
Already have an account? sign in
Register for free to continue reading
Registration is a free and easy way to support our truly independent journalism
By registering, you will also enjoy limited access to Premium articles, exclusive newsletters, commenting, and virtual events with our leading journalists
Already have an account? sign in
Join our new commenting forum
Join thought-provoking conversations, follow other Independent readers and see their replies