Leading #MeToo sexual harassment campaigner accused of groping man
Cristina Garcia allegedly squeezed buttocks of male staffer from another politician's office
Tom Embury-Dennis
Friday 09 February 2018 17:22 Comments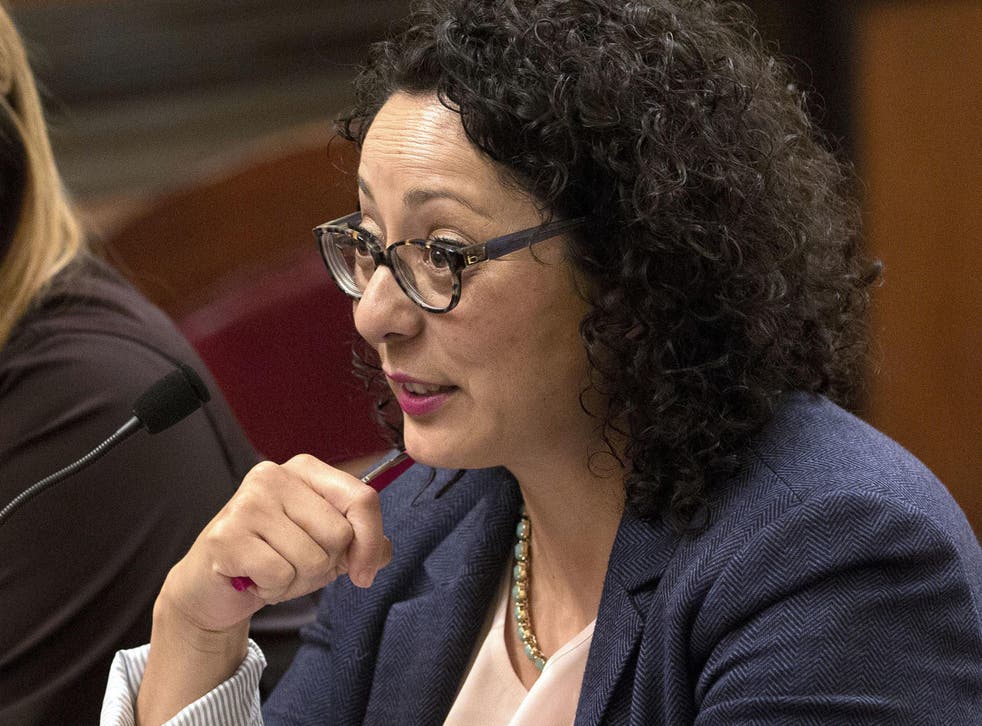 A leading figure in California's #MeToo sexual harassment movement has been accused of groping a male member of staff from another politician's office.
Cristina Garcia, a Democratic Assemblywoman and head of the Legislative Women's Caucus, allegedly stroked Daniel Fierro's back, squeezed his buttocks and attempted to touch his crotch in the dugout of an amateur softball game in 2014.
Daniel Fierro said he failed to report it at the time, but in January told his former boss, Democratic Assemblyman Ian Calderon, who in turn reported it to Assembly leaders. Ms Garcia is now being investigated.
Ms Garcia's spokeswoman, Teala Schaff, said the assemblywoman knew a complaint was filed, but was given no details and only learned the specifics of the allegations from the Politico website, who first reported Mr Fierro's accusation.
"Every complaint about sexual harassment should be taken seriously and I will participate fully in any investigation that takes place," the Los Angeles-area politician said in a statement. "I have zero recollection of engaging in inappropriate behaviour and such behaviour is inconsistent with my values."
The investigation into Ms Garcia is one of many in statehouses nationwide following a wave of sexual misconduct allegations against men in power.
Mr Fierro said he decided to tell Mr Calderon about the incident because of Ms Garcia's outspokenness in the #MeToo movement, which references the social media campaign used by millions to tell personal experiences with sexual harassment.
"If the person leading the charge on it isn't credible it just ends up hurting the credibility of these very real stories," Mr Fierro said.
Harvey Weinstein's former assistant explains what working for him was like
Assembly Speaker Anthony Rendon, a Democrat, said in a statement he is directing human resources to reach out to Ms Garcia's staff to make sure they feel safe.
"I trust that while the investigation proceeds, Assembly member Garcia will respond appropriately and in a way that fortifies the Legislature's effort to create a new climate," he said.
Mr Fierro, who was 25 at the time, said he was interviewed by an outside law firm hired by the Assembly Rules Committee last week.
Politico also reported that a lobbyist who declined to be named claimed Ms Garcia made crude sexual comments and tried to grab his crotch at a 2017 fundraiser.
Ms Garcia was elected in 2012 and has carved out a name as a champion of women's issues and environmental health for poor communities. She also chairs the Women's Caucus.
Harvey Weinstein: his accusers

Show all 42
Democratic Senator Connie Leyva, co-chair of the women's caucus, said she was "shocked and disturbed" at the allegations and she will ask the group to meet soon to discuss Ms Garcia's fate as leader.
Ms Garcia's photo was featured in Time Magazine's Person of the Year issue on being one of the "Silence Breakers" on sexual harassment.
"I refuse to work with (Assemblyman Raul Bocanegra) and anyone who takes part in harassment or assault," she tweeted in October after it was reported Mr Bocanegra had been disciplined in 2009 for groping a colleague. Mr Bocanegra later resigned after more women made public accusations.
Ms Garcia was a fierce advocate for legislation signed by Governor Jerry Brown, giving legislative staff members whistle blower protections for reporting sexual misconduct or other misbehaviour. She has tweeted repeatedly about the importance of sexual consent in recent days.
Mr Fierro and the lobbyist said it appeared Ms Garcia was inebriated at the time of the encounters.
In a November interview about alcohol-fuelled fundraisers and other after-work events that are a part of regular business in Sacramento, Ms Garcia told the Associated Press (AP) that blaming alcohol is not an acceptable excuse for sexually inappropriate behaviour. It is men who choose to misbehave, not the social events themselves, that create the problems, she said.
"I would say that most of the public realises that our job is based on relationships, and so we are expected to go out there and socialise," she said. "I think our public also expects us to hold ourselves to a higher standard."
The Assembly committee said last week that eight allegations of sexual harassment are pending in the Assembly but did not divulge any names. Debra Gravert, the chief administrative officer, did not respond to an email from AP seeking clarification whether Mr Fierro's allegation is one of the eight pending. Mr Fierro said he was contacted by the Assembly Rules Committee several days after telling Mr Calderon about the incident for an initial interview before speaking with outside lawyers for more than an hour last week.
Mr Fierro, from Cerritos, California, left the Assembly in 2016 and now runs a communications firm. Mr Calderon, his former boss, is now the majority leader. Lerna Shirinian, Mr Calderon's communications director, said Mr Fierro told her about the incident right after it happened.
"He was in shock, I was in shock — but the culture was very different back then," Shirinian told Politico.
Additional reporting by AP
Register for free to continue reading
Registration is a free and easy way to support our truly independent journalism
By registering, you will also enjoy limited access to Premium articles, exclusive newsletters, commenting, and virtual events with our leading journalists
Already have an account? sign in
Join our new commenting forum
Join thought-provoking conversations, follow other Independent readers and see their replies