Men see sexual harassment as less of a problem than when #MeToo started, poll finds
'This is part of the problem of sexual harassment being normalised and trivialised and men being seen as entitled to women's bodies,' says academic
Maya Oppenheim
Women's Correspondent
Tuesday 19 March 2019 19:21 Comments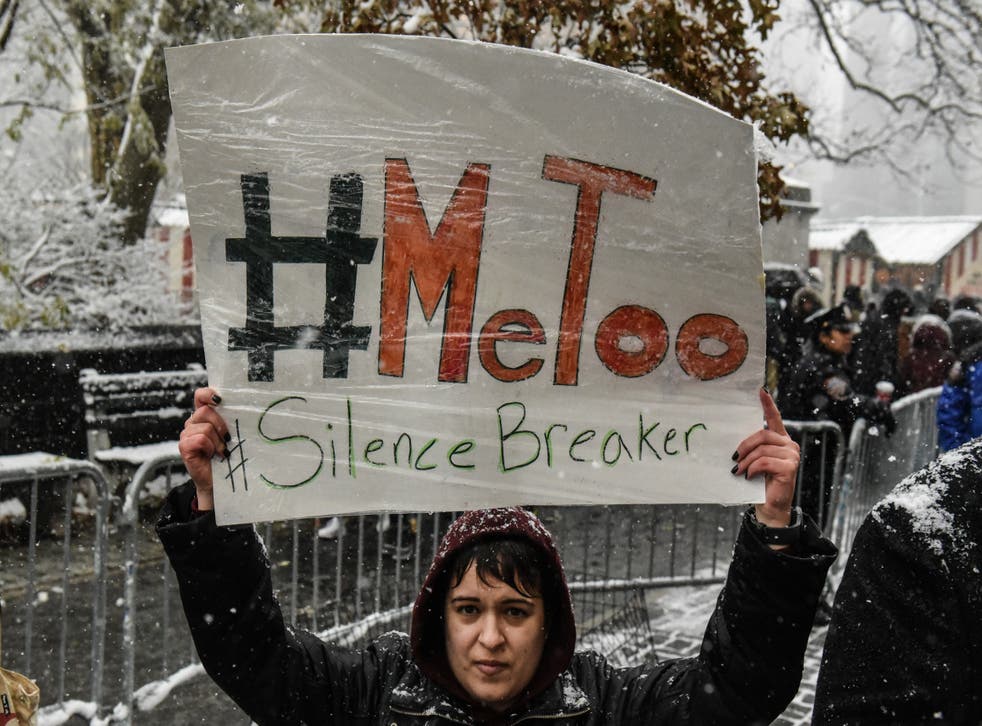 Men in the US see sexual harassment in the workplace as less of an issue than they did in the immediate aftermath of the #MeToo movement, a new poll has found.
The #MeToo movement against sexual assault and harassment exploded in late 2017 after a series of sexual assault allegations were made against men in Hollywood and a slew of other industries.
Millions of women around the world shared their own stories of rape, assault and harassment and hundreds of high-profile men in the US have been accused of sexual misconduct.
A poll conducted by Gallup found men are also now more likely to believe that people in the workplace are too sensitive to the problem of sexual harassment than they were previously.
Some 53 per cent of men said sexual harassment in work environments is a significant issue, down from 66 per cent in 2017.
#MeToo movement – In pictures

Show all 24
Likewise, 46 per cent of men said people are not sensitive enough to workplace harassment, down from 54 per cent in 2017.
However, on both measures, men show more concern for the issue at present than they did in 1998.
The 2017 poll was conducted several weeks after a bombshell New York Times story detailed a string of sexual harassment allegations against disgraced Hollywood producer Harvey Weinstein.
While men's concern around the issue has waned, the concern of women has not. The prestigious polling company said the changes in women's views were not statistically significant.
"This preponderance of news coverage may have put men on the defensive," researchers at Gallup said.
"Or it may be that they had a strong reaction in the immediate wake of the Weinstein allegations and start of the #MeToo movement, but that they have become somewhat desensitised to the issue since then."
They noted the decline in concern about sexual harassment is particularly prevalent among Republican men and men younger than 50.
Donald Trump Jr makes jokes about MeToo and cows at CPAC
Dr Hannah Bows, of the Centre for Research into Violence and Abuse at Durham University, said she was not surprised by the poll's findings.
"We do tend to see a decline in awareness and perceptions of seriousness whenever we have a high profile scandal such as #MeToo. There is a spike and then a drop," she said.
"It is also not uncommon for sexual harassers to think their behaviour is acceptable. Men say people are overinflating the issue. This is part of the problem of sexual harassment being normalised and trivialised and men being seen as entitled to women's bodies – whether that is in the workplace or in any space."
She argued there was a strong culture of the "old boys club mentality" in many workplaces – with men in those industries not perceiving their harassment to be a problem.
"In some places, it is a rite of passage," she added. "Sexual harassment stems from socialisation and education during the very start of life. Girls are sexualised from a young age and men are encouraged to sexualise women. When you get to early adulthood sexual harassment becomes an everyday feature of our lives."
The Assistant Professor in Criminal Law said the #MeToo movement had recently moved out of the limelight – causing apathy to grow and some people to assume the issue had been solved.
She said some men had failed to "look inwardly" in response to the movement.
Shelby Quast, director of the US branch of Equality Now, a non government organisation (NGO) which aims to promote the rights of women and girls, said: "This kind of recoil is not surprising. Any time you are having success on an issue you can expect a backlash because it means that people are paying attention."
"I don't think the law has caught up with the general shift in public concern and demand to end this type of behaviour in the workplace, nor have the policies of many organisations," she added. "In particular, there has been a lot of attention paid to the entertainment business but less focus on smaller companies and other industries where sexual harassment continues to thrive."
She argued there was more to be done to make sure systems and work environments address the problem effectively. Sexual harassment in the workplace has existed for a long time and has been "so insidious", Ms Quast said.
Support free-thinking journalism and attend Independent events
The recent poll surveyed 1,932 US adults from 12 February to 28 February.
Register for free to continue reading
Registration is a free and easy way to support our truly independent journalism
By registering, you will also enjoy limited access to Premium articles, exclusive newsletters, commenting, and virtual events with our leading journalists
Already have an account? sign in
Join our new commenting forum
Join thought-provoking conversations, follow other Independent readers and see their replies