Mexican mayor and his wife arrested over disappearance of 43 students
The couple are accused of orchestrating the September confrontation in Iguala
Antonia Molloy
Thursday 06 November 2014 12:12 Comments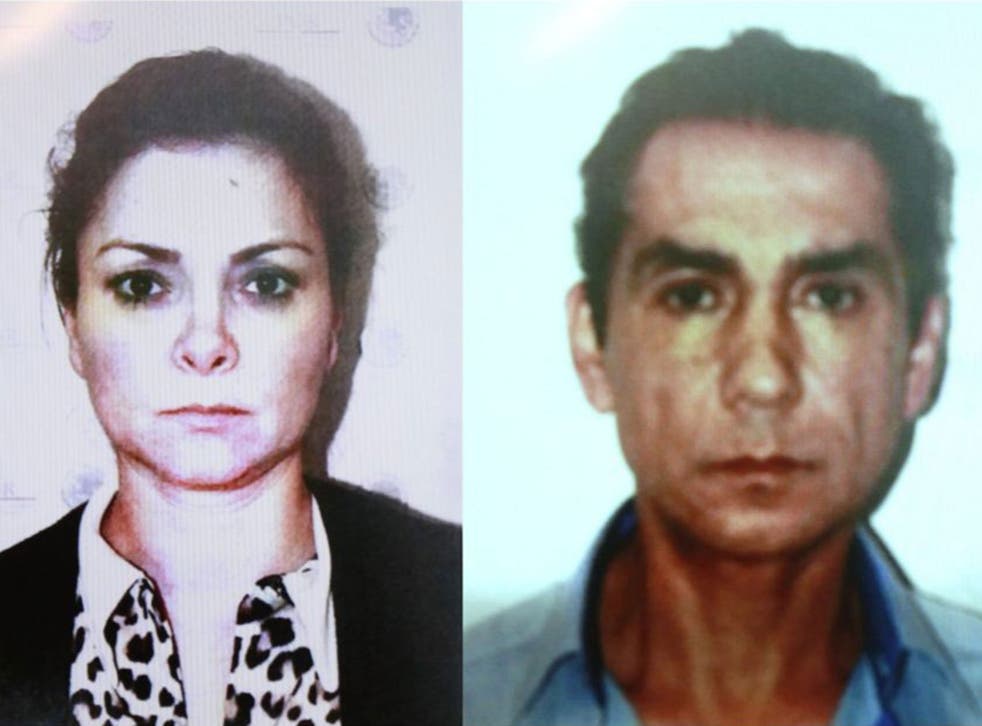 A Mexico mayor, who is believed to have ordered police to confront students in an incident which left six people dead and 43 students missing, has been arrested along with his wife.
Jose Luis Abarca and Maria de los Angeles Pineda, the mayor and first lady of Iguala, were seized by federal police in a slum in Iztapalapa during a raid before dawn on Tuesday.
They are accused of orchestrating the 26 September confrontation in Iguala, in southern Guerrero state, which resulted in the disappearance of students from a teachers' college, allegedly at the hands of police and a drug cartel.
Attorney General Jesus Murillo Karam said that 60 federal agents had spent about a month staking out three houses in the neighbourhood.
He said they were tipped off to the couple's presence by trailing a female associate, Noemi Berumen, who apparently accompanied the couple or aided them in their flight. Berumen was also detained in the raids.
Abarca received up to $220,000 every few weeks as bribe money and to pay off his corrupt police force, according to Murillo Karam, who gave a detailed account last month alleging the couple's collusion with organized crime. He claimed that Abarca's wife was a major operator in the cartel, an offshoot of the Beltran Leyva gang.
Prosecutors say they used ties with the local drug gang to amass riches, and to get rid of perceived enemies, including, it is claimed, the students from a radical teachers college.
Murillo Karam said Abarca believed the students planned to disrupt a speech by his wife, who aspired to succeed him as mayor, and he ordered police to detain them after they hijacked four buses to provide transportation to a coming protest.
Three students were shot dead in the confrontation and later three bystanders were killed in a separate attack.
Police picked up the other 43 students and took them to the nearby town of Cocula, Murillo Karam said. At some point they were loaded aboard a dump truck and taken, apparently still alive, to an area on the outskirts of Iguala where some mass graves have been found, he said.
In pictures: Mass protests hit Mexico

Show all 8
Detained gang leader Sidronio Casarrubias told authorities one of his lieutenants told him the students were sympathisers of a rival gang, the attorney general said.
In statements to the media soon after the disappearance, Abarca maintained he spent the evening of 26 September dining out and said he ordered police to leave the students alone.
However, the whereabouts of the 43 students remains unknown. Their disappearance and apparent deadlock in solving the case has sparked protests across the country, thwarting President Enrique Pena Nieto's efforts to paint violence in Mexico as a thing of the past.
Mario Cesar Gonzalez, whose son, Cesar Manuel Gonzalez, is among the missing students, told the Associated Press: "News like this just makes you angrier. I wish they would put the same intelligence services and effort into finding the students. The ineptitude is staggering."
Authorities have discovered mass graves and the remains of 38 people, but none have been identified as the missing students. A further 56 people have been taken into custody and the Iguala police chief is also being sought.
Additional reporting by Associated Press
Register for free to continue reading
Registration is a free and easy way to support our truly independent journalism
By registering, you will also enjoy limited access to Premium articles, exclusive newsletters, commenting, and virtual events with our leading journalists
Already have an account? sign in
Join our new commenting forum
Join thought-provoking conversations, follow other Independent readers and see their replies