Mexican parents wait for news of 43 missing students following mass graves discovery
President Enrique Peña Nieto replaces Iguala's entire police force with federal officers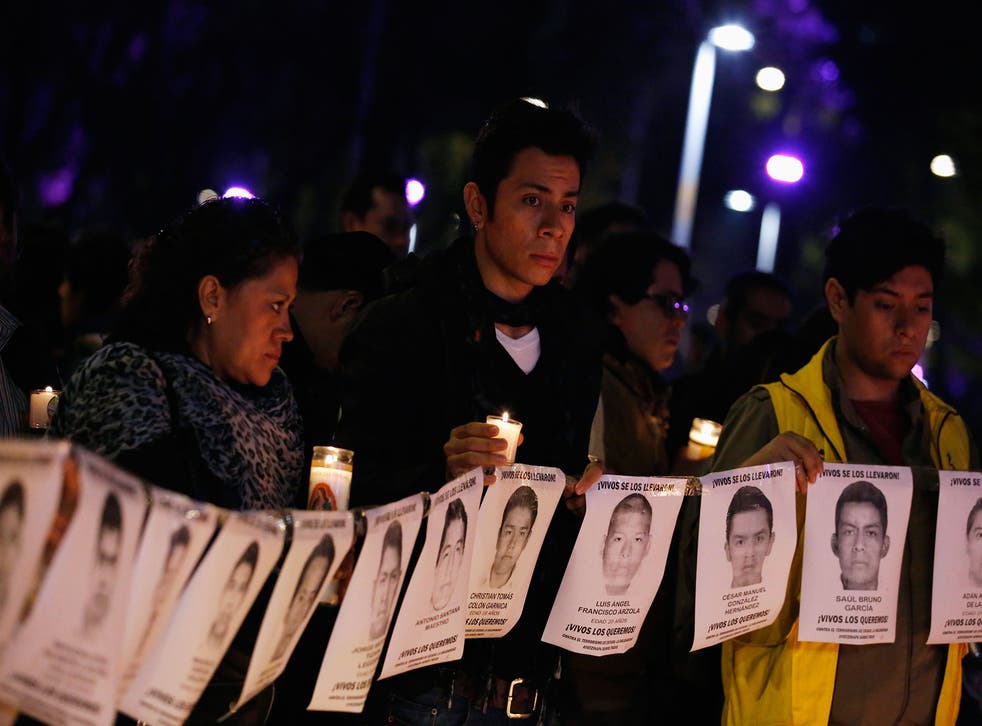 Mario Cesar Gonzalez found out that his son was in danger when he received a phone call from one of his classmates. They had been attacked in the state of Guerrero, in the south-west of Mexico. Mr Gonzalez immediately made the 11-hour journey to the town of Iguala, where the incident had occurred.
"I arrived that morning. It was a really ugly situation and I felt shattered. Three students had been killed and several others were injured, some of them in a very grave condition," he told The Independent on Sunday.
In total, six civilians died and at least 25 were wounded. One student was found with the skin stripped from his face and his eyes gouged out. Another 43 remain unaccounted for, including Mr Gonzalez's 22-year-old son, Cesar Manuel, who was last seen being bundled into a police car.
The entire country, if not the world, watched with mounting horror and dread last week as investigators uncovered mass graves, one filled with 28 charred remains. Four more mass graves containing burned bodies were found on Thursday.
What happened is still unknown, but the students appeared to disappear after a confrontation with local police, many of whom are now under investigation. Meanwhile, the mayor of Iguala, where they were studying, has also vanished with his wife and security chief and is believed to be on the run.
"Unfortunately, we don't have the slightest idea where our children are," said Mr Gonzalez, a 49-year-old welder who lives in central Mexico with his wife and two daughters. "Making all the inquiries with the state and federal authorities has left me psychologically worn out."
The missing students' parents remain hopeful that their children are not among those found in the mass graves. Mr Gonzalez notes that many mass graves used by local drug cartels have been found in Guerrero. "We have complete faith that they're still alive, God willing," he added.
To date, 34 people have been arrested, including 22 Iguala police officers and several suspected members of the local drug gang Guerreros Unidos (Warriors United).
On Thursday, the mayor's brother-in-law, an alleged leader of Guerreros Unidos, was arrested.
The missing students are all young male adults from poor families across Mexico who were training to become teachers at Guerrero's Ayotzinapa training college, which has a history for left-wing activism.
On 26 September, they travelled to Iguala to fundraise for a campaign against new education laws. After commandeering three local buses to take them back to Ayotzinapa that evening, they were ambushed.
Some believe the students were targeted for their political beliefs. Others have suggested they may have angered the Guerreros Unidos gang by refusing to pay extortion money.
Mr Gonzalez said he had no idea why the students were attacked, but blamed the government for waiting eight days to launch an inquiry. "Those eight days were crucial to finding out where they took them," he said.
The abduction of the students and discovery of the mass graves provoked protests across Mexico. Tens of thousands marched in Mexico City and dozens of other states on Wednesday to condemn the attacks and show solidarity with the students. President Enrique Peña Nieto, who declared the attacks on the students as "outrageous, painful and unacceptable", has dismissed Iguala's entire police force and replaced them with federal officers.
When asked how confident he was that the government would find and punish those responsible, Mr Gonzalez replied, "On a scale of one to 10? Zero. But if they don't arrest them, then we're going to find them."
Register for free to continue reading
Registration is a free and easy way to support our truly independent journalism
By registering, you will also enjoy limited access to Premium articles, exclusive newsletters, commenting, and virtual events with our leading journalists
Already have an account? sign in
Register for free to continue reading
Registration is a free and easy way to support our truly independent journalism
By registering, you will also enjoy limited access to Premium articles, exclusive newsletters, commenting, and virtual events with our leading journalists
Already have an account? sign in
Join our new commenting forum
Join thought-provoking conversations, follow other Independent readers and see their replies