Mexico abductions: Claims army 'covered up' massacre of 43 missing students as suspicion of military involvement increases
A survivor claims soldiers were at the scene, while experts insist that only the army could dispose of so many bodies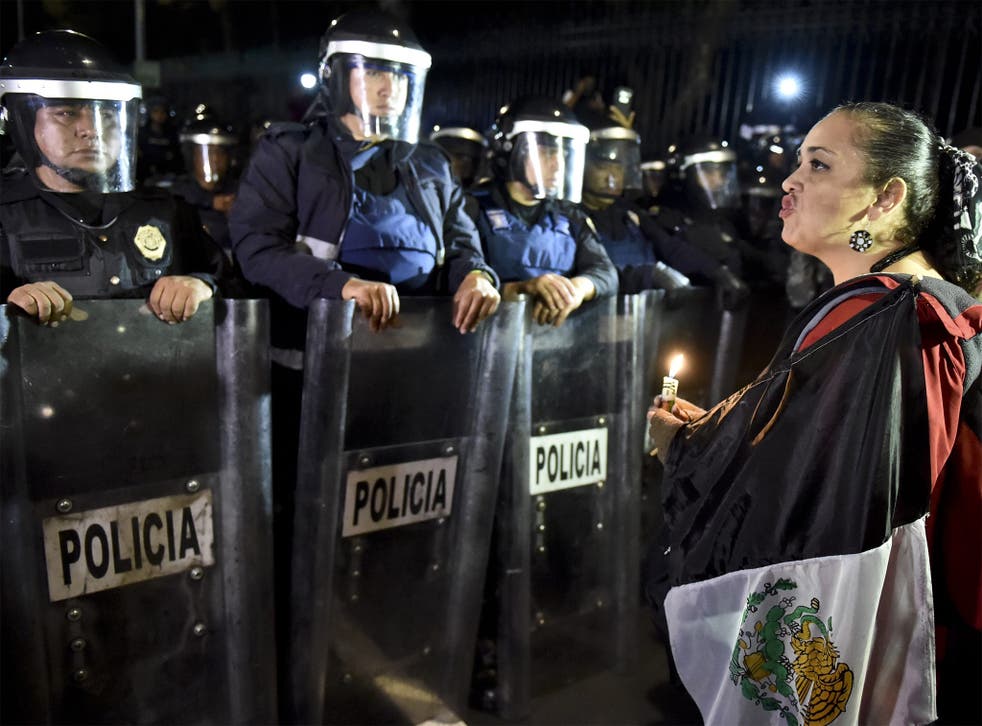 Four months on from the abduction and probable massacre of 43 students in southern Mexico, survivors and victims' families have turned the focus of their relentless fight for justice on the Mexican army.
At least 97 suspects, including scores of corrupt police officers, gang members and the local Mayor and his wife, have been arrested in connection with the disappearance of the students in the town of Iguala, in Guerrero state, on 26 September.
The Mexican government has questioned, but not charged, 36 soldiers, and has repeatedly denied allegations of the army's involvement. Yet the families are demanding a deeper investigation as well as unrestricted access to the military bases where they suspect the 43 young men may have been held.
Omar Garcia is a 24-year-old student who was threatened by soldiers after escaping from the police gunmen that fateful night. Ever since, he has been a leading figure in the campaign for justice.
"We have reason to believe that the army was involved in the disappearance of our companions," said Mr Garcia. "They were there that night. They probably covered up, facilitated, or played a leading role in the disappearances." On 12 January, Mr Garcia suffered a black eye and a bloodied face as protesters and relatives of the missing students were beaten and tear-gassed by military police upon trying to force their way into the army headquarters in Iguala.
The military base lies just over a mile from where the 43 students disappeared after six civilians were shot dead. The students all came from poor, rural areas and were training to become teachers at Guerrero's left-wing Ayotzinapa college.
Ironically, they had travelled to Iguala to commandeer buses so they could attend a demonstration in Mexico City commemorating the massacre of student protesters by the Mexican army on 2 October 1968. Upon arriving in Iguala, Mr Garcia told The Independent, the students split into two groups. At about 8pm he received a call from the others saying that the police were shooting at them. When Mr Garcia and his companions arrived at the scene they found a group of students huddled outside the bullet-riddled buses in a moment of respite. They tried to call ambulances, lawyers and the press, only for another attack to begin.
Protests in Mexico over 43 missing students

Show all 13
"Suddenly the bullets started flying again. The shooting was intense. I saw my companions fall to the floor. We thought that this would be our last night alive," Mr Garcia said.
"When the shooting slowed a little we ran whichever way we could. We were carrying an injured companion who had been shot in the face and was bleeding from his broken upper jaw. We found a clinic nearby but there were no personnel on hand to treat him. Then the army arrived."
The students asked in vain for the soldiers to call an ambulance. "They refused and said that we deserved what happened to us. They photographed each of us and took our names down. They said that if we gave them false names we would never be seen again," Mr Garcia said. "When they left, they said they were going to call the police to come back and kill us all."
Although Mr Garcia and those with him survived, no one has laid eyes on the other 43 students since they were seen being driven away in police cars that night.
Government prosecutors say the police handed them over to a local drug gang, who murdered them and burned their bodies on a massive improvised bonfire at a nearby rubbish dump.
Six weeks later, investigators said they recovered bags of ashes from a river beside the dump and sent them to a specialist laboratory in Innsbruck, Austria. Scientists there identified a fragment of bone belonging to one of the missing students, 19‑year‑old Alexander Mora, but announced on Monday that they have not yet been able to identify any of the other charred remains.
The official version of events has come under close scrutiny, with a team of independent forensics experts from Argentina declaring that they could not verify the Mexican government's claim that Mr Mora's remains were found near the rubbish dump.
Scientists from the National Autonomous University of Mexico have dismissed the government account as "impossible", affirming that the culprits would have needed 33 tons of wood or 995 tyres to incinerate 43 bodies over an open fire. This has fuelled speculation that the military was involved.
"It would not have been impossible [to incinerate 43 bodies] if they burned them in military crematoriums. The army base in Iguala has crematoriums," the Catholic priest Alejandro Solalinde, who has played a prominent role in the search, said in an interview with The Independent in November.
Mexico's Interior Minister, Miguel Osorio Chong, dismissed the allegations against the army as "baseless" last week. "We reject these attempts at provocation that have sought to involve our facilities and our armed forces," he said.
The case has ignited a wave of unrest across Mexico and more mass demonstrations are planned next Monday to mark four months since the students disappeared. Mexico's indigenous Zapatista movement pledged its support for the students on New Year's Day. While the Zapatistas' backing is largely symbolic, it will help raise the profile of the campaign thanks to their international support, Mr Garcia said.
As for why the students were attacked, Mr Garcia believes it was because of what they represented. The Ayotzinapa College has been linked with leftist guerrillas and social movements that threaten the interests of Mexico's government, business and even drug gangs, he said.
"So they adopt a policy of selective repression, of apprehension of social leaders and forced disappearances," Mr Garcia said. "They attack us because we have always supported social movements. Ayotzinapa is a bastion of social struggle."
Register for free to continue reading
Registration is a free and easy way to support our truly independent journalism
By registering, you will also enjoy limited access to Premium articles, exclusive newsletters, commenting, and virtual events with our leading journalists
Already have an account? sign in
Register for free to continue reading
Registration is a free and easy way to support our truly independent journalism
By registering, you will also enjoy limited access to Premium articles, exclusive newsletters, commenting, and virtual events with our leading journalists
Already have an account? sign in
Join our new commenting forum
Join thought-provoking conversations, follow other Independent readers and see their replies