Mexico acting like Trump's border wall by turning back caravans, critics say
President Obrador's administration described as 'government of the left that acts in complicity with Donald Trump in doing its dirty work'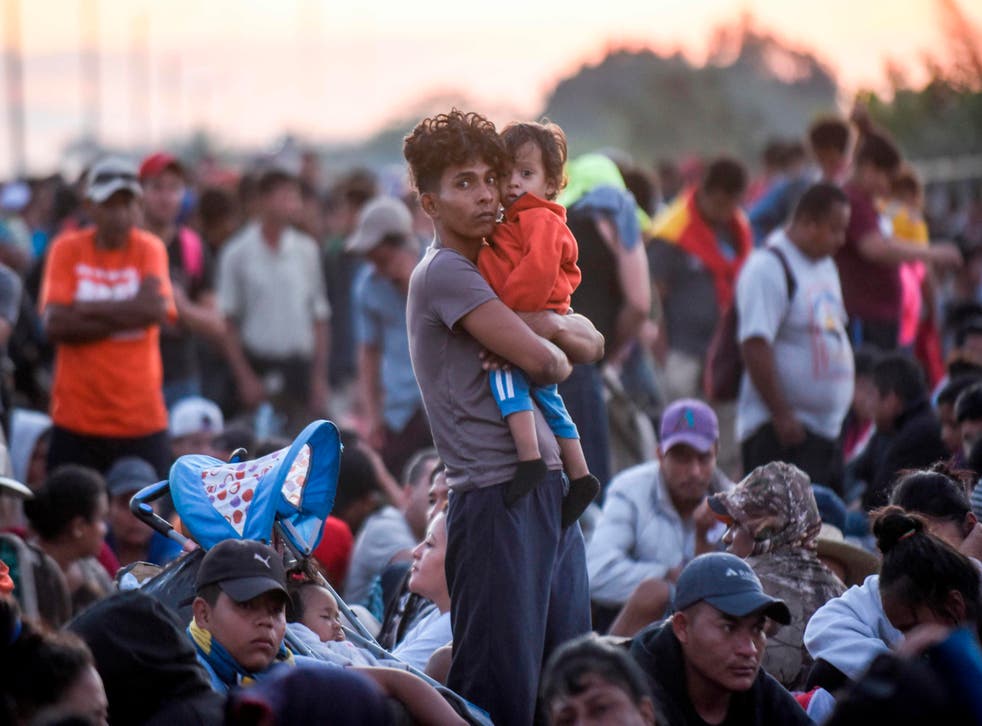 Mexican National Guard troops this week blocked a caravan of migrants seeking to breach the country's border with Guatemala - firing tear gas while dressed in full riot gear.
Now critics say the government's actions have created a virtual border wall on the country's southern border with Guatemala.
Hundreds of those detained were put on planes and buses back to Honduras, where the majority began their journey.
President Andrés Manuel López Obrador had campaigned on a pledge to welcome migrants, but his government's actions have shifted over the past year.
But some critics say the hostile reaction seen this week was triggered by the Trump administration's threats of tariffs on goods imported from Mexico, which has created a de facto well on Mexico's southern boundary.
Central American migrant caravan tries to enter Mexico

Show all 24
Critics have lined up in opposition to the move, with congressman Porfirio Muñoz Ledo, an ally of the president, wrote on Twitter: "The National Guard today reignited the aggression against Central Americans.
"It appears to be a systematic attitude or a state policy against the most elemental human rights. Whoever ordered it should respond to the Congress."
Enrique Acevedo, a columnist with Mexico's Milenio newspaper, said the administration is "a government of the 'left' that acts in complicity with Donald Trump in doing its dirty work."
Donald Trump claims US are building a wall in Colorado - 370 miles from Mexico border
The US has praised Mexico's stance, with Chad F Wolf, acting secretary of homeland security, saying: "The efforts by the Mexican National Guard and other officials have thus far been effective at maintaining the integrity of their border, despite outbreaks of violence and lawlessness by people who are attempting to illegally enter Mexico on their way to the United States."
Last year, the Mexican government replaced its immigration boss - a man widely seen as a defender of migrants - with Francisco Garduño Yáñez who promise a more hard-line approach.
Register for free to continue reading
Registration is a free and easy way to support our truly independent journalism
By registering, you will also enjoy limited access to Premium articles, exclusive newsletters, commenting, and virtual events with our leading journalists
Already have an account? sign in
Register for free to continue reading
Registration is a free and easy way to support our truly independent journalism
By registering, you will also enjoy limited access to Premium articles, exclusive newsletters, commenting, and virtual events with our leading journalists
Already have an account? sign in
Join our new commenting forum
Join thought-provoking conversations, follow other Independent readers and see their replies