Mexican President Enrique Peña says 'of course' we won't pay for Donald Trump's border wall
'It is evident that we have some differences with the new government of the United States, like the topic of the wall, that Mexico of course will not pay,' says President Peña Nieto
May Bulman
Thursday 12 January 2017 11:29 Comments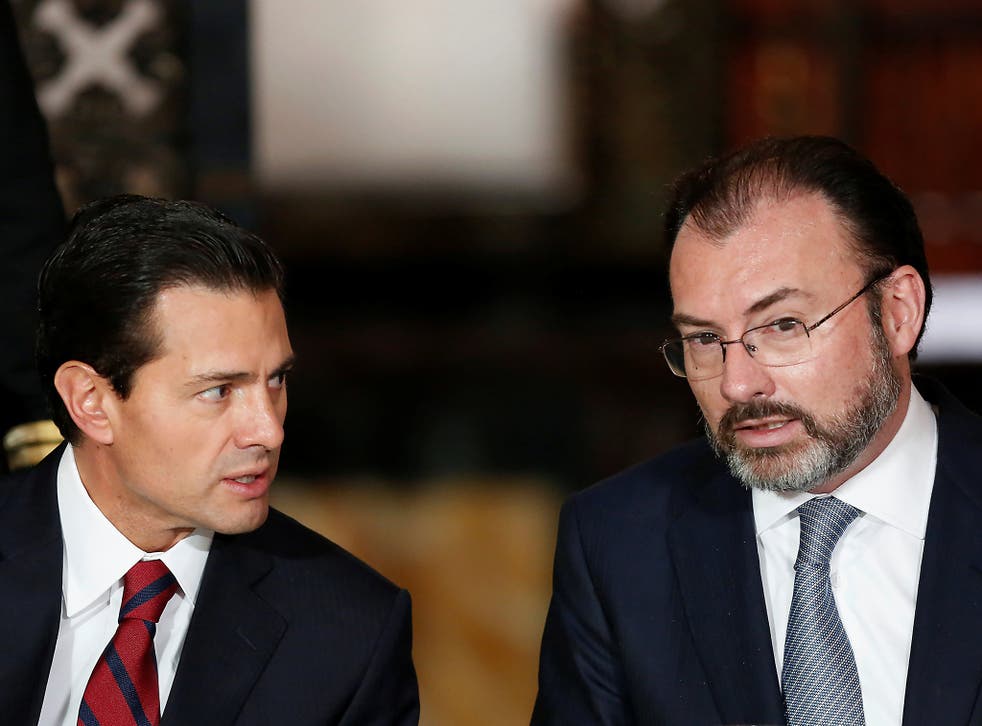 The president of Mexico has reiterated his country will not pay for a wall along the US-Mexico border, just hours after Donald Trump asserted that he would force the country to do so.
Speaking during a speech at an annual gathering of senior Mexican diplomats, Mexican President Peña Nieto rejected suggestions the nation would foot the bill for a border wall, saying the disagreement marked one of the "differences" his government has with the Trump administration.
"It is evident that we have some differences with the new government of the United States, like the topic of the wall, that Mexico of course will not pay," Mr Peña Nieto said in the address.
"At no time will we accept anything that goes against our dignity as a country and our dignity as Mexicans. Basic principles such as sovereignty, the national interest and the protection of our citizens are non-negotiable."
His comments came just hours after Mr Trump insisted during a news conference on Wednesday that Mexico would pay for the wall, and vociferously denied reports he had scaled back on the pledge.
"Reports went out last week, 'Oh, Mexico is not going to pay for the wall because of a reimbursement.' What's the difference? I want to get the wall started," President-elect Trump told reporters.
"We're going to build a wall. I could wait about a year-and-a-half until we finish our negotiations with Mexico, which we'll start immediately after we get to office, but I don't want to wait."
Last week, House Republicans revealed Mr Trump's plans to use taxpayers' funds for the estimated $14 billion (£11 billion) project, in a U-turn on his repeated pledge to make Mexico fund the wall outright. The President-elect later appeared to confirm the reports, saying it would be "for sake of speed" and that it would subsequently be repaid.
However, former Mexican president Vicente Fox Quesada accused Mr Trump of making "another promise he can't keep", denying the country would reimburse any of the funds and describing the wall as a "racist monument".
The recent insistence from Mexican politicians that they would not pay for the wall shows their opposition to the policy has not changed since Mr Trump won the presidency.
Back in September, Mr Peña Nieto wrote on Twitter: "I repeat what I told you personally Mr Trump: Mexico will never pay for a wall".
World reaction to President Trump: In pictures

Show all 29
A month later, Mexico's Foreign Secretary Claudia Ruiz Massieu stated: "We've been very clear that Mexico will never consider paying for a wall that puts barriers between our two countries,"
"We will not pay for it, because it goes against everything we believe our two countries can do together, are doing together."
During the election campaign, Mr Trump flew to Mexico for a meeting with President Peña Nieto, which he afterwards described as "excellent", but admitted they did not discuss payment of the wall.
Mr Peña Nieto later tweeted that he had "made clear" Mexico would not pay for the wall at the start of their talk.
Mr Trump has not clarified how he intends to force the Mexican government to repay the US for the construction of the wall, which he is reportedly seeking to initially fund through the appropriations process as soon as April.
Register for free to continue reading
Registration is a free and easy way to support our truly independent journalism
By registering, you will also enjoy limited access to Premium articles, exclusive newsletters, commenting, and virtual events with our leading journalists
Already have an account? sign in
Join our new commenting forum
Join thought-provoking conversations, follow other Independent readers and see their replies