Mexico City earthquake: Rescue Dog who has saved 52 lives launches into searching rubble for trapped victims
Frida was even praised by the country's president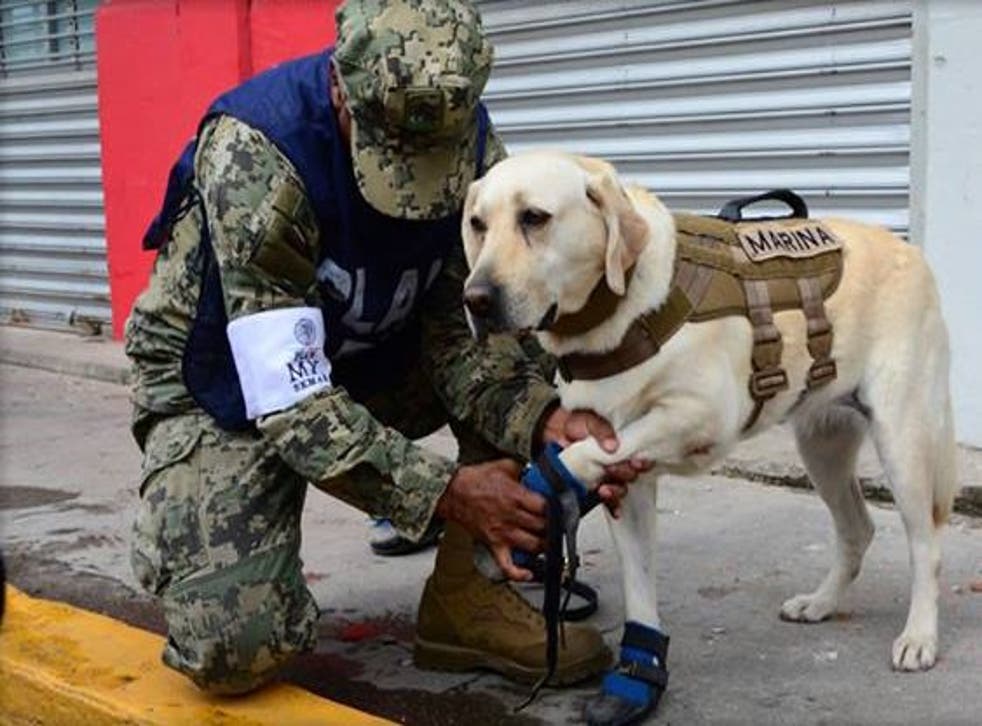 A dog has been hailed a hero after it joined the search for survivors of the Mexico earthquake.
Frida, who works for the Mexican Navy's Canine Unit, has been searching through the concrete and rubble in Mexico City, where the 7.1 magnitude quake claimed the lives of at least 245 people.
It comes just two weeks after she helped save 12 lives when an even bigger earthquake hit the town Oaxaca.
People around the world have been thanking the Labrador, who has become a sensation on social media.
She has also been honoured by the country's president, Enrique Pena Nieto, who also took to Twitter to praise the creature.
"This is Frida," he wrote. "She belongs to SEMAR and has helped save 52 lives in various natural disasters at national and international levels."
The six-year-old has already saved the lives of 52 people from various accidents and emergencies in Central and North America, according to the Buzzfeed website.
To protect her, Frida wears special equipment, including goggles to protect her eyes from smoke and shoes that allow her to dig and walk on rough terrain.
She has been trained since the age of two and has now earned the title of 'specialist in search of lost persons', with rescue missions in Honduras, Ecuador and Haiti.
Join our new commenting forum
Join thought-provoking conversations, follow other Independent readers and see their replies