Mexico City earthquake: Children trapped under rubble 'plead for help over WhatsApp'
The messages have come amid effort to rescue children from collapsed school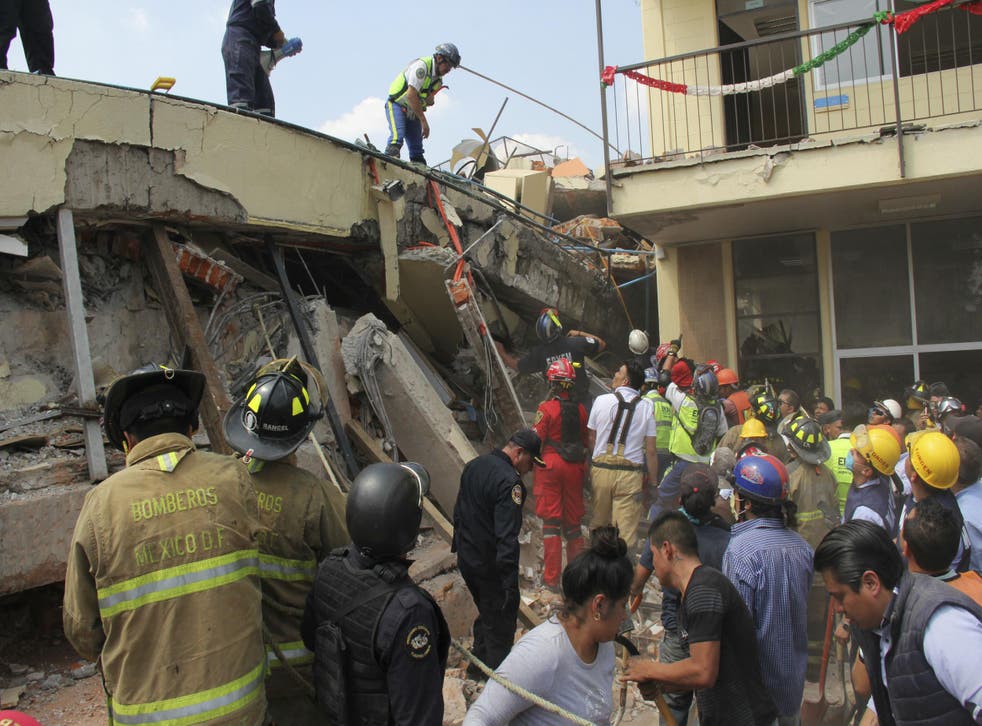 Children buried in a school that collapsed in Mexico's massive earthquake have reportedly sent relatives messages pleading for help.
A powerful earthquake convulsed Mexico on Tuesday, killing hundreds and flattening buildings throughout central Mexico. At least 25 people, most of them children, were reported dead when the Enrique Rebsamen School in Mexico City collapsed.
As rescuers dig frantically for survivors, some of the children trapped in the rubble are reportedly conveying messages to loved ones waiting for them outside.
Parents told the newspaper El Universal that youngsters trapped in the rubble communicated via the messaging app WhatsApp, with one girl reportedly writing, "I'm fine, I'm with four other trapped children, help us, we're thirsty."
The Associated Press reported that the rumour of WhatsApp messages ricocheted through a crowd of waiting parents but could not be verified. According to Reuters, parents spoke of receiving text messages from trapped loved ones.
Images and first-person accounts from the scene depict a concerted effort to pull children from what remains of the school, with volunteers describing a community-wide effort to come to the aid of the trapped youngsters. Reuters described the harrowing rescue of a young girl who was slowly and painstakingly extracted from the rubble.
Mexico City earthquake in pictures

Show all 13
People laboured amid widespread power shortages that contributed to the chaos flowing from the 7.1-magnitude earthquake.
A doctor who was among the volunteers lending a hand at the school told the Associated Press that rescuers crawled through the devastation on their bellies to find three bodies - one belonging to a child - in a ruined classroom.
"We can hear small noises," Pedro Serrano told the AP. "We don't know if they're coming from above or below — from the walls above (crumbling), or from someone below calling for help."
Register for free to continue reading
Registration is a free and easy way to support our truly independent journalism
By registering, you will also enjoy limited access to Premium articles, exclusive newsletters, commenting, and virtual events with our leading journalists
Already have an account? sign in
Register for free to continue reading
Registration is a free and easy way to support our truly independent journalism
By registering, you will also enjoy limited access to Premium articles, exclusive newsletters, commenting, and virtual events with our leading journalists
Already have an account? sign in
Join our new commenting forum
Join thought-provoking conversations, follow other Independent readers and see their replies