Mexico's former defence secretary arrested in US on drug trafficking and money laundering charges
General Salvador Cienfuegos was arrested at Lost Angeles International Airport on Thursday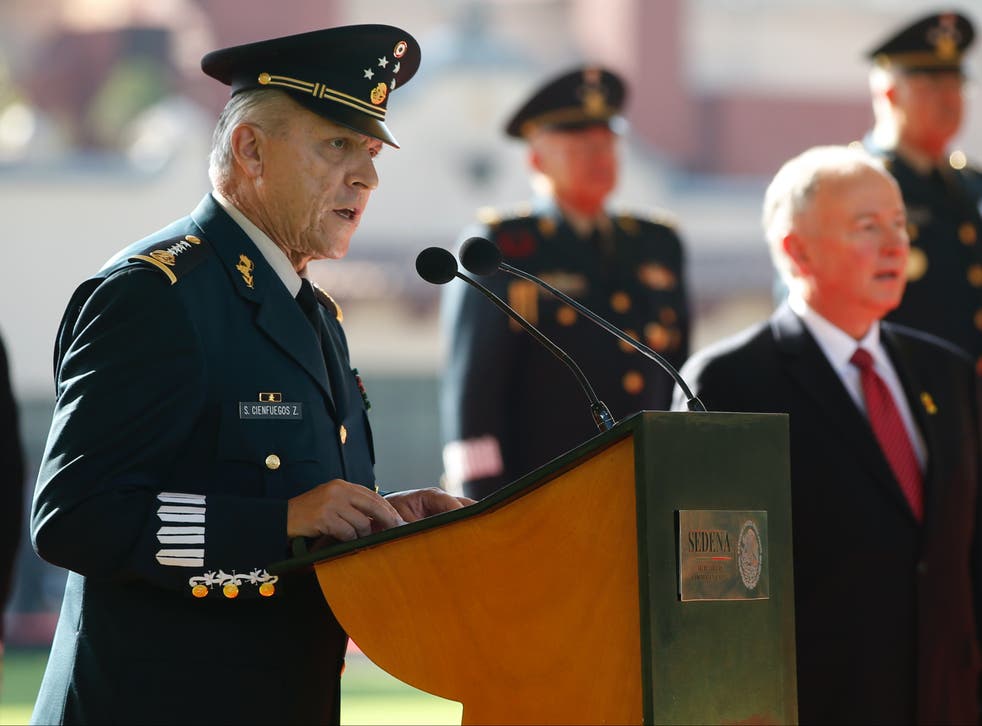 Leer en Español
Former Mexican defence secretary General Salvador Cienfuegos, who served for six years under former President Enrique Peña Nieto, has been arrested on drug trafficking and money laundering charges at Los Angeles International Airport.
The detention of Cienfuegos, 72, which occurred on Thursday, was announced by  Mexican Foreign Minister Marcelo Ebrard in a late-night tweet.
Mr Ebrard added that he expected to be informed of the charges in the coming hours by Mexican consular officials.
Two people with knowledge of the arrest, who spoke on the condition of anonymity, said Cienfuegos was taken into custody on a US Drug Enforcement Administration (DEA) warrant, according to the Associated Press. One of the people confirmed the warrant was for drug trafficking and money laundering charges.
The DEA has declined to comment on the arrest.
Mexico President Andrés Manuel López Obrador said Friday that his ambassador to the United States told him two weeks ago there was an investigation into Cienfuegos.
He called the situation "regrettable" but confirmed the arrest and that it was related to alleged drug trafficking charges. The president added that he was told the charges would be revealed by the US on Friday afternoon.
There was no drug-related investigation of Cienfuegos in Mexico, Mr López Obrador said.
The arrest comes as a major blow to the Mexican government, as the navy and army were the few public institutions that still held respect among the public.
"This is an unmistakable example of the decomposition of the government, of how civil service was degrading, the government service during the neoliberal period," Mr López Obrador said.
Cienfuegos served as the secretary of defence under President Pena Peña Nieto from 2012 to 2018. HIs arrest makes him the highest-ranking former Cabinet official to face charges since Mexican security official Genaro Garcia Luna was arrested in Texas in 2019. Garcia Luna, who served under former President Felipe Calderón, pleaded not guilty to his drug trafficking charges.
Authorities arrested Cienfuegos when he landed in Los Angeles, California with his family. The family were released and he was taken to the Metropolitan Detention Center.
Mexico's Defence Department had not commented on his arrest.
The Associated Press contributed to this report
Register for free to continue reading
Registration is a free and easy way to support our truly independent journalism
By registering, you will also enjoy limited access to Premium articles, exclusive newsletters, commenting, and virtual events with our leading journalists
Already have an account? sign in
Register for free to continue reading
Registration is a free and easy way to support our truly independent journalism
By registering, you will also enjoy limited access to Premium articles, exclusive newsletters, commenting, and virtual events with our leading journalists
Already have an account? sign in
Join our new commenting forum
Join thought-provoking conversations, follow other Independent readers and see their replies