Mexican government says Donald Trump did not threaten to send troops to Mexico
US President allegedly said he would send troops into Mexico to stop 'bad hombres down there' if Mexico did not stop them itself, according to leaked transcript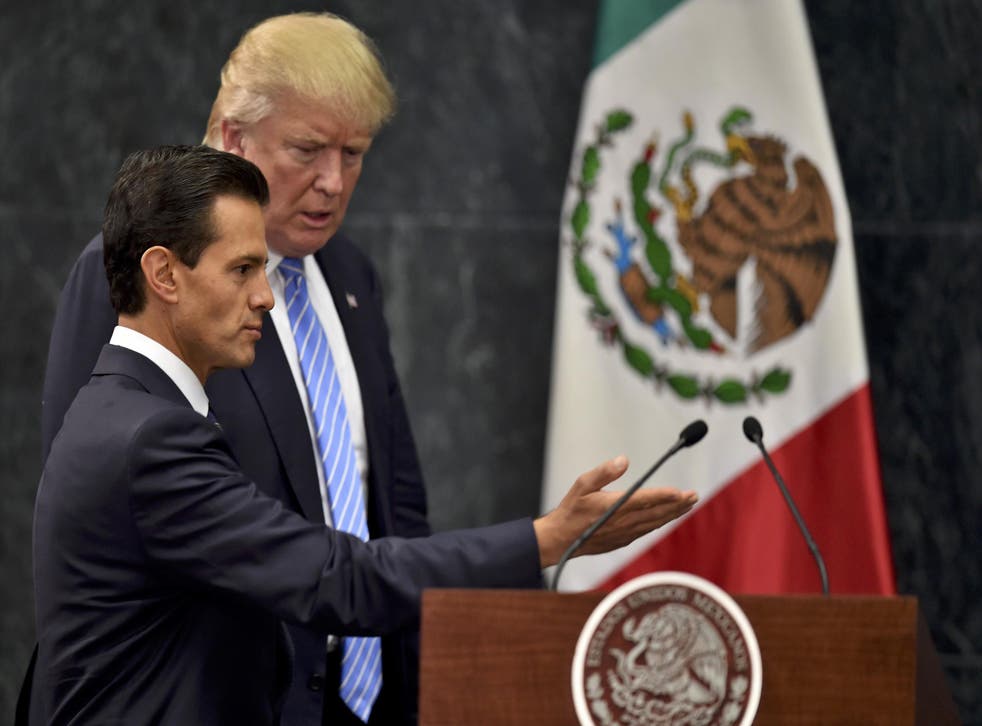 Mexico has denied Donald Trump threatened to send American soldiers into the country during a telephone conversation with his counterpart, President Enrique Peña Nieto.
Such a threat "did not happen during that call," the Mexican government said in a statement, released on Twitter on Wednesday night.
"I know it with absolute certainty, there was no threat," a spokesman for Mr Peña Nieto, Eduardo Sanchez, said in a radio interview. "The things that have been said are nonsense and a downright lie."
Donald Trump's Mexico wall: At what cost, and how long?
The Associated Press reported that Mr Trump had threatened to send US troops south of the border if his Mexican counterpart failed to stop "bad hombres" in the country, after an unnamed source leaked them a purported transcript of a telephone call between the two leaders last Friday.
The transcript did not include Mr Pena Nieto's response.
"You have a bunch of bad hombres down there. You aren't doing enough to stop them," Mr Trump is reported to have told Mr Pena Nieto. "I think your military is scared. Our military isn't, so I just might send them down to take care of it."
The White House would not comment on the purported transcript, but denied that the US was planning to invade Mexico.
On Friday, the two leaders issued a joint statement saying they had discussed the need to "work together to stop drug cartels, drug trafficking and illegal guns and arms sales".
The phone call was meant to patch up tensions between the heads of state but, if authentic, the transcript suggests that President Trump may still be using the same brash style that he employed on the campaign trail.
Tensions between the US and Mexico, longtime allies, have heightened since Mr Trump's inauguration.
In one of his first acts as president, Mr Trump signed an executive order calling for the immediate construction of a border wall between the countries.
A few days later, he tweeted that Mr Peña Nieto should not visit Washington for a scheduled meeting unless Mexico was prepared to pay for construction of the wall.
The controversial orders Donald Trump has already issued

Show all 9
Mr Peña Nieto cancelled the meeting, and stressed that Mexico had no intention of paying for the project.
Last Friday, the leaders appeared to be mending their differences, with both sides describing the phone call as productive.
But the allegations that Mr Trump threatened to send soldiers across the border sparked fury in Mexico, where many already feel deeply insulted by Mr Trump's attacks on the country, which he repeatedly accused of sending criminals and drugs into the United States during his campaign.
There are now widespread calls in Mexico for Mr Peña Nieto's office to release their transcript of the call
Join our new commenting forum
Join thought-provoking conversations, follow other Independent readers and see their replies