Mexico earthquake: At least six killed after powerful 7.4-magnitude tremor
Epicentre was near Pacific coast resort town of La Crucecita, where hundreds of buildings have been damaged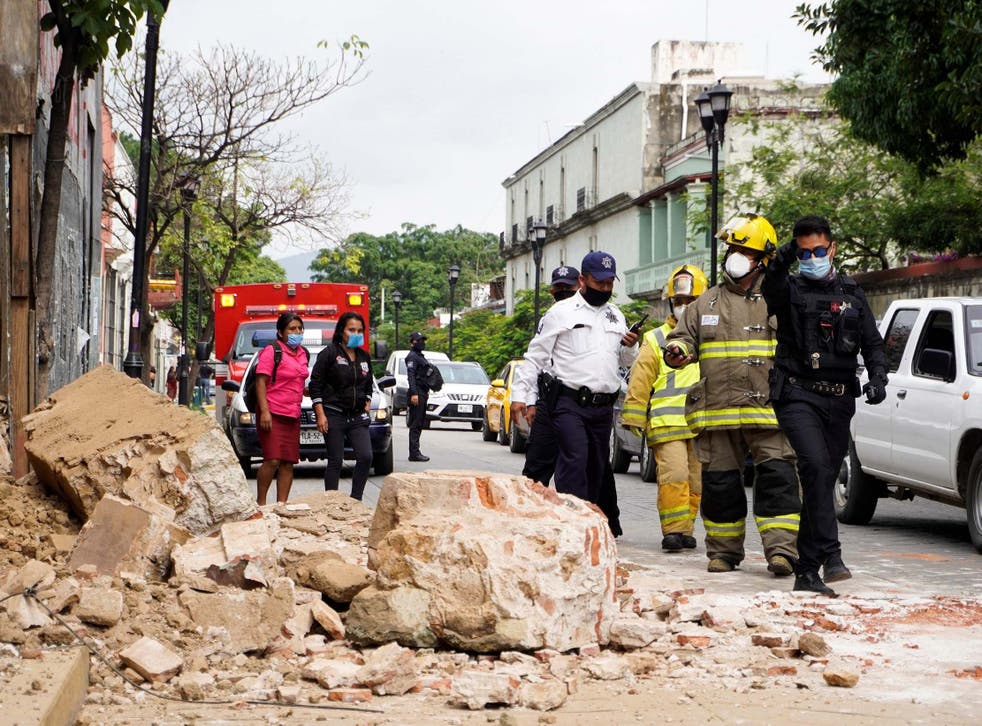 At least six people have been killed and several others seriously injured after a powerful 7.4 magnitude earthquake struck Mexico's Pacific coast on Tuesday morning,
The fatalities were near the quake's epicentre in Oaxaca, a mountainous state in the south of the country, but it also caused damage to buildings hundreds of miles away in Mexico City.
Worst hit was the beach resort town of La Crucecita, where around 200 houses in the area were damaged, including 30 that were badly impacted, a local official told Reuters.
Houses were scarred by wide cracks across walls and residents fearful of re-entering properties, because of the risk of aftershocks, worked to clear debris from the streets.
"We lost everything in one moment to nature," Vicente Romero, an owner of a stationary store whose house suffered structural damage told Reuters. "This is our life's work."
Rockfalls blocked winding mountain roads between the state capital of Oaxaca city and the coast. Rescue workers reported three people seriously injured in the remote hill village of Santa Catarina Xanaguia, one state official said.
Rescue workers battled for hours to reach the settlement, near the epicentre, where the quake brought down homes and parts of the mountainside, the official said.
A clinic and old churches near the epicentre were severely damaged, images on social media showed.
The dead included a worker from state oil company Pemex in Oaxaca, who fell from a height at the country's biggest oil refinery. The refinery was briefly closed after a fire.
Miguel Candelaria, 30, was working at his computer in his family home in the Oaxaca town of Juchitan when the ground trembled. He ran outside with relatives, but they stopped in the middle of the street as the pavement buckled and rocked.
"We couldn't walk... the street was like chewing gum," said Mr Candelaria, 30.
Quakes with magnitudes of over 7 are major earthquakes capable of widespread, heavy damage.
Tuesday's tremor was more powerful than a 7.1 magnitude quake in 2017 that caused widespread damage in the state of Puebla as well as across Mexico City. At least 370 people were killed and thousands were injured.
Additional reporting by Reuters
Register for free to continue reading
Registration is a free and easy way to support our truly independent journalism
By registering, you will also enjoy limited access to Premium articles, exclusive newsletters, commenting, and virtual events with our leading journalists
Already have an account? sign in
Register for free to continue reading
Registration is a free and easy way to support our truly independent journalism
By registering, you will also enjoy limited access to Premium articles, exclusive newsletters, commenting, and virtual events with our leading journalists
Already have an account? sign in
Join our new commenting forum
Join thought-provoking conversations, follow other Independent readers and see their replies