Mexico earthquake: At least 13 dead including three children in military helicopter crash after tremor
'In that moment... nothing else was heard beside the sound that iron makes when it scrapes the earth,' says one person on the helicopter
Saturday 17 February 2018 16:29 GMT
Comments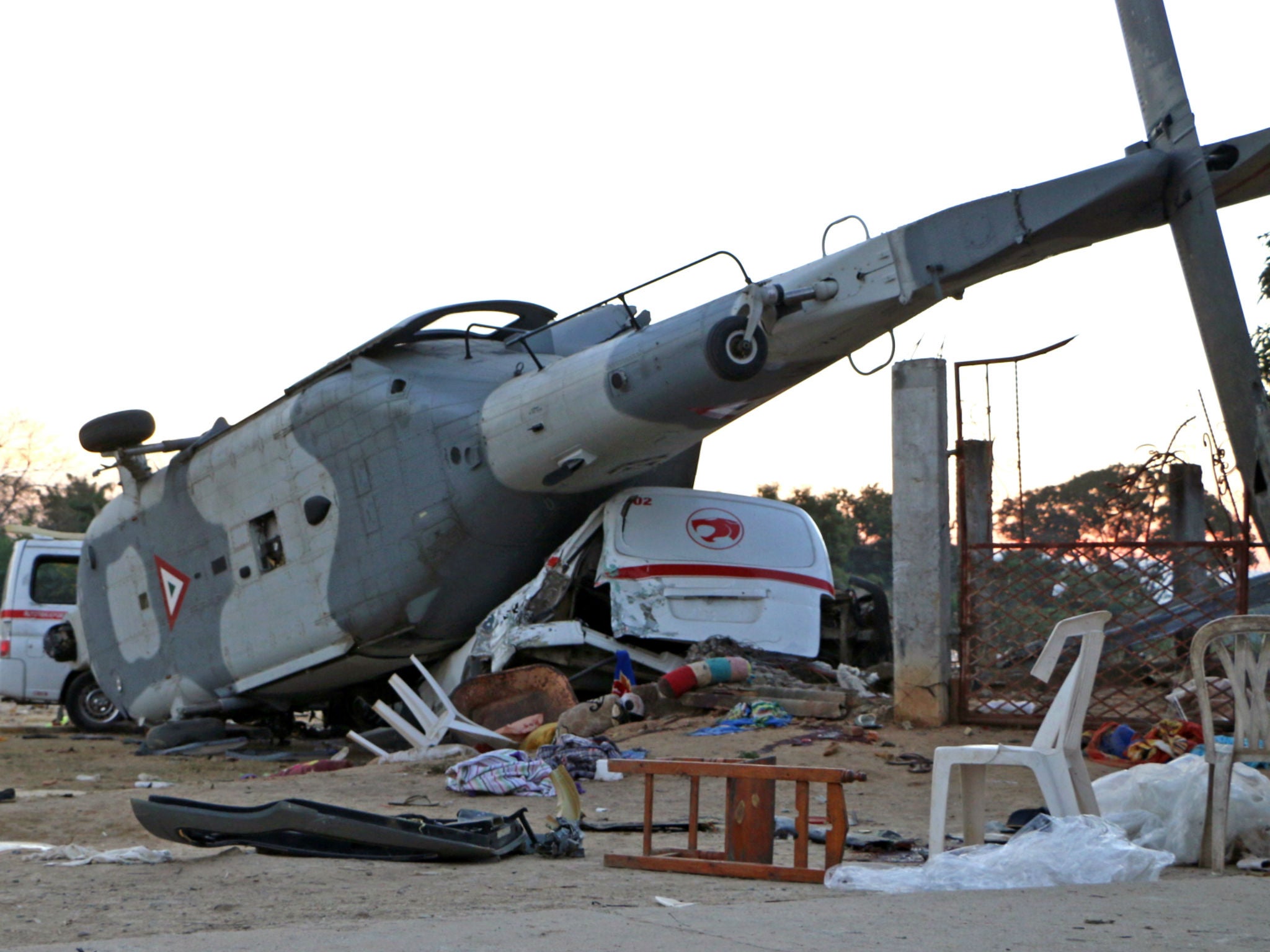 At least 13 people, including three children, died after a military helicopter crashed near the site of a major earthquake in Mexico.
Twelve people died at the site of the incident, in southern Oaxaca state – five women, four men, two girls and a boy – according to a statement from the state's attorney general's office. A thirteenth person died in hospital, while 15 others were injured in the crash.
Authorities said all of the victims were on the ground when the helicopter crashed.
The helicopter, which was carrying Mexico's interior minister and the state governor, crashed on top of two vans in an open field while trying to land in Santiago Jamiltepec after a tour of damage from the 7.2 magnitude earthquake on Friday.
Secretary of the Interior Alfonso Navarrete and the governor of the state of Oaxaca, Alejandro Murat both suffered minor injuries, according to the Ministry of the Interior.
The Defence Department said the Blackhawk helicopter crashed when it was preparing to land in an empty car park in Jamiltepec.
Mexico earthquake: Light fittings swing from ceiling during 7.2 magnitude quake
Jorge Morales, a local reporter who was aboard the helicopter when it crashed, described the moments the helicopter attempted to land in a swirl of dust.
"The moment the helicopter touched down it lost control, it slid – like it skidded – and it hit some vehicles that were stationed in the area," he told a Mexican television news programme. "In that moment, you couldn't see anything, nothing else was heard beside the sound that iron makes when it scrapes the earth."
The accident was the latest embarrassment in Mr Navarrete's short term at the Interior Department, which oversees most political and security issues. Earlier this month, an intelligence agent from an agency overseen by Mr Navarrete's department was caught following an opposition presidential candidate.
World news in pictures
Show all 50
Both Mr Navarrete and the defence department said they regretted the loss of life in Friday's accident.
The earthquake left nearly a million homes and businesses without power in Mexico City and the south and damaged at least 50 homes in Oaxaca. Aftershocks had caused people to flee their homes for fear they would collapse.
The state, along with Mexico City, is also still reeling from earthquakes that caused widespread damage in September and killed at least 471 people.
Associated Press and Reuters contributed to this report.
Join our commenting forum
Join thought-provoking conversations, follow other Independent readers and see their replies