Mexico missing students: Disappearance still a mystery as bodies not found in mass graves
A gang leader believed to be involved killed himself before being arrested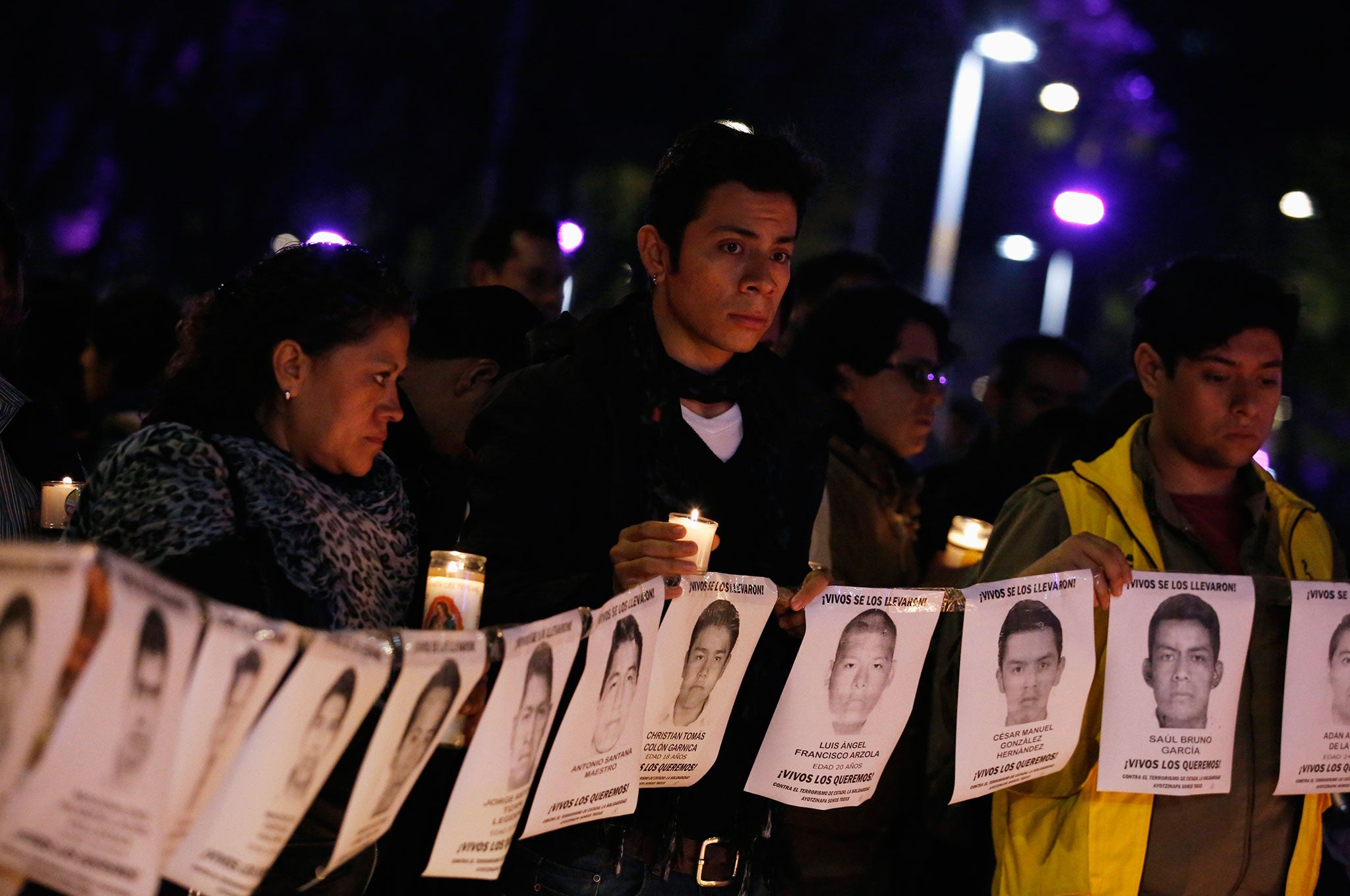 Bodies found in nine mass graves in Mexico do not belong to any of the 43 students missing for more than a fortnight.
Authorities tested remains of 28 people, some badly burned, that were dug up a week after the students disappeared following a confrontation with local police.
State governor Angel Aguirre said many of the bodies at one site appeared to have been buried for some time, suggesting they belonged to earlier victims of criminal gangs.
"Some of them are not recent, some are from months ago," he added.
The students had travelled to Iguala to raise money for a campaign against new education laws but after commandeering three local buses to take them back to Ayotzinapa, they were reportedly ambushed.
Six people were killed in the attack, including one found with the skin stripped from his face and his eyes gouged out, another 25 students were wounded and dozens of were rounded up by police.
There has been no sign of the 43 missing in nearly three weeks, leading investigators to comb unmarked burial sites outside of Iguala, where drug cartels are believed to dump their enemies.
Some believe the students were targeted for their left-wing political beliefs but others suggested they may have angered the Guerreros Unidos gang by refusing to pay extortion money.
Forensic investigators continued to test other remains and announced the discovery of 10th mass grave on Tuesday.
A total of 50 police officers have been arrested and some have confessed to involvement in the disappearance.
The latest 14 to be detained are from the police force of Cocula, a town neighbouring Iguala in the southern state of Guerrero.
Both the mayor and police chief of Iguala are on the run and accused of links to the local Guerrero Unidos drug cartel.
The gang controls drug routes in Guerrero and Morelos states.
An alleged leader of the Guerreros Unidos, Benjamin Mondragon, killed himself as he was about to be arrested by police on Tuesday, the national security commissioner said.
He said it was unclear whether Mondragon was involved.
Mexico's Attorney General, Jesus Murillo Karam, said investigators had not established who was behind the apparent abduction or the motive.
"There's a connection (between corrupt police and drug traffickers)," he added.
"We will determine if it was co-ordination or subordination, but it's clear to me that they were working together."
The missing students are all young men from poor families across Mexico who were training to become teachers at Guerrero's Ayotzinapa training college, which has a history for left-wing activism.
Mario Cesar Gonzalez's 22-year-old son, Cesar Manuel, was last seen being bundled into a police car.
"Unfortunately, we don't have the slightest idea where our children are," he told The Independent on Sunday. "Making all the inquiries with the state and federal authorities has left me psychologically worn out."
Thousands of people have joined angry protests across Mexico, including in Mexico City and the state capital, Chilpancingo, accusing the police of complicity in the disappearance.
In pictures: Mass protests hit Mexico
Show all 8
President Enrique Pena Nieto said the disappearances would "lead the Mexican government at all levels to take actions that will prevent events like those in Iguala from ever occurring again".
The Government "will strengthen institutions, especially those involved in law enforcement, so that they act with greater reliability and efficiency", he added.
Additional reporting by PA
Join our commenting forum
Join thought-provoking conversations, follow other Independent readers and see their replies