Three Italian men who disappeared in Mexico 'sold to drugs gang by police for £39'
Officers charged with abducting visitors and handing them over for money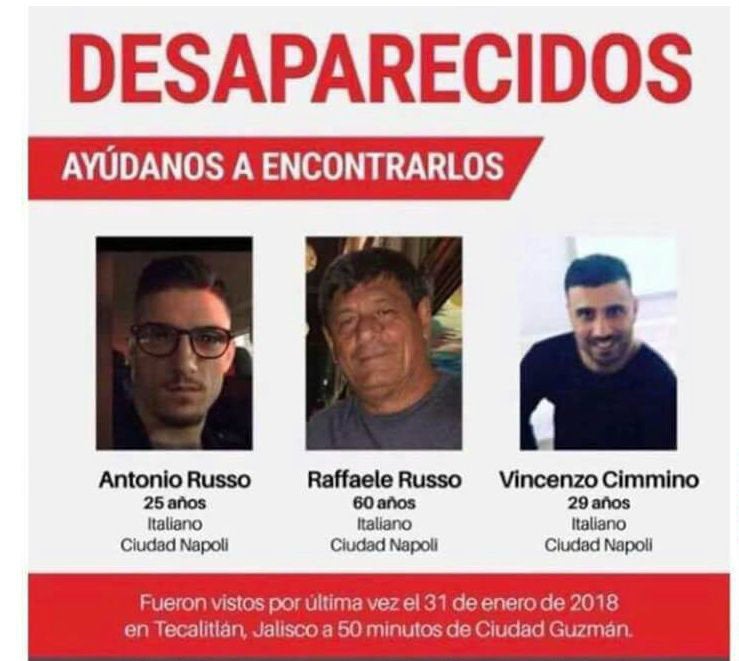 Criminal proceedings are believed to have been launched in Mexico against police officers who allegedly abducted three Italian visitors and sold them to a criminal gang.
The four officers — three men and a woman — confessed to having turned over the three men to an "organised crime" group, prosecutors say.
Raffaele Russo, 60, his 25-year-old son Antonio, and his nephew, Vincenzo Cimmino, 29, were in the country to sell machinery.
The three had stopped last month at a petrol station in Tecalitlan, an agricultural town in Jalisco state, where the police arrested them. They sent a last message to their family from a mobile device.
Relatives claimed the men were sold to a gang for 1,000 pesos (£38.50).
The Italians were handed over to an organised crime group by the local police, the state attorney-general said.
Authorities are believed to suspect the men of passing their goods off as expensive brands. But their families in Italy denied they were involved in any wrongdoing.
The officers have been charged over the men's "forced disappearance", the BBC reported. The crime that may carry a prison term of up to 60 years.
Join our commenting forum
Join thought-provoking conversations, follow other Independent readers and see their replies