Mexico teachers protest: 6 killed and 100 injured in Oaxaca after clashes with police
The teachers were protesting sweeping education reform passed by the federal government in 2013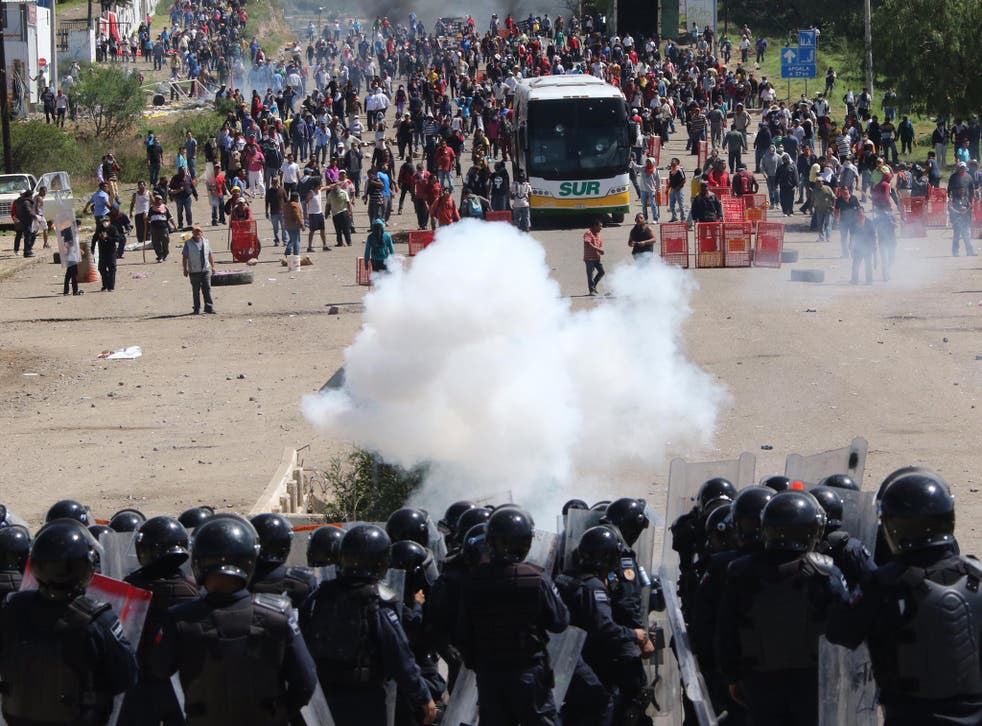 Six people are dead and more than 100 are injured following a weekend of violence between members of a teachers' union and police in southern Mexico.
In a violent confrontation with law enforcement on Sunday, teachers belonging to the National Coordinator of Education Workers (CNTE) staged blockades across multiple roads in Oaxaca. They were sweeping education reform that requires testing of teachers, as well as the arrest of union leaders and other governmental corruption, the Associated Press reports.
During the Sunday demonstrations, law enforcement opened fire on protesters who were seen throwing rocks and molotov cocktails.
Mexico teachers' strike turns violent
All of the dead reported were civilians, according to Oaxaca Gov Gabino Cue - two had connections to the CNTE union. In all, 53 civilians were injured in the clash, in addition to 41 federal and 14 state police officers.
The AP says, despite its reporters witnessing riot police firing on protesters, the Mexican government maintained that officers involved in the operation were not carrying firearms. It was not clear whether or not the officers reportedly seen firing were state or federal personnel.
"The attacks with guns came from people outside the blockades who fired on the population and federal police," Mexican officials said in a statement.
Federal Police chief Enrique Galindo later confirmed that the federal police had sent in armed officers.
"The police obligation is to protect the population," he told reporters.
Two union leaders were arrested last week after federal prosecutors accused them of stealing money from members and money laundering. But members believe those accusations are politically motivated attacks.
Register for free to continue reading
Registration is a free and easy way to support our truly independent journalism
By registering, you will also enjoy limited access to Premium articles, exclusive newsletters, commenting, and virtual events with our leading journalists
Already have an account? sign in
Register for free to continue reading
Registration is a free and easy way to support our truly independent journalism
By registering, you will also enjoy limited access to Premium articles, exclusive newsletters, commenting, and virtual events with our leading journalists
Already have an account? sign in
Join our new commenting forum
Join thought-provoking conversations, follow other Independent readers and see their replies