Michael Avenatti: US lawyer accused of dragging girlfriend across apartment floor in dispute over money
Lawyer served with a temporary restraining order which requires him to stay at least 100 yards away from actress Mareli Miniutti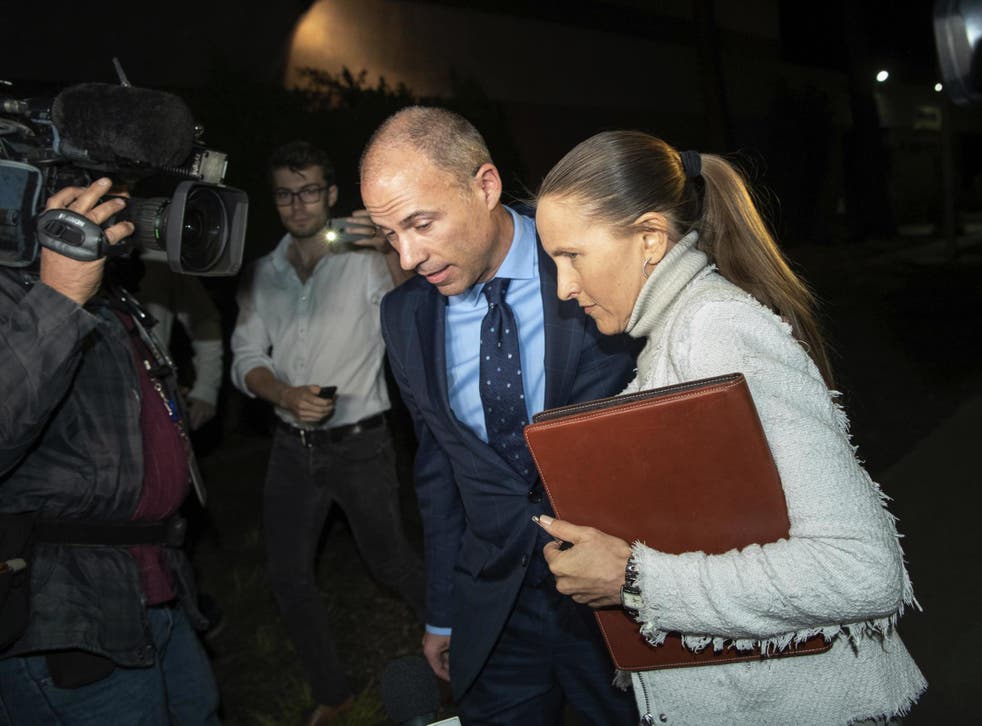 A 24-year-old woman whose domestic violence complaint led to the arrest last week of lawyer Michael Avenatti claims in court documents that he cursed at her and dragged her out of bed and across the floor of a Los Angeles apartment after a dispute about money.
The allegations are included as part of a request by Mareli Miniutti for a temporary restraining order against Avenatti, which a Los Angeles Superior Court judge granted this week.
Law enforcement officials have released scant details about the case, saying only that Mr Avenatti's 14 November arrest on suspicion of domestic violence stemmed from an episode in the upscale Century City neighbourhood on the west side of Los Angeles. Hours after his arrest, Mr Avenatti, who rose to fame representing pornographic film actress Stormy Daniels, whose real name is Stephanie Clifford, was released from jail after posting bail and has strongly denied allegations that he committed domestic violence.
The new court documents, which were filed earlier this week and obtained by The New York Times contain a series of details that describe what Ms Miniutti alleges took place during the night in question. In the documents, Ms Miniutti, an actress, refers to Mr Avenatti, 47, as her "boyfriend."
In a sworn declaration, Ms Miniutti said she and Mr Avenatti dated from October 2017 until Nov. 13, the night, she alleges, that they began to argue about money and that Mr Avenatti berated her using expletives.
After the alleged verbal abuse, Ms Miniutti said, she went to a guest bedroom in the apartment she says they shared to sleep alone. But Mr Avenatti followed her, according to the declaration, and eventually began "forcefully" hitting her in the face with pillows.
Ms Miniutti alleges that Mr Avenatti then "grabbed my right arm and dragged me out of the bed."
"He dragged me on the floor of the apartment towards and out of the door into the public hallway," she wrote in the declaration. "I was wearing only my underwear and a T-shirt at the time, and suffered scratches to the bare skin on my side and leg."
Mr Avenatti then pulled Ms Miniutti back into the apartment and blocked the door, the declaration says. Ms Miniutti said she was eventually able to get around Mr Avenatti and leave the apartment, but he followed her into an elevator, where, she says, he "repeatedly begged, 'Don't do this Mareli, don't involve them."
Upon exiting the elevator, however, Ms Miniutti said, she talked with building associates and security before calling a friend who picked her up. She then called the police, and officers took a statement from her, she added. The court filing includes photos that appear to show scratches and bruising.
World news in pictures

Show all 50
The Los Angeles Police Department has said that its detectives arrested Mr Avenatti the next day.
In the same declaration, Ms Miniutti also alleges that in a separate episode in February, Mr Avenatti had been drinking and pushed her out of a different apartment and into a hallway. She hit her head on a door, she said, and Mr Avenatti then threw her shoes at her, striking her in the leg.
Mr Avenatti, she wrote, "has a history of being very verbally abusive and financially controlling towards me," adding that he has "made promises to 'take care of me' financially and sometimes fails to follow through."
She wrote: "I continue to be afraid of" Mr Avenatii and did "not want him to contact me."
The temporary restraining order signed by Judge Susan Lopez-Giss, bars Avenatti from contacting, harassing or attacking Ms Miniutti and requires him to stay at least 100 yards away from her until a hearing set for the morning of 10 December.
According to film website IMDB, Ms Miniutti has made uncredited cameos in the films Ocean's Eight and How to Be Single. She is featured in a seven-minute short film titled The Go Girls. A representative for the Cabrera Talent Company in Los Angeles said the company used to represent her but had not been in contact with her for two years.
Support free-thinking journalism and attend Independent events
In a series of tweets since the court documents emerged, Mr Avenatti has reiterated his claim that he had never abused a woman or committed domestic violence. He has also called for the release of any video footage of the episode captured by building security cameras.
"I am a target," he said. "And I will be exonerated."
Mr Avenatti has positioned himself as a crusading critic of President Donald Trump and a fierce advocate of women's rights. He has also toyed with a run for president, using Twitter to broadcast his voice and challenge politicians and news personalities to debates.
Based in Newport Beach, California, Mr Avenatti — who is recently divorced — took up residence in a New York City hotel last spring. He has filed three lawsuits against the president and his former personal lawyer, Michael Cohen, this year. Last month, a federal judge dismissed one.
The New York Times
Register for free to continue reading
Registration is a free and easy way to support our truly independent journalism
By registering, you will also enjoy limited access to Premium articles, exclusive newsletters, commenting, and virtual events with our leading journalists
Already have an account? sign in
Register for free to continue reading
Registration is a free and easy way to support our truly independent journalism
By registering, you will also enjoy limited access to Premium articles, exclusive newsletters, commenting, and virtual events with our leading journalists
Already have an account? sign in
Join our new commenting forum
Join thought-provoking conversations, follow other Independent readers and see their replies