Michael Brown shooting: Ferguson police clash with protesters after authorities say officer 'did not know' unarmed teen was robbery suspect
Stores have been looted and rocks hurled at police overnight
Heather Saul
Saturday 16 August 2014 16:04 Comments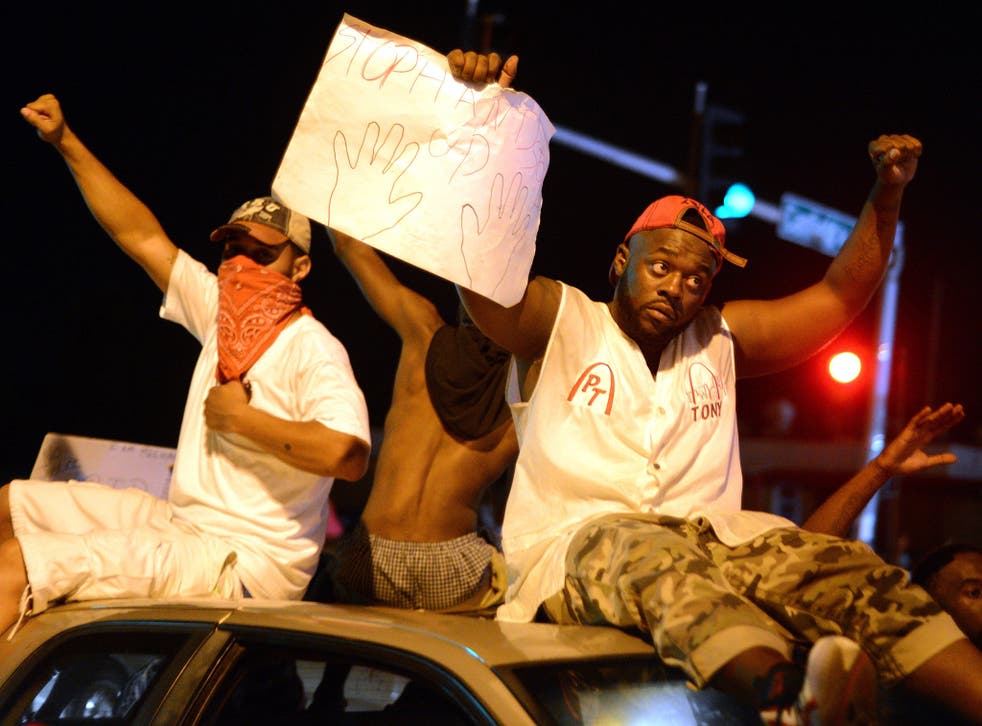 Police in Ferguson have confronted looters as tensions rose over the killing of black teenager Michael Brown, following a police statement naming him as a robbery suspect.
About 200 protesters gathered in Ferguson, Missouri, overnight as demonstrations continued nearly a week after the unarmed 18-year-old was shot and killed.
Demonstrations remained largely peaceful until midnight, when a large crowd broke into the convenience store that Brown allegedly robbed the day he was killed. The Associated Press reports several other stores were also looted, while car windows and the glass around at least one bus stop were smashed.
Missouri State Highway Patrol Captain Ron Johnson said rocks and other objects were also hurled at police clad in riot gear, who responded with tear gas to disperse the crowd.
Other protesters also lined up in front of the market, keeping looters from returning. No arrests were made.
Earlier, Brown's family appealed for calm as tensions rose in the area after CCTV footage a police report claimed shows Brown and his friend Dorian Johnson stealing from a store was released.
In pictures: Michael Brown shooting nationwide protests

Show all 10
Brown's cousin, Eric Davis called on protesters to continue peacefully protesting. "Stay with us, we don't want to see any violence on the streets," he urged.
However, hours after Brown was named as a suspect in the "strong-arm" robbery of cigars from a store was released, police said that Officer Darren Wilson, 28, had no idea he was a robbery suspect.
Ferguson Police Chief Tom Jackson said at a news conference he simply wanted Brown to move from the road to the sidewalk, saying: "The initial contact between the officer and Michael Brown was not related to the robbery"
He said Wilson stopped Brown and his friend because: "He was walking down the middle of the street blocking traffic."
Jackson said he had released the CCTV footage because FOI requests by journalists had forced him to do so.
Johnson has said in numerous interviews after the shooting that Brown held his hands up in surrender before the officer shot him.
Wilson's identity was kept a secret since the 9 August shooting and authorities had been under mounting pressure to both identify the officer and to provide details about the investigation to ease unrest in the largely black community.
Few details about Wilson have been released, other than that he was a police officer for six years, four of those in Ferguson.
The announcement was met with anger from the community. Laura Keys, 50, told The St. Louis Post-Dispatch she was "incensed" by the allegation. "I can't believe this is the tactic they are using, bringing up a robbery to make the victim look like he was the person who created this whole mess," said Ms Keys.
Civil rights leaders Al Sharpton says a peaceful protest led by Brown's family will be held later today.
Register for free to continue reading
Registration is a free and easy way to support our truly independent journalism
By registering, you will also enjoy limited access to Premium articles, exclusive newsletters, commenting, and virtual events with our leading journalists
Already have an account? sign in
Join our new commenting forum
Join thought-provoking conversations, follow other Independent readers and see their replies