Michelle Carter: Teenager 'pressured boyfriend to kill himself by sending him hundreds of text messages'
Michelle Carter, who was 17 at the time at the time of Roy's death, has been charged with involuntary manslaughter
Alexandra Sims
Tuesday 01 September 2015 16:45 Comments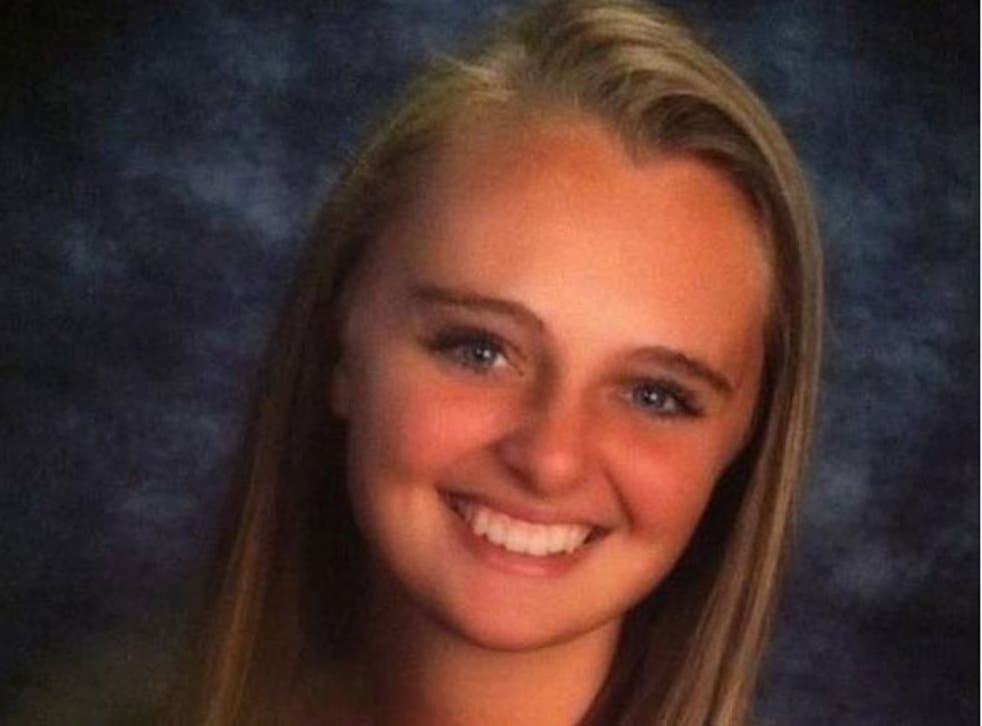 Text messages from a teenager accused of manslaughter are alleged to show that she pressured her boyfriend into killing himself, according to reports.
Prosecutors have said that Michelle Carter, 18, understood that messages she sent to Conrad Roy III's phone were incriminating if found by police.
Carter had allegedly asked Roy in a text to delete her messages before he killed himself in a supermarket car park in Fairhaven, Massachusetts in July last year.
The messages were later found by investigators.
The teenager allegedly texted a friend after Roy's death saying: "[if the police] read my messages with him I'm done. His family will hate me and I can go to jail," according to the Washington Post.
Carter, who was 17 at the time at the time of Roy's death, has been charged with involuntary manslaughter in a juvenile court in Massachusetts.
According to prosecutors, Carter pressured her boyfriend for nearly a week before he took his own life.
Prosecutor Katie Rayburn said that in hundreds text messages between 6 and 12 July last year Carter rebuked Roy when he was having second thoughts about his suicide, according to South Coast Today.
In one exchange of messages Roy asked Carter: "How was your day?" to which she allegedly answered: "When are you going to do it?".
Another message reportedly said: "It's okay to be scared and it's normal. I mean, you're about to die."
Carter knew Roy was "suicidal" and "especially vulnerable," said Rayburn, she told him she loved him and urged him to commit suicide.

Carter's lawyer, however, has argued that the charges against her should be dropped.
According to attorney Joseph P. Cataldo, Carter initially tried to help Roy, but became "brainwashed" into assisting him with his plan to take his own life.
"He ultimately persuaded a young, impressionable girl," the Cataldo told reporters in an interview according to South Coast Today. "Eventually he gets her to endorse his plan."
Carter publicly mourned Roy's death over social media, writing on Facebook:"Even though I could not save my boyfriend's life, I want to put myself out here to try to save as many other lives as possible," according to the Washington Post.
Carter also organised a softball fund-raiser in memory of Roy raising over $2,300 for mental health awareness.
Register for free to continue reading
Registration is a free and easy way to support our truly independent journalism
By registering, you will also enjoy limited access to Premium articles, exclusive newsletters, commenting, and virtual events with our leading journalists
Already have an account? sign in
Join our new commenting forum
Join thought-provoking conversations, follow other Independent readers and see their replies