Michelle Obama opens up about 'tough times' that led her and Barack to marriage therapy
She also spoke about life as empty nesters
Dave Maclean
New York
Monday 10 February 2020 01:20 Comments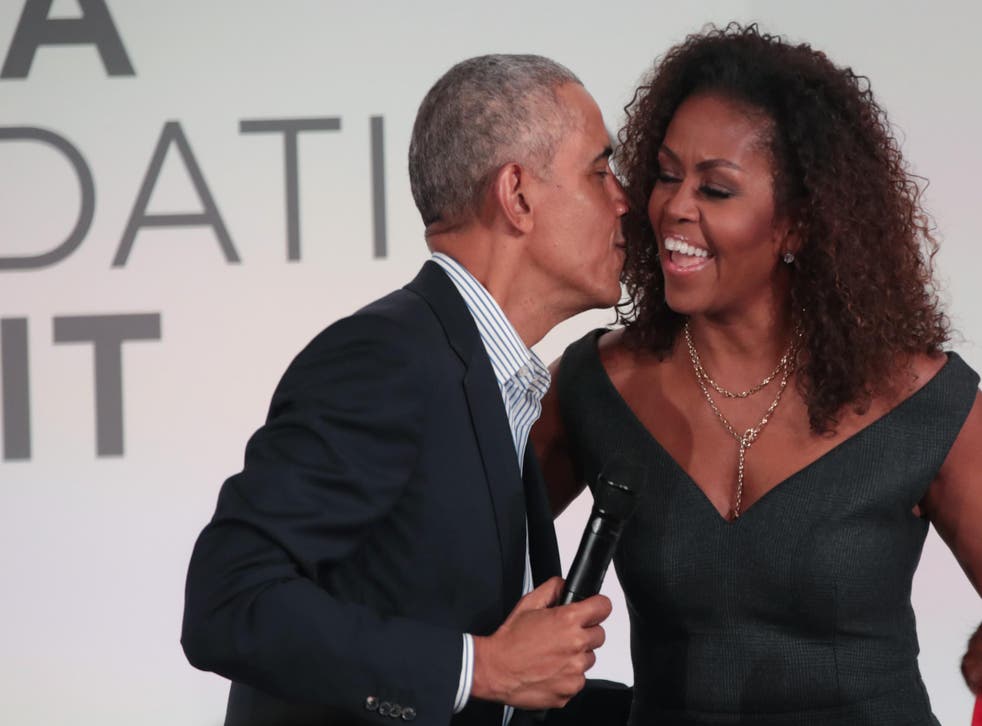 Michelle Obama has talked about the marriage counselling sessions she attended with Barack, saying it helped them to work through 'tough times' after their daughters were born.
She was speaking to Oprah Winfrey at Barclays Center in New York on Saturday in front of a crowd of 15,000 people when she opened up about the ups and downs of her marriage to the former president.
She said counselling helped her to discover that she was responsible for her own happiness.
"Sometimes you need an objective person to just hear you out. If I'm going to show up equal in this partnership, I have to be able to make myself happy and so I had to stop focusing on what he wasn't doing and start thinking about how to carve out the life that I wanted for myself, with or without Barack.
"The more I succeeded in defining myself for myself, the better I was in my partnership."
Michelle Obama's most empowering quotes

Show all 10
She said she tries to get across to young people just how difficult a partnership can be: "Marriage is hard and raising a family together is a hard thing. It takes a toll."
With an empty nest - Malia, 21, is at Harvard University and Sasha, 18, is at the University of Michigan - they now have more "emotional time, emotional energy".
"We had to worry about what parties they were going to, whether there was alcohol, I had to know who the parents were, so every weekend for me was hard. And they're gone, thank God.
"We have more emotional time, emotional energy. It's just me and him and [dogs] Bo and Sunny and dinner. And they don't talk, the dogs."
Her marriage comments ended on an uplifting note, in which she said friendship is at the heart of their relationship.
Michelle Obama reads things she couldn't say as First Lady with Jimmy Kimmel
"We're coming back to that point where we see each other again because some of the hardest times in our lives we just escaped, we survived it.
"We went through a tough time, we did some hard things together. But now we're out on the other end and I can look at him and I still recognise my husband. He's still the man I fell in love with."
The couple met at a law firm in Chicago, and will celebrate their 28th anniversary on October 3.
Register for free to continue reading
Registration is a free and easy way to support our truly independent journalism
By registering, you will also enjoy limited access to Premium articles, exclusive newsletters, commenting, and virtual events with our leading journalists
Already have an account? sign in
Join our new commenting forum
Join thought-provoking conversations, follow other Independent readers and see their replies