Michelle Obama preserves White House kitchen garden in stone and says she hopes future presidents will look after it
The first lady is keen to ensure her 'symbol of hope' is maintained beyond January 2017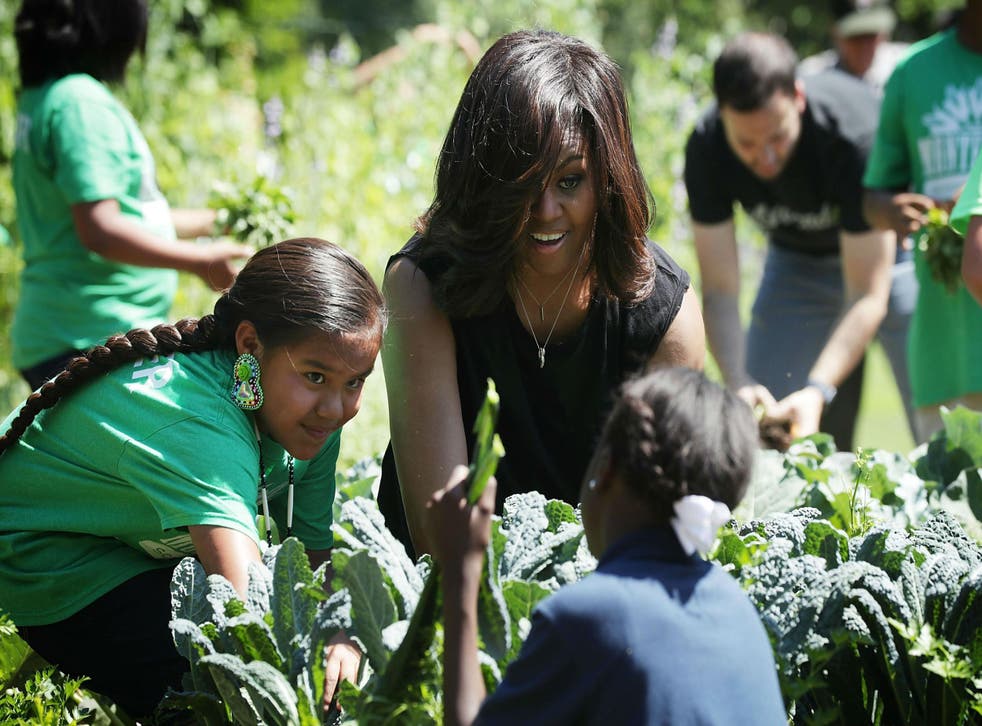 Michelle Obama is concerned that Bill Clinton or Melania Trump might unearth her vegetables.
The first lady has laid out her kitchen garden on the White House South Lawn in stone and steel - a more permanent surrounding for the plot she planted in 2009 and which became a "labour of love", producing more than 2,000 pounds of food to the president's family, guests and homeless charities throughout the year.
In a speech in the White House garden this week, she thanked her staff for working through all weathers and the team behind her charitable initiative, "Let's Move!", which encourages children to eat well and live healthy lifestyles.
"I take great pride in knowing that this little garden will live on as a symbol of the hopes and dreams we all hold of growing a healthier nation for our children," she said.
The first lady highlighted the first ever White House compost system, the first beehive and the first pollinated garden to look after birds, butterflies and bees.
Food from the garden has been given as gifts to heads of state and the Pope, who received a box of seeds from the president when he visited the Vatican.
"One of the most frequent question he [Mr Obama] gets from world leaders is: 'How is your wife's garden?'" Ms Obama said.
It is also the first White House garden to be visible to the public, from just behind the fence to the South Lawn, where the presidents' dogs, Bo and Sunny, are walked, and where staffers are encouraged to pick weeds to get some downtime.
With the help of the University of Virginia School of Architecture, sawdust pathways have been widened, a permanent archway has been built and a large stone has been laid with the inscription: "WHITE HOUSE KITCHEN GARDEN, established in 2009 by First Lady Michelle Obama with the hope of growing a healthier nation for our children."
The wood, including pine and walnut, has been harvested from the estates of Founding Fathers such as Thomas Jefferson, James Madison and the birthplace of Martin Luther King Jr.
Ms Obama has secured a $2.5 million funding stream from charities to maintain the garden after their family leaves the White House in January 2017.
"I am hopeful that future first families will cherish this garden like we have," she added.
The garden, now encompassing around 2,800 square foot with more than 50 types of fruit, vegetable and herb, will be looked after by the National Park Service.
It also has a long history. First lady Eleanor Roosevelt planted a "Victory Garden" to encourage Americans to grow their own food during World War II.
A future president could remove Ms Obama's garden, however.
Donald Trump told People magazine in 2015 that the White House was a "special place" that would not need much "touching".
When Bill and Hillary Clinton were last in the White House, Mr Clinton scrapped George H W Bush's horse shoe pit and built a jogging path around the estate following complaints that his runs were blocking traffic.
Ms Obama said the garden has taught her to be fearless, try new things and "see what will grow".
"I take pride in knowing that this garden serves as a reminder of what we all started, but also what we all have left to do," she said.
Join our new commenting forum
Join thought-provoking conversations, follow other Independent readers and see their replies