Seventy per cent of migrants to US suffer violence en route, MSF says
Charity claims report is best available medical data on Central American migrants 
Will Worley Comments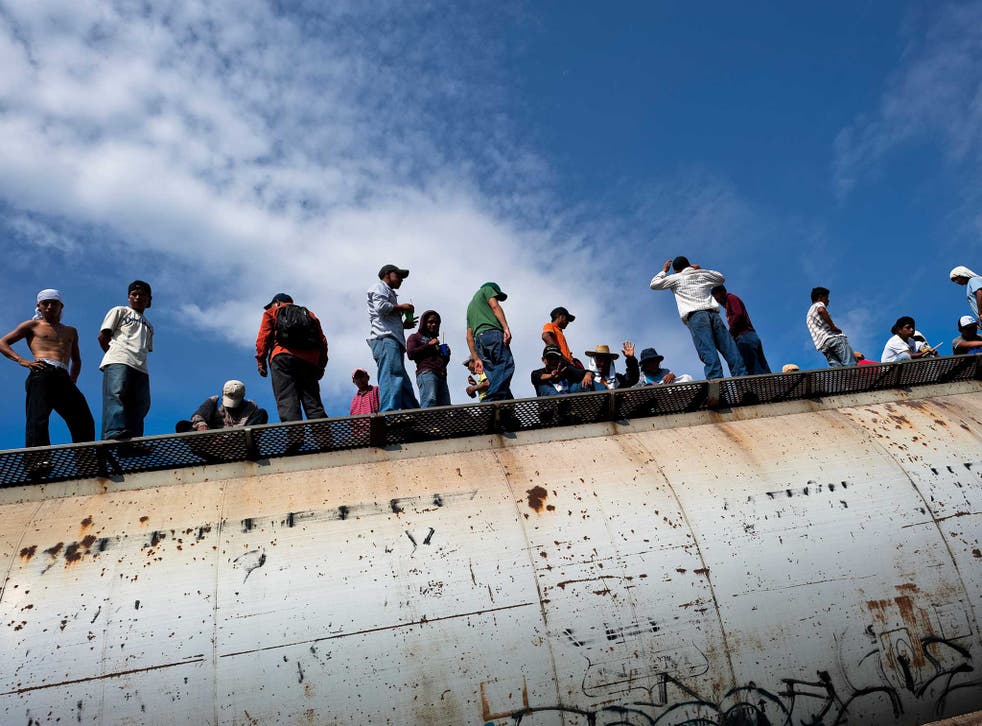 Nearly 70 per cent of migrants suffer violence while travelling through Mexico towards the United States, and almost a third are victims of sexual violence, according to a report.
In addition, 39.2 per cent of migrants surveyed left their homes in Honduras, El Salvador and Guatemala because of violent attacks or threats.
Doctors Without Borders, also known as MSF, said their report was the most comprehensive medical data available on migrants travelling from Central America's notorious Northern Triangle.
The charity said governments in the Americas should look at migration as a humanitarian issue, rather than purely through the lens of economic migration.
International group to fight corruption in Honduras
The report painted a picture of "extreme levels of violence" pushing people from their homes and making them vulnerable to further abuses while travelling to the US.
More than half of migrants from El Salvador surveyed had seen a relative killed within the last two years because of gang violence, along with 44 per cent of migrants from Honduras and Guatemala.
The countries have some of the worst levels of violence outside a war zone. "Citizens are murdered with impunity, kidnappings and extortion are daily occurrences," MSF said.
In 2015, El Salvador's murder rate reached 103 per 100,000 people, in Honduras it was 57 per 100,000.
Forcible recruitment into gangs is also a significant issue, prompting many people to leave.
Those abused while in Mexico said the perpetrators "included members of gangs and other criminal organisations, as well as members of the Mexican security forces responsible for their protection," MSF said.
Doctors treated 166 female migrants for sexual violence. Of those, 60 per cent had been raped and the rest were subjected to other kinds of assault such as forced nudity.
A 35-year-old Honduran woman told MSF of her rape at the hands of a gang accompanied by a Mexican federal police officer.
"They put a knife on my neck, so I did not resist," she said. "I am ashamed to say this, but I think it would have been better if they had killed me."
Among 1,817 people treated for mental health issues, about 47 per cent had experienced physical violence during transit.
Bertrand Rossier, MSF's head of mission in Mexico, said: "The unrelenting violence and emotional suffering endured by a significant number of people on the move from the Northern Triangle of Central America is not unlike what is experienced by people in conflict zones where MSF has been working for decades.
World news in pictures

Show all 50
"Murder, kidnappings, threats, recruitment by non-state armed actors, extortion, sexual violence and forced disappearance—these are the realities of war and conflicts also faced by people in this region of Central America.
"While there are certainly people leaving these countries for better economic opportunities, the picture that emerges from our report is one of terrorised vulnerable people running for their lives and those of their families.
"Attempts to stem migration by strengthening national borders and increased detention or deportation, as we have seen in Mexico and in the US, ignore a genuine humanitarian crisis and do not curb smuggling and trafficking. These strategies have devastating consequences on the lives and health of people on the move.
"To play on public fears and merely view these people as a security or an economic issue is short sighted. This is a humanitarian crisis and MSF calls for urgent, coordinated action to ensure that people on the move are safe from violence and persecution, are welcomed with international protection rather than with more violence, and overall treated with dignity and humanity."
Register for free to continue reading
Registration is a free and easy way to support our truly independent journalism
By registering, you will also enjoy limited access to Premium articles, exclusive newsletters, commenting, and virtual events with our leading journalists
Already have an account? sign in
Join our new commenting forum
Join thought-provoking conversations, follow other Independent readers and see their replies