Miguel Diaz-Canel: Cuban government nominates candidate to replace Castro as president
Little is known about the 57-year-old successor to Raul Castro
Emily Shugerman
New York
Wednesday 18 April 2018 17:25 Comments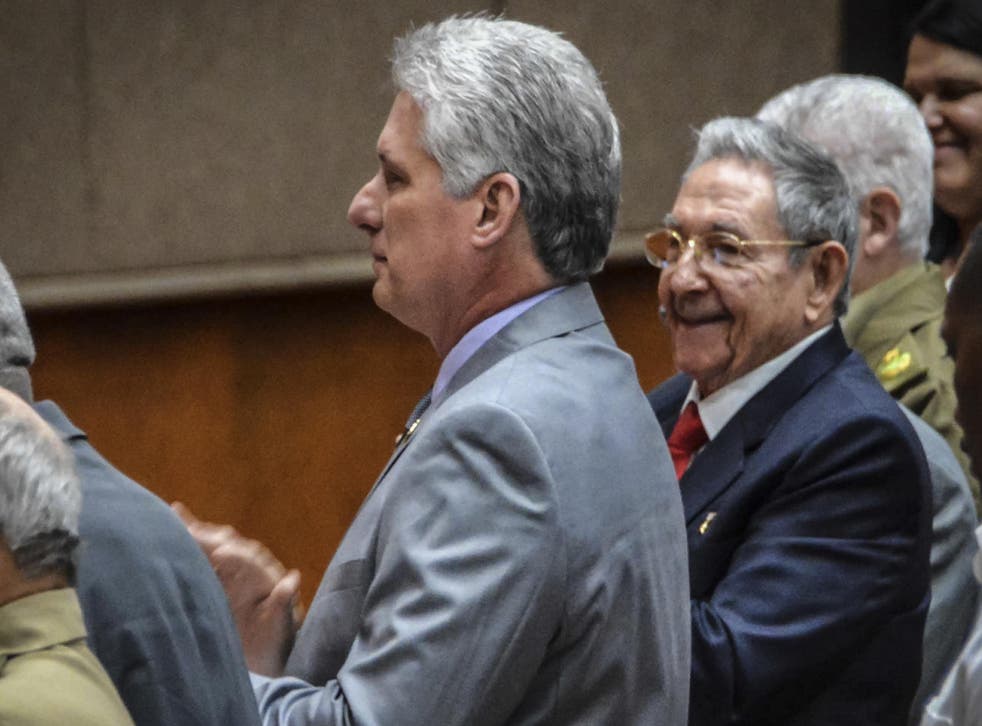 The Cuban government has nominated First Vice President Miguel Mario Diaz-Canel Bermudez as its sole candidate for president, confirming expectations that the Communist Party loyalist would be the first person outside the Castro family to lead the country in nearly 60 years.
Wednesday's nomination essentially guaranteed that Mr Diaz-Canel would be confirmed by the 604 delegates at the National Assembly, who generally approve candidates for president with near-total unanimity.
Salvador Valdes Mesa, a 72-year-old former union official, was nominated as vice president.
Mr Diaz-Canel will succeed current President Raul Castro, the brother of revolutionary Fidel Castro and a symbol of the country's 1959 transition from an authoritarian government to a communist state. This year's transition is seen as a test of whether the Cuban Communist Party can continue its one-party rule in the absence of its more well-known leaders.
Mr Diaz-Canel has served as vice president of the powerful Council of State since 2013, when he was appointed by party leadership and approved by the National Assembly. The general public knows little about the 57-year-old former engineer, who has granted no interviews to foreign news outlets.
Pictures of everyday life in Cuba

Show all 20
But Mr Diaz-Canel is well-known to Communist Party leaders, having worked his way up the ranks for more than 30 years. He started as a member of the Young Communists' Union in 1987, and became the first party secretary in Villa Clara province by 1994. He has also served as Cuba's minister of education, and lead delegations to Russia, China, Japan, North Korea, and several South American countries.
Mr Diaz-Canel was born after the Cuban Revolution – one year after Fidel Castro took office – but has shown no signs of abandoning his revolutionary predecessors' policies.
"I believe in continuity," he told reporters who asked about his vision for Cuba's future, according to CNN. "I think there always will be continuity."
Fidel Castro - from revolutionary to global figurehead
Mr Diaz-Canel is expected take office after Mr Castro retires this week, after serving two successive five-year terms. Mr Castro took over from his brother, Fidel, when he resigned in 2008. The two brothers have ruled the country since the revolution in 1959.
Rual Castro is remembered for opening up the Communist country up to slightly more private enterprise, and for restoring diplomatic relations with the US under President Barack Obama. He will continue to serve as president of the Communist Party – a powerful government role. He attended and applauded Mr Diaz-Canel's nomination on Wednesday.
Cuban elections are a multi-pronged process that start with the election of municipal representatives and end with the selection of the president. Candidates for many roles – including the president and vice president – are selected by government bodies. The US, European Union, and others have criticised the election process as not fully democratic.
Register for free to continue reading
Registration is a free and easy way to support our truly independent journalism
By registering, you will also enjoy limited access to Premium articles, exclusive newsletters, commenting, and virtual events with our leading journalists
Already have an account? sign in
Join our new commenting forum
Join thought-provoking conversations, follow other Independent readers and see their replies