Mike Huckabee blasted for 'anti Asian' tweet amid rise in reported hate crimes
Former Arkansas governor and GOP candidate Mike Huckabee has been criticised for tweeting that he will "identify" as Chinese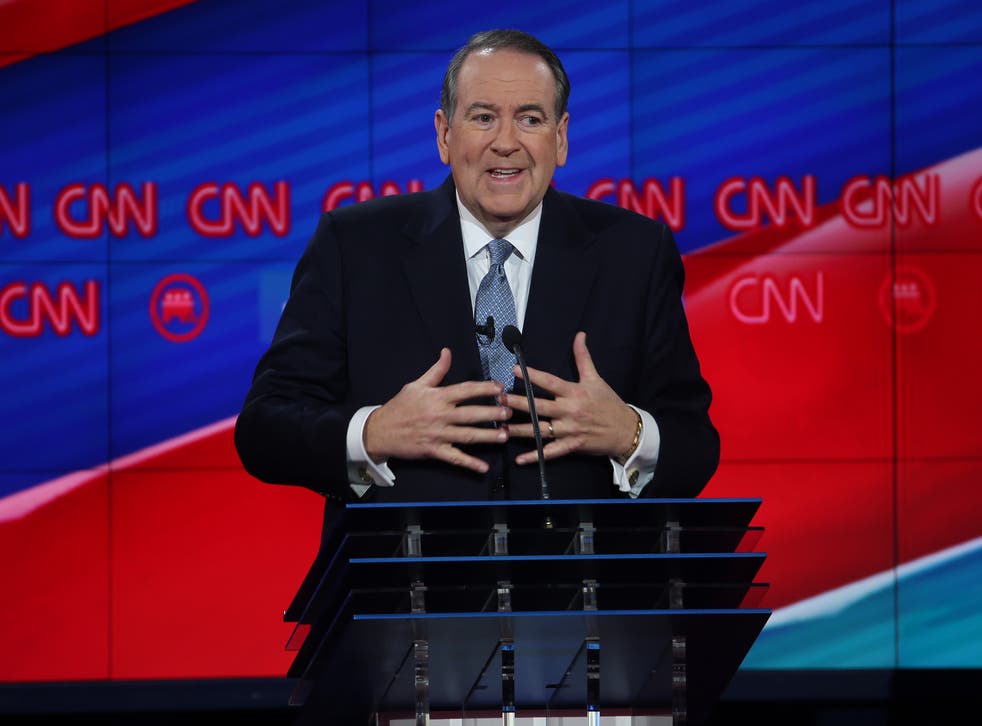 Former Arkansas Governor Mike Huckabee has received a backlash over an anti-Asian tweet amid a rise in reported hate crimes against Asian Americans.
The 65-year-old, who served as the 44th governor of Arkansas from 1996 to 2007 and was a candidate for the Republican Party presidential nomination in 2008 and 2016, tweeted that he will "identify as Chinese" to win approval from US corporations.
He wrote: "I've decided to "identify" as Chinese. Coke will like me, Delta will agree with my 'values' and I'll probably get shoes from Nike & tickets to @MLB games.  Ain't America great?"
His message was reportedly in reference to companies that have criticised recent changes to voting laws in Georgia, that Democrats have claimed could be restrictive to racial minorities and that President Biden referred to as "Jim Crow on steroids", as reported by The New York Post. 
Several major corporations have condemned the law, including Major League Baseball which later announced its move of the All Star Game out of Atlanta. 
Mr Huckabee's tweet received immediate backlash online, with nearly 70,000 comments, many of them posting links to articles about the rise in anti-Asian hate crimes in the US during the pandemic, including a mass shooting in Atlanta last month that left six Asian-American women dead, and violent attacks on citizens across the country.
California Representative Ted Lieu, who is Asian, tweeted former White House press secretary Sarah Huckabee Sanders, daughter of Mike Huckabee, who is currently running for her father's old seat and said: "You defended the former President's use of racist phrases like Kung Flu. Do you condone Mike Huckabee adding fuel to anti-Asian hate?"
He added: "Asking on behalf of Americans everywhere who drink Coke, fly Delta, wear Nikes and watch baseball."
Frank Figliuzzi, former assistant director of counterintelligence at The FBI, tweeted: "This is disgraceful."
Actor Patricia Arquette tweeted: "Elderly Asian women are getting beaten up on the street and you say this?"
Comedian Kamau Bell tweeted him "new material for your act" and posted a link to an article about violence against Asian Americans. 
The report by The New York Times this week analysed more than 100 recent incidents of anti-Asian hate crimes since the outbreak of the pandemic, that was repeatedly associated with China and referred to by former president Donald Trump by derogatory names. 
They include a fatal attack of a Thai man in January and an assault on a 89-year-old woman in New York.
It added: "Those episodes, and other brutal high-profile attacks, have terrified the Asian community."
Criticism even came from his own supporter base and friends, with popular evangelist Beth Moore, who has 991,000 followers on Twitter, messaging: "Mike, I've shared a meal with you at your beautiful table. I've heard you profess Christ as Lord. This is entirely antithetical to the gospel."
In response, Mr Huckabee dismissed the concerns and wrote later on Saturday: "I don't take Twitter or myself that seriously but I do take gospel seriously. I truly wish you only joy & continued blessings. May the power of the resurrection lift you to high places this Easter weekend."
Register for free to continue reading
Registration is a free and easy way to support our truly independent journalism
By registering, you will also enjoy limited access to Premium articles, exclusive newsletters, commenting, and virtual events with our leading journalists
Already have an account? sign in
Register for free to continue reading
Registration is a free and easy way to support our truly independent journalism
By registering, you will also enjoy limited access to Premium articles, exclusive newsletters, commenting, and virtual events with our leading journalists
Already have an account? sign in
Join our new commenting forum
Join thought-provoking conversations, follow other Independent readers and see their replies