Mikhail Gorbachev says 'it looks like the world is preparing for war'
Soviet Union's final leader says Nato and Russian forces at 'point blank' range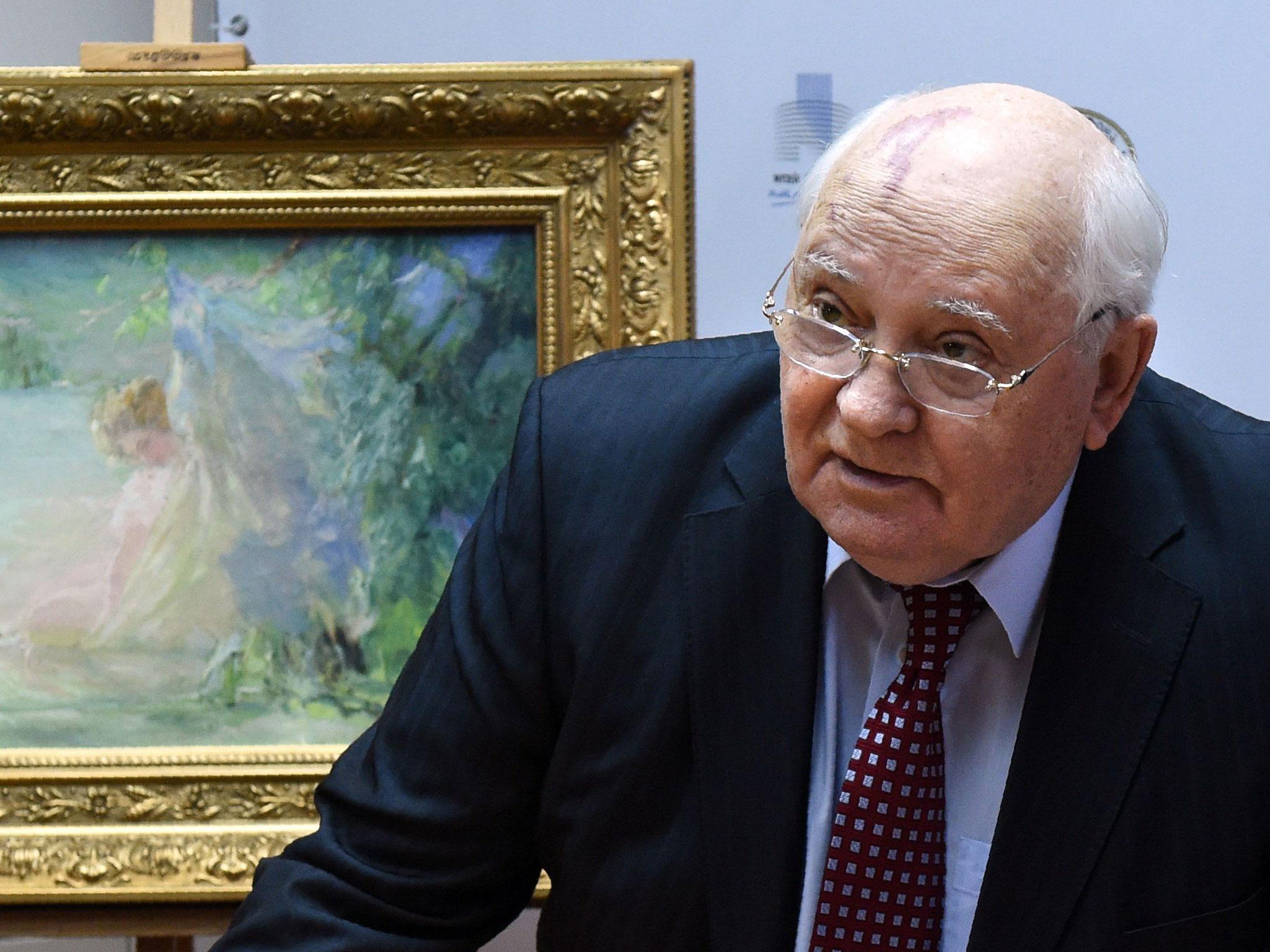 Mikhail Gorbachev has urged Vladimir Putin and Donald Trump to strongly denounce nuclear war in the face of the "militarisation of politics and the new arms race".
The 85-year-old, who was the eighth and final leader of the Soviet Union and its Communist Party, said he believed it looked "as if the world is preparing for war".
The Cold War-era politician responsible for glasnost made the comments in a piece for Time magazine ahead of Theresa May's first meeting with Mr Trump today.
"The world today is overwhelmed with problems. Policymakers seem to be confused and at a loss," he begins.
"But no problem is more urgent today than the militarisation of politics and the new arms race. Stopping and reversing this ruinous race must be our top priority.
"The current situation is too dangerous."
The Russian-Ukrainian describes how troops, tanks and armoured personnel carriers are being brought to Europe.
He also writes about how Nato and Russian forces and weapons, once deployed at a distance, are now at "point-blank" range to one another.
The frequently vocal critic, once a sceptic of Boris Yeltsin's presidency, also said state budgets were struggling to fund people's essential social needs, but that military spending is growing.
He talks of submarines whose "single salvo" is capable of devastating half a continent.
Germany cheers 25 years since Berlin Wall s fall
"Politicians and military leaders sound increasingly belligerent and defence doctrines more dangerous," said Mr Gorbachev.
"Commentators and TV personalities are joining the bellicose chorus. It all looks as if the world is preparing for war."
Mr Gorbachev, who is credited with aiding the dissolution of the Soviet Union and the Cold War, played a part in nuclear disarmament in the 1980s.
Eighty per cent of nuclear weapons accumulated during the Cold War years have apparently been decommissioned and destroyed.
New York protests against Iran nuclear deal
Show all 10
Mr Gorbachev also called for a repeat of the November 1985 summit between he and Ronald Reagan in Geneva, which concluded that "nuclear war cannot be won and must never be fought".
According to a BBC article, in September 2016, the US had 1,367 strategic nuclear warheads, Russia had 1,796 and the UK had 120.
"I think the initiative to adopt such a resolution should come from Donald Trump and Vladimir Putin – the Presidents of two nations that hold over 90 per cent of the world's nuclear arsenals and therefore bear a special responsibility," he said, before quoting President Franklin D Roosevelt.
"The time to decide and act is now."
Mr Gorbachev's comments follow two US congressmen submitting a bill restricting Mr Trump's ability to launch a first nuclear strike, and details of a failed UK nuclear test.
Unconfirmed reports also say China has moved long-range missiles to the Russian border.
Join our commenting forum
Join thought-provoking conversations, follow other Independent readers and see their replies