Milo Yiannopoulos 'lines up new job sponsor' after calls for him to be deported from US
People are calling for the far-right provocateur to be deported on Twitter as the hashtag 'deport Milo' gains increasing traction in wake of his paedophilia remarks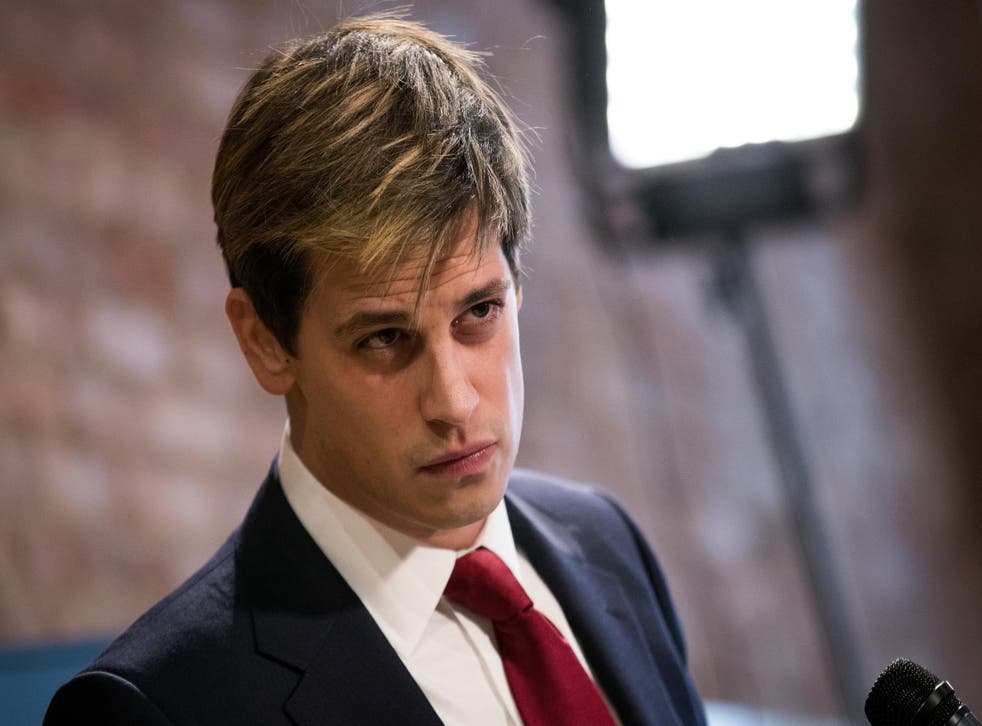 Milo Yiannopoulis is the king of reinventing himself. The far-right provocateur has already had three names: Milo Hanrahan and Milo Andreas Wagner being his others.
But people are calling for one of his phases of reinvention - his new-found career in the US since ditching his tech blogger job – to come to an end.
There have been mounting calls for Mr Yiannopoulis, who rose to fame for his far-right, anti-immigrant views, to be deported from America since his apparently pro-paedophilia remarks resurfaced in an old podcast. In the footage, the former senior Breitbart editor appears to endorse sexual relationships between "younger boys and older men".
Since the podcast surfaced, the Kent-born journalist has resigned from far-right news site Breitbart, sparking a slew of speculation about whether the "alt-right" figurehead could be forced to leave the US. Many have demanded he is deported on Twitter and the hashtag "deport Milo" has gained increasing traction.
Nevertheless, Mr Yiannopoulis, who was permanently banned from Twitter in July after claims he helped lead the racist and sexist abuse of Ghostbusters actor Leslie Jones, has reportedly already found a new US employer to sponsor him. Sources who work for him told TMZ he has lined up a new sponsor at his new media venture.
Mr Yiannopoulis told The Independent he would not be leaving America, saying: "Hard luck, I'm staying put in the US".
In the wake of his remarks about paedophilia, the controversial columnist, who has previously described Islam as a cancer and suggested transgender people are mentally ill, has had a lucrative book deal with prestigious publisher Simon & Schuster pulled and his appearance at the Conservative Political Action (CPAC) conference, a major US political event, dropped.
During the press conference in which he announced he would be stepping down from Breitbart News last week and apologised for his remarks, Mr Yiannopoulis said he resided in the US on O-1 status. This is an immigration status for people who possess extraordinary ability in the sciences, arts, education, business or athletics. Individuals must be sponsored by an employer or via an "agent" to qualify for this special immigration status.
Addressing reporters, Mr Yiannopoulis claimed his immigration status in the US is not linked to a work visa for Breitbart.
He also used the conference to announce he is setting up his own independent media company. He said his new venture, which will be announced in the next couple of weeks, will be more focused on "entertainment and education" than traditional journalism.
Since moving to the US, Mr Yiannopoulos, who recently used a university talk to publicly name and mock a transgender student, has been dubbed a spokesperson for the "alt-right" movement - a political movement which has been accused of racism, anti-Semitism and misogyny and of sharing an ideology with far-right parties such as the French National Front.
In the excerpt from The Drunken Peasants podcast which aired a year ago but recently circulated on social media, Mr Yiannopoulos apparently advocated the possibility of sexual relationships between 13-year-olds and adults. However, he later said on his Facebook page that he agrees with the current age of consent and was not advocating relationships between older men and pre-pubescent boys.
In the podcast, he said he defines paedophiles as people who are sexually attracted to children who have yet to hit puberty. He also says he believes some teenagers under the age of 16 are able to consent to sexual activity.
Milo Yiannopoulous defends relationships between younger boys and older men on radio show
In the UK, the Sexual Offences Act 2003 states that the age of consent is 16 and that any sexual activity involving consenting children under 16 is unlawful. The Sexual Offences act of 1956, which is used for sexual offences committed before 2004, states that a boy or girl under the age of 16 cannot consent in law.
Mr Yiannopoulos cast his mind back to his own sexual abuse as a teenager and did not condemn similar relationships between children and men. He said young boys "discover who they are" through such relationships, even when they're sexual in nature, and can give them security and safety and provide them with love and a reliable rock where they can't speak to their parents".
Mr Yiannopoulos has responded to videos of the podcast being shared on social media on his personal Facebook page, saying: "I do not support paedophilia". He claimed the videos being circulated had been selectively edited. The podcast, which is filmed, can be watched in full here.
Register for free to continue reading
Registration is a free and easy way to support our truly independent journalism
By registering, you will also enjoy limited access to Premium articles, exclusive newsletters, commenting, and virtual events with our leading journalists
Already have an account? sign in
Register for free to continue reading
Registration is a free and easy way to support our truly independent journalism
By registering, you will also enjoy limited access to Premium articles, exclusive newsletters, commenting, and virtual events with our leading journalists
Already have an account? sign in
Join our new commenting forum
Join thought-provoking conversations, follow other Independent readers and see their replies