Milo Yiannopoulos: Will the far-right provocateur be able to relaunch career in wake of 'paedophile' comments?
PR expert says former senior Breitbart editor might bounce back as reputation has been reinvented in a so-called 'post-truth world' and people often have influential secret backers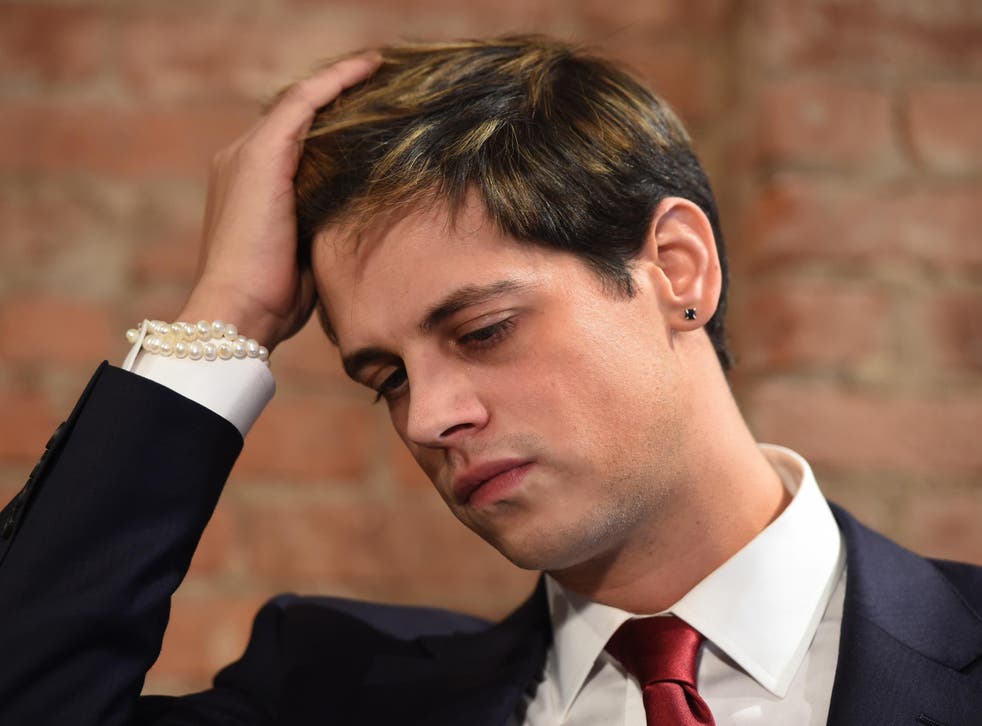 After being a far-right fringe provocateur for some time, Milo Yiannopoulos' career as a professional troll was starting to inch steadily closer towards the mainstream. The "alt-right" figurehead, who is a vocal Donald Trump supporter, had been booked for a major US political conference, nabbed himself a book deal from prestigious publisher Simon & Schuster, and even appeared on prime-time talk show Real Time with Bill Maher.
However, in the space of days, this has swiftly changed. Since his apparently pro-paedophilia remarks resurfaced in an old podcast, Mr Yiannopoulos has resigned from his role as a senior editor of far-right site Breitbart News. He has also had his book deal pulled and his appearance at Conservative Political Action (CPAC) conference dropped.
Mr Yiannopoulos, who was permanently banned from Twitter in July after claims he helped lead the racist and sexist abuse of Ghostbusters actor Leslie Jones, announced he would be resigning from Breitbart in a lengthy press conference in New York on Tuesday.
But Mr Yiannopoulos is not about to disappear from the public eye altogether. The controversial columnist, who rose to prominence for his inflammatory, far-right views, used the conference to announce he is setting up his own independent media company.
Mr Yiannopoulos said his new venture, which will be announced in the next couple of weeks, will be more focused on "entertainment and education" than traditional journalism.
The journalist, who recently used a university talk to publicly name and mock a transgender student, said he would also be announcing new Campus tour dates and a new live tour called "Troll Academy".
The controversial orders Donald Trump has already issued

Show all 9
"I look forward to making you all laugh, cry, and think for many many decades to come," he told the audience. "Don't think for a moment that anything that has happened in the last 48 hours will ever stop me being as offensive, provocative and outrageously funny as I choose. I am not going anywhere."
Although Breitbart has over a million more followers on Facebook than Mr Yiannopoulos, their former editor is not drastically far off. Mr Yiannopoulos has almost two million followers on Facebook but obviously has zero Twitter presence because he was permanently banned from the site.
The new media outlet would be Yiannopoulos' second - he founded The Kernel, an online magazine that catered to Silicon Valley, which was acquired by The Daily Dot in 2014.
Since then, Mr Yiannopoulos has changed tack and been dubbed a spokesperson for the "alt-right" movement - a political movement which has been accused of racism, anti-Semitism and misogyny and of sharing an ideology with far-right parties such as the French National Front.
In a similar vein, Breitbart was declared "the platform for the alt-right" by its former executive chairman and President Trump's current chief strategist Steve Bannon in 2016. The relationship between Breitbart and Mr Yiannopoulos is one of mutual dependence – while the publication helped forge his career, he helped the site boost its profile as its most high-profile columnist.
Mark Borkowski, a British PR expert and publicist for more than 30 years, said there is a chance Mr Yiannopoulos will be able to bounce back from the scandal.
"Reputation has been reinvented in this 'post-truth world' and people have very influential and sometimes secret backers," he told The Independent. "The boundaries of traditional influencers are changing and people are looking for people who are super connected."
"On paper, twenty or thirty years ago your career would be over but these are strange times for all of us and writing off people is always a difficult thing to do and sometimes we do it too quickly."
He said Mr Yiannopoulos' career depended on whether he had backers who wanted to see him back in the limelight. "He's got nothing nothing to lose other than to attempt a comeback," he concluded.
Sources from Breitbart told Fox Business late on Monday that they were considering dismissing Mr Yiannopoulos from the publication after his remarks about paedophilia.
There was reportedly a fiery internal debate about whether to let him stay, but a source said the decision was ultimately one related to branding, with senior executives debating how "damaging his comments are to the Breitbart brand". There were also additional reports at least half a dozen employees were prepared to leave the company if Mr Yiannopoulos stayed.
Mr Yiannopoulos, who claims to be a "free speech warrior", first announced he was standing down on Tuesday evening in a statement emailed to journalists. "I would be wrong to allow my poor choice of words to detract from my colleagues' important reporting, so today I am resigning from Breitbart, effective immediately," he said. "This decision is mine alone."
In his press conference, he apologised for his remarks about paedophilia, saying: "I regret the things that I've said. I don't think I've been as sorry about anything".
Nevertheless, he also provided a defence, saying the comments were about "my personal life experiences".
"I will not apologise for dealing with my life experiences in the best way that I can, which is humour." he said. "No one can tell me or anyone else who has lived through sexual abuse how to deal with those emotions."
Later in the conference, he compared being a victim of sexual abuse to going bankrupt, urging other people not to let rape shape their lives.
"It's not the worst thing that's ever going to happen to you," he said. "And I know that some people will find that in itself to be an outrageous statement, but it simply isn't the worst thing that will ever happen to you. Going bankrupt is worse."
He also launched into an attack on the media, saying: "This is a cynical media witch hunt from people who do not care about children. They do not care about destroying me and my career and by extension my allies … they will fail".
In the excerpt from The Drunken Peasants podcast which aired a year ago but has been circulated on social media since the weekend, Mr Yiannopoulos apparently advocated the possibility of sexual relationships between 13-year-olds and adults. However, he later said on his Facebook page that he agrees with the current age of consent and was not advocating relationships between older men and pre-pubescent boys.
In the podcast, he said he defines paedophiles as people who are sexually attracted to children who have yet to hit puberty. He also says he believes some teenagers under the age of 16 are able to consent to sexual activity.
Milo Yiannopoulous defends relationships between younger boys and older men on radio show
In the UK, the Sexual Offences Act 2003 states that the age of consent is 16 and that any sexual activity involving consenting children under 16 is unlawful. The Sexual Offences act of 1956, which is used for sexual offences committed before 2004, states that a boy or girl under the age of 16 cannot consent in law.
Mr Yiannopoulos cast his mind back to his own sexual abuse as a teenager and did not condemn similar relationships between children and men. He said young boys "discover who they are" through such relationships, even when they're sexual in nature, and can give them security and safety and provide them with love and a reliable rock where they can't speak to their parents".
Mr Yiannopoulos has responded to videos of the podcast being shared on social media on his personal Facebook page, saying: "I do not support paedophilia". He claimed the videos being circulated had been selectively edited. The podcast, which is filmed, can be watched in full here.
Join our new commenting forum
Join thought-provoking conversations, follow other Independent readers and see their replies