Milo Yiannopoulos filmed singing 'America the Beautiful' while white nationalists gave Nazi salutes
He says he has 'extreme myopia' and that he could not see the salute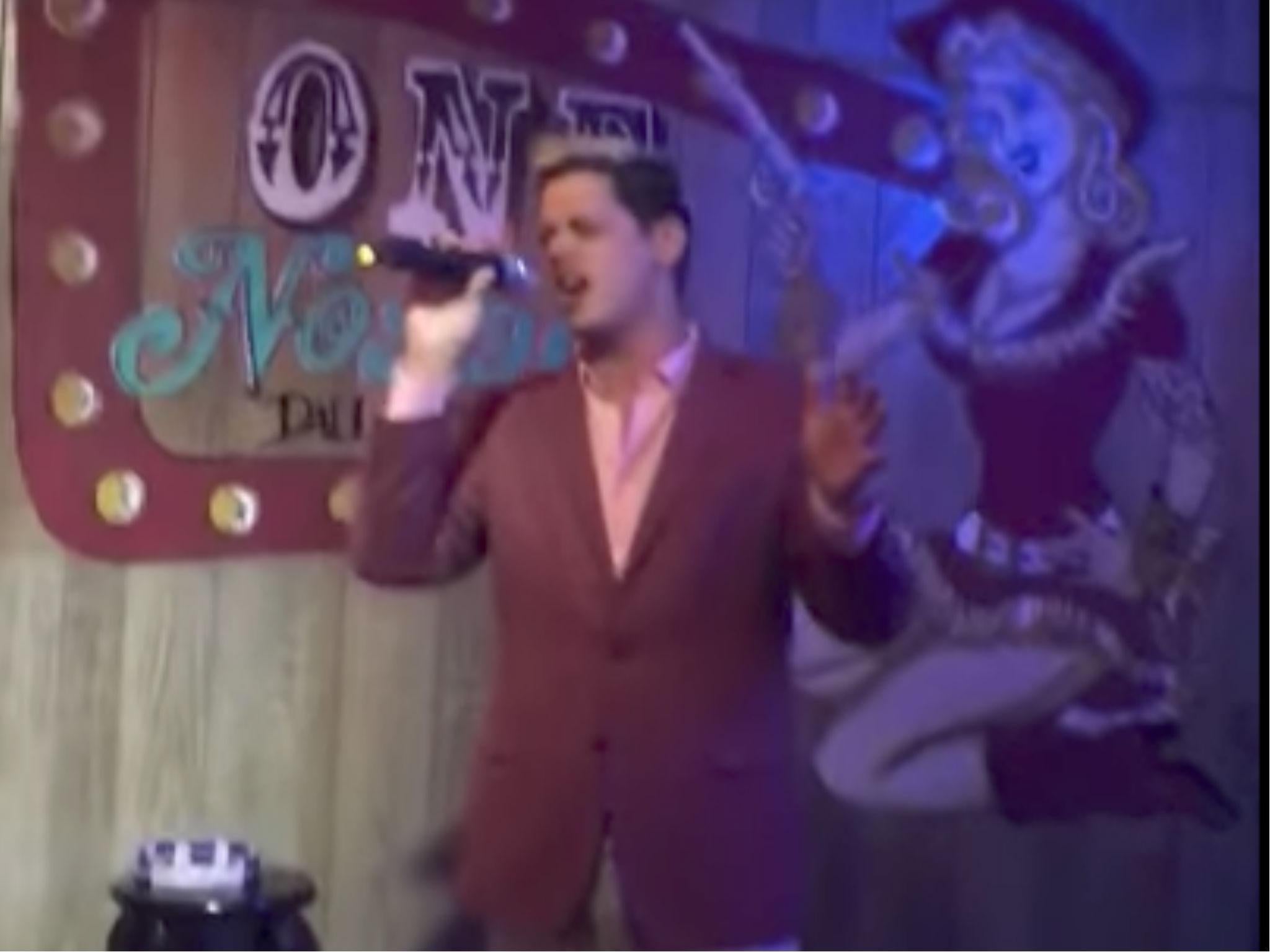 Milo Yiannopoulos has been filmed singing a patriotic song at a Dallas Karaoke bar while American white nationalists were allegedly in the audience giving the Nazi salute.
The video, published by Buzzfeed News as a part of an investigation into Breitbart News' ties to neo-Nazis and white nationalists, shows Mr Yiannopoulos singing "America, the Beautiful" at the One Nostalgia Tavern while crowd members give the salute.
Among those in the crowd giving the salute was Richard Spencer, a prominent white supremacist in the US who was seen in a previously disclosed tape giving the Nazi salute while praising Donald Trump after his election last year.
Mr Yiannopoulos — who developed notoriety as a right-wing provocateur at Breitbart before resigning amid outrage over comments in which he appeared to endorse paedophilia — claims that he was not able to see Mr Spencer and the others because he has "extreme myopia", and says that he is not a racist.
The Buzzfeed News investigation stems from emails received by the organisation that show Mr Yiannopoulos playing a crucial role in mainstreaming white nationalist ideas through Breitbart. The emails revealed that he regularly emailed white nationalists, socialised with them, and asked them for advice. The emails also showed that he was in regular contact with neo-Nazis.
Following the release of that report, Mr Yiannopoulos provided The Independent with photos that he says illustrate the severity of his nearsightedness when he doesn't have glasses on, and said that Mr Spencer and other white nationalists are trying to bring him down. Mr Yiannopoulos is frequently photographed wearing glasses, and was not wearing any in the karaoke video.
"This is how my vision is without glasses. It's worse in dark rooms," Mr Yiannopoulos said in the email. "I knew he was there, but I did not see them do this."
Mr Yiannopoulos continued on to say that he thinks Mr Spencer was trying to give the false impression that they share the same beliefs.
"I suspect this was staged to make me look like I'm on the same page" as him, Mr Yiannopoulos wrote. "This was in a bar one night after a tour stop. They just showed up."
"They hate me as much as I hate them," he said of white supremacists.
The Buzzfeed News investigation is the latest scandal for Mr Yiannopoulos. The right-wing provocateur — who regularly claims that his comments are misconstrued in the media, and that he makes shocking statements in jest — was forced to resign from Breitbart earlier this year when he appeared to condone sexual relations between boys as young as 13 and adult men, joking about a sexual encounter he had as a teenager with a Catholic priest during an interview for a podcast.
"You're misunderstanding what paedophilia means," he said during that interview, before claiming that some boys as young as 13 are sexually mature. "Paedophilia is not a sexual attraction to somebody 13 years old who is sexually mature. Pedophilia is attraction to children who have not reached puberty."
The firestorm that ensued also cost Mr Yiannopoulos a book agreement with Simon & Schuster, forcing him to self-publish his book.
"I do not support paedophilia. Period," he later wrote in a post that claimed he was being misquoted by establishment Republicans trying to take him down. "It's a vile and disgusting crime, perhaps the very worst."
Mr Yiannopoulos has gained notoriety for calling feminism "cancer" during appearances on college campuses,and for a Breitbart story he penned headlined "Birth Control Makes Women Unattractive and Crazy." He was also banned from Twitter last year after a vitriolic campaign on the platform against "Ghostbusters" star Leslie Jones.
Join our commenting forum
Join thought-provoking conversations, follow other Independent readers and see their replies