Donald Trump 'cannot follow up threat to cut federal funds from UC Berkeley' after violent protest against Breitbart editor
Analysts say Congress would have to pass new law for federal funds to be reduced over protest
Lizzie Dearden
Friday 03 February 2017 16:51 Comments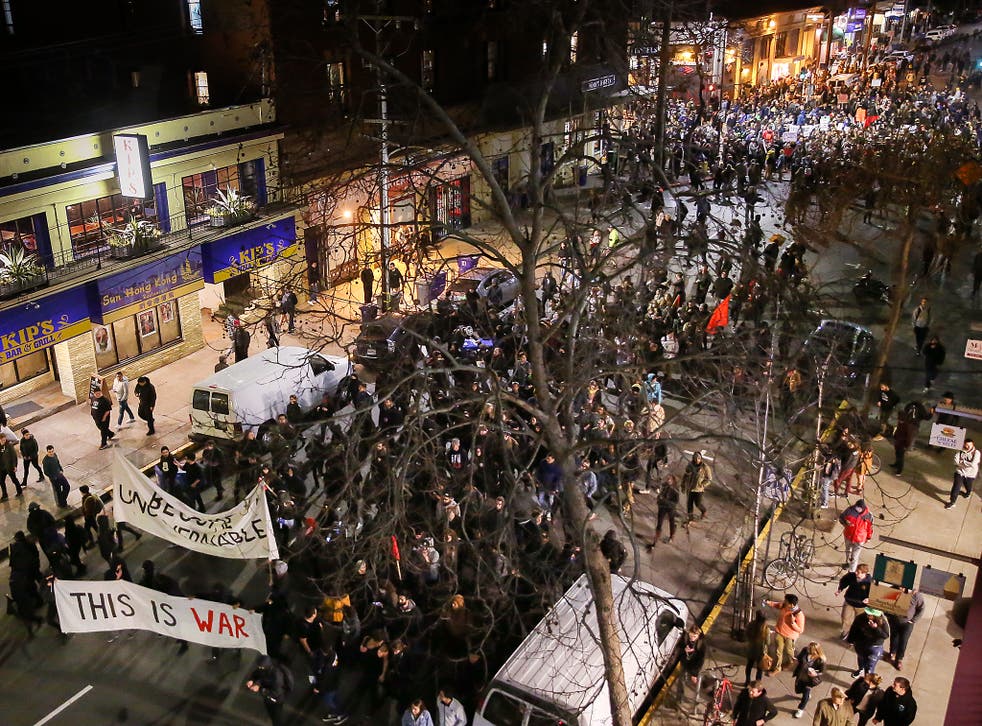 Donald Trump does not have the authority to follow up his threat to cut federal funding from the University of California at Berkeley, analysts say.
The President took to Twitter to angrily accuse the famed university of "not allowing free speech and practicing violence on innocent people with a different point of view" after violent protests against a Breitbart News editor, adding: "NO FEDERAL FUNDS?"
Federal funding contributed an estimated $200m (£160m) in student financial aid and generated $400m (£320m) in revenue from research contracts and grants in the 2015/16 financial year, the UC Berkeley said.
Some of the money can be withheld in very specific circumstances, such as the publication of fraudulent research or the refusal of a university to comply with anti-gender discrimination law.
But adding Mr Trump's definition of "free speech" to the list of offences would need a new law to be passed by Congress.
"There is nothing in current legislation that would allow President Trump to do that," Don Heller, a provost at the University of San Francisco, told Reuters.
And even if such a law were passed, Berkeley's situation would be highly unlikely to be affected as the university had attempted to allow the speech.
Police said "agitators" hurled smoke bombs and Molotov cocktails at police, started fires and smashed windows after 1,500 people joined an initially peaceful protest ahead of Milo Yiannopoulos' scheduled visit on Wednesday.
In pictures: Protests, pomp and Donald Trump

Show all 30
As officers decided that could not guarantee Mr Yiannopoulos' security, they cancelled the event and removed him from the building. There were no immediate reports of arrests or serious injuries.
Breitbart, described as "alt-right" supported the President throughout his campaign and has been accused of propagating "fake news" with its vehemently anti-immigration agenda.
Mr Yiannopoulos is a "senior editor" of the website, whose former executive chair Steve Bannon has been appointed as Mr Trump's chief strategist.
His comments have been criticised as racist, misogynist, anti-Muslim and white supremacist. A harassment campaign against "Ghostbusters" actress Leslie Jones led to him being banned from Twitter last year.
Berkeley University said it did not endorse his ideas but was committed to free speech and rejected calls to cancel the event, which was sponsored by the campus Republican club.
Milo Yiannopoulos defends Breitbart headlines as 'satire'
Dan Mogulof, the assistant vice chancellor in the university's communications office, told The Independent: "UC Berkeley condemns in the strongest possible terms the actions of individuals who invaded the campus, infiltrated a crowd of peaceful students, and used violent tactics to close down the event.
"We deeply regret that the violence unleashed by this group undermined the First Amendment rights of the speaker as well as those who came to lawfully assemble and protest his presence."
He said the university went to "extraordinary lengths" to facilitate Mr Yiannopoulos' talk, for which dozens of police officers were brought in after protests and a shooting at his previous appearances.
"While we have made clear our belief that the inflaming rhetoric and provocations of Mr Yiannopoulos were in marked opposition to the basic values of the university, we respected his right to come to campus and speak once he was invited," Mr Mogulof added. "The violence was an attack on the fundamental values of the university."
The commentator has since claimed that American universities should "be on notice" because the "President is watching".
"The days you could silence conservative and libertarian voices on campus and still expect to collect their tax money are coming to an end," he added.

Register for free to continue reading
Registration is a free and easy way to support our truly independent journalism
By registering, you will also enjoy limited access to Premium articles, exclusive newsletters, commenting, and virtual events with our leading journalists
Already have an account? sign in
Join our new commenting forum
Join thought-provoking conversations, follow other Independent readers and see their replies