Missing Mexico teachers: Protests organised by union quashed in violent police crackdown
Brutal images of apparent police violence have sparked outrage on social media
Adam Withnall
Wednesday 25 February 2015 11:02 Comments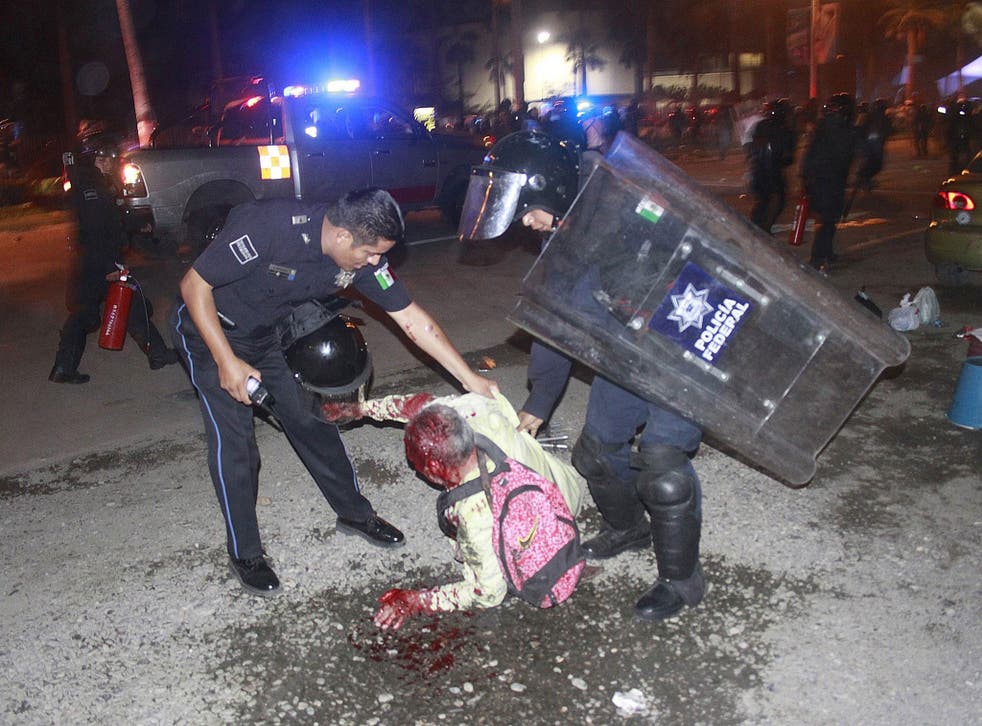 A series of images have emerged that bear witness to a brutal crackdown by police on teachers protesting in Acapulco, Mexico.
Relations between the country's educators and the government lie in tatters following the abduction and suspected massacre of 43 student teachers who disappeared in September.
The authorities have now declared it a "legal certainty" that those missing were murdered by drug cartel hitmen – but parents and unions say this is an attempt to close the case prematurely.
Amid a series of demonstrations demanding the government continues to investigate and take action against the perpetrators of the apparent massacre, teachers from the CETEG union marched on the Juan Alvarez de Acapulco airport on Tuesday in a protest over pay.
It has been reported that an estimated 94,000 CETEG workers and other public servants have not received their salaries in Mexico, and around 2,000 teachers turned out to demand the authorities resolve the pay issue.
The demonstration was violently broken, however, in scenes that have prompted outrage on social media. Greying teachers were photographed with their faces bloodied, many requiring hospital treatment.
Warning: Some readers may find the below images distressing
According to local media reports, police arrested several members of the union for attempting to block access to the international airport, with activists on social media putting the number detained at around 100.
As well as the ongoing disputes over pay, the protesters also repeated calls for justice over the missing 43 students, agency photographers reported.
Last month the focus of those leading the campaign for answers on the massacre turned to the Mexican army, which has been forced to repeatedly deny allegations its soldiers were involved.
Omar Garcia, a 24-year-old student who was threatened by soldiers after escaping from police gunmen that fateful night, has been a leading figure in the campaign.
"We have reason to believe that the army was involved in the disappearance of our companions," Mr Garcia said then. "They were there that night. They probably covered up, facilitated, or played a leading role in the disappearances."
Register for free to continue reading
Registration is a free and easy way to support our truly independent journalism
By registering, you will also enjoy limited access to Premium articles, exclusive newsletters, commenting, and virtual events with our leading journalists
Already have an account? sign in
Join our new commenting forum
Join thought-provoking conversations, follow other Independent readers and see their replies