Missouri abortion: Judge blocks law banning terminations after eight weeks
The law would have gone into effect Wednesday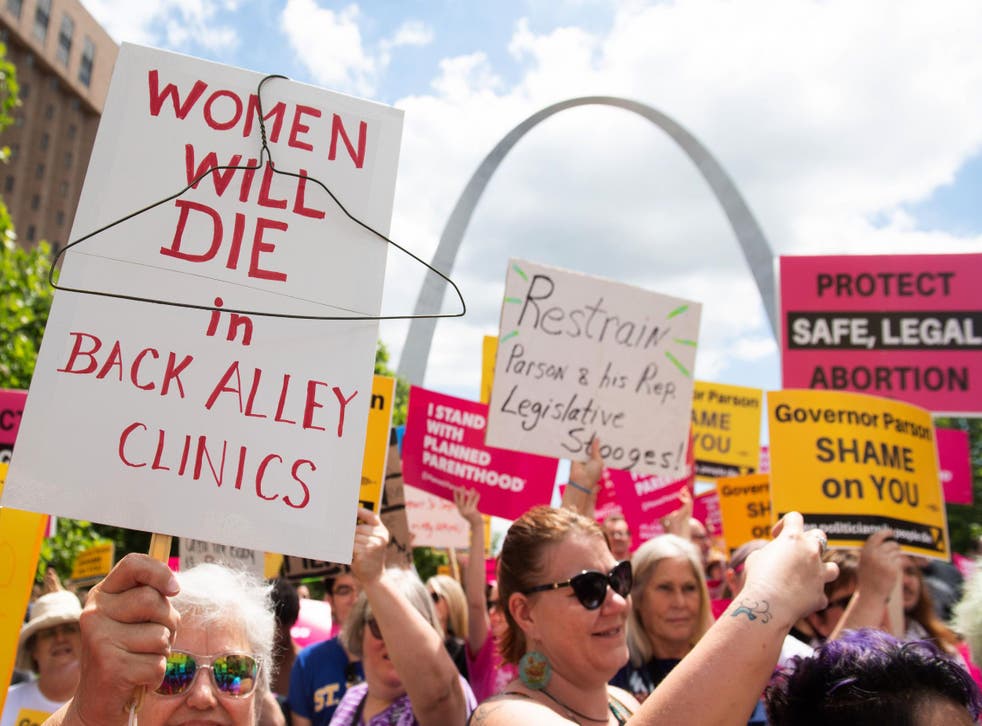 A federal judge has blocked a Missouri law banning abortions after eight weeks from going into effect.
The law, like many passed in conservative states earlier in the year, would ban abortion after eight weeks, before many people know they're pregnant, even in cases of rape and incest.
Judge Howard Sachs wrote in an 11-page opinion on the Tuesday ruling that the law would not go into effect on August 28, as planned.
"However formulated, the legislation on its face conflicts with the Supreme Court ruling that neither legislative or judicial limits on abortion can be measured by specified weeks or development of a foetus," he wrote, "instead, 'viability' is the sole test for a State's authority to prohibit abortions where there is no maternal health issue."
The Missouri law would penalize medical professionals who perform abortions after eight weeks into a pregnancy with up to 15 years in prison. The only exceptions to the law are instances of "medical emergency," such as to prevent a pregnant person's death or "substantial and irreversible physical impairment." If courts don't uphold the eight-week ban, the measure includes a series of other bans ranging from 14 weeks up to 20 weeks.
Protests across US after abortion laws enforced

Show all 20
Planned Parenthood and American Civil Liberties Union sued the state of Missouri in July to prevent the ban from taking place, arguing that it violates Roe v. Wade. Their filing called the law a part of a "unrelenting campaign to deny patients the health care they seek and to which they are entitled."
Missouri's abortion laws prior to the ban were already strict, and the state has faced a siege of attacks on abortion rights since its original passage in May. In June, a judge ruled that Missouri's last remaining abortion clinic could continue to provide abortion services after a legal battle concerning a renewed license and new regulations, which the clinic said violated patients' rights and safety. The clinic was allowed to stay open through August.
Register for free to continue reading
Registration is a free and easy way to support our truly independent journalism
By registering, you will also enjoy limited access to Premium articles, exclusive newsletters, commenting, and virtual events with our leading journalists
Already have an account? sign in
Register for free to continue reading
Registration is a free and easy way to support our truly independent journalism
By registering, you will also enjoy limited access to Premium articles, exclusive newsletters, commenting, and virtual events with our leading journalists
Already have an account? sign in
Join our new commenting forum
Join thought-provoking conversations, follow other Independent readers and see their replies