'Miracle' Missouri boy survives being impaled through face by meat skewer after fall
The little boy is expected to make a near full recovery
Chris Riotta
New York
Wednesday 12 September 2018 22:02 Comments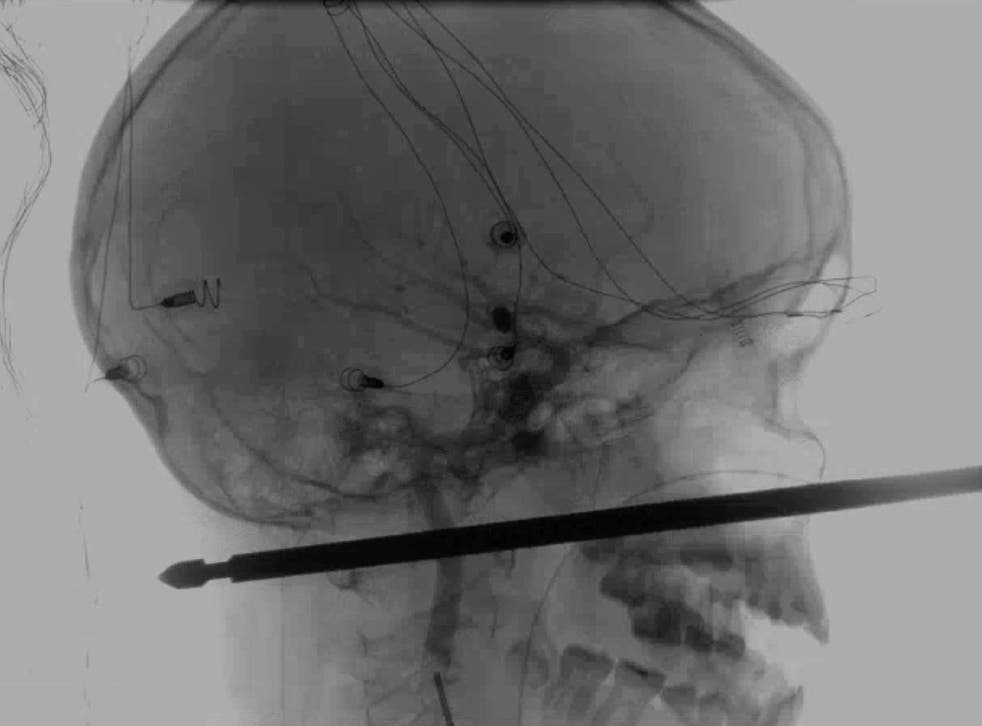 Xavier Cunningham survived being attacked by insects, falling from a tree and landing head-first on a meat skewer that penetrated his skull — all in the same day.
The 10-year-old Missouri resident was playing in his tree-house on Saturday afternoon when a swarm of yellow jacket wasps caused him to fall, landing on the inconveniently placed skewer outside of his home. The bar had effectively went through his entire head, with several inches still sticking out of his face, when his mother found him screaming.
"I'm dying, mom," the little boy reportedly said on his way to the hospital.
Gabrielle Miller, the boy's mother, told the newspaper she "heard screaming, and I went running down the stairs".
"He came in and he had this thing just sticking out," she continued.
However, doctors described the injury as a miracle, saying the skewer didn't do any damage his eye, spinal cord, brain or any major blood vessels.
A photo of the 10-year-old shows him sitting up in his hospital bed with a grin and a thumbs-up, as doctors expect a nearly complete recovery from the traumatic injury.
"You couldn't draw it up any better," Koji Ebersole, endovascular neurosurgery director at the University of Kansas Hospital, told the Kansas City Star. "It was one in a million for it to pass five or six inches through the front of the face to the back and not have hit these things."
Missouri soy farmers fear the implications of a trade war with China after Trump announces trade tariffs
"I have not seen anything passed to that depth in a situation that was survivable, let alone one where we think the recovery will be near complete if not complete," the doctor continued, describing the event as "miraculous".
The doctor described the 10-year-old as "remarkably resilient and brave" after deciding to wait overnight for a medical team to gather Sunday morning, after scans showed there wasn't any active bleeding making surgery an urgent requirement.
Missouri winner usually takes it all

Show all 6
"It required Xavier being on board with that plan," he said. "Because if he was going to get anxious or nervous and start moving around, he could move the device and cause significant injury that he had not yet incurred."
Doctors performed surgery to remove the skewer from the boy's skull at a perfectly straight angle, working carefully to ensure the square, sharp edges didn't create potentially severe damage to the surrounding area.
Register for free to continue reading
Registration is a free and easy way to support our truly independent journalism
By registering, you will also enjoy limited access to Premium articles, exclusive newsletters, commenting, and virtual events with our leading journalists
Already have an account? sign in
Join our new commenting forum
Join thought-provoking conversations, follow other Independent readers and see their replies