Mitt Romney scores double primary win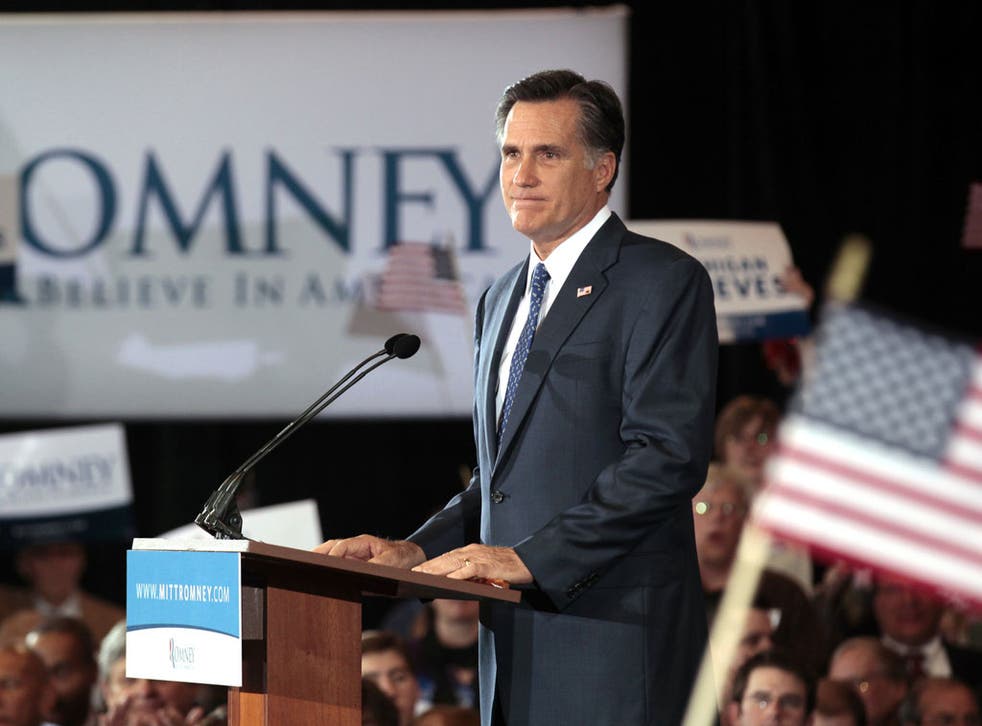 Disaster narrowly averted in his native state of Michigan, Mitt Romney was last night preparing to take a reinvigorated fight for the Republican presidential nomination to 10 states voting on 'Super Tuesday' next week.
Delirious supporters for Mr Romney gathered in a ballroom here in Novi, Michigan, northwest of Detroit to celebrate his victory over Rick Santorum in the state by a nonetheless slim margin of only 41 per cent to 38 per cent with most votes counted. It may get his campaign back on track and should damp down party chatter that his candidacy was coming apart at the seams under pressure from the more conservative Mr Santorum.
Mr Romney also handily pocketed Arizona, an important state in the general election and a testing aground of his appeal in the sun belt of America. With nearly all precincts reporting, he had 48 per cent of the vote there to 26 per cent for Mr Santorum. Newt Gingrich and Ron Paul were left trailing the two leaders badly in both states.
Here in Michigan Mr Romney overcame what had been a wide deficit in the opinion polls. "It was just a week ago that they were ready to count us out," Mr Romney said of the "pundits and pollsters". He made fleeting reference to the slimness of his win but declared, "We didn't win by a lot but we won by enough and that's all that counts."
Yet, it remains the case that Michigan should have been a cake-walk for Mr Romney, whose father was a popular three-term governor here in the sixties. Instead he was forced to pour resources and energy into the contest here. The outcome remained a squeaker until the end with national news organisations calling it too close to call through most of yesterday evening. The final margin of his victory was nothing like what until recently he would have been expected and there were indications that he may pick up fewer delegates from Michigan than Mr Santorum.
Nor may Mr Romney extract any meaningful new momentum on Super Tuesday when he is likely to lose as many as four states, according to current polls, with Ohio, a key state, Oklahoma and Tennessee all trending strongly for now, at least, for Mr Santorum and Mr Gingrich fighting hard to take his home state of Georgia and thus break back into a race that has largely ignored him since his lone win in South Carolina six weeks ago.
Mr Santorum also has a good shot at prevailing over Mr Romney in caucus voting in Washington State this Saturday. That the polls show Mr Romney losing Ohio next Tuesday to Mr Santorum will also keep the alarms bells sounding. Ohio may be his "Super Tuesday Armageddon" former Bill Clinton advisor, Paul Begala, predicted. It is no accident that Mr Romney will fly directly to Toledo, Ohio, this morning for a pre-Super Tuesday rally.
But there was no disguising the relief inside Team Romney last night. A loss in Michigan would have been nothing short of a catastrophe. It would have deepened panic in the party establishment about whether the former Massachusetts Governor was proving too weak a candidate to put forward in the general election while the sense remains that Mr Santorum is unelectable nationally because of his strict social positions and religious zeal.
"This campaign is about saving the soul of America," Mr Romney said in confident speech that stressed "more jobs, less deficit and les government". He argued that voters in November will face "a choice between an entitlement society and a land of opportunity. "If you believe the disappointments of the last few years have been a detour and are not the destiny of America I want to you to join me."
Last night's double-defeat was clearly a disappointment for Mr Santorum who equally had invested huge amounts of time and treasure in campaigning across Michigan. As expected, the former Senator from Pennsylvania did best among non-college educated, conservative Republicans according to exit polls while Mr Romney won the strongest support in the more prosperous counties notably around Detroit and Ann Arbor.
The setback for Mr Santorum may bite into the narrow lead he has built nationally over Mr Romney since making a three-state sweep three weeks ago. Any sense that he has peaked could exert a drag on him on Super Tuesday.
While voting was under way yesterday, Mitt Romney offered a mea culpa for recent perceived stumbles. "The candidate sometimes makes some mistakes," he told reporters. "I'm trying to do better and work harder and make sure that we get our message across."
Mr Romney also lashed out at Mr Santorum for playing "dirty tricks" by urging Democrats in recorded telephone calls to take part in the Michigan primary, which is permitted by state law, and to vote for him as a way to block the path for Mr Romney whom they might regard as the more dangerous opponent to Mr Obama in the general election. In the end there was little evidence of "mischief voting" by Democrats last night, however.
The task remains for Mr Romney to allay doubts that he can assemble a wide enough coalition of Republican voters, including Tea Party conservatives, to win the nomination and take on Barack Obama in November.
While Mr Santorum's emphasis on his blue-collar roots clearly endeared him to rural and conservative voters and may help him build the case that he is the candidate of the American heartland, he may have damaged himself here in recent days by taking unnecessary detours into calling Barack Obama a "snob" for wanting all young Americans to go to college and pouring scorn on John F. Kennedy's for championing the separation of church and state.
"I love you back," Mr Santorum said to cheering supporters in a rally in Grand Rapids last night. He noted that he was off the radar until his surprise wins early this month in Colorado, Minnesota and Missouri. "They didn't know who we are, but they do now."
Register for free to continue reading
Registration is a free and easy way to support our truly independent journalism
By registering, you will also enjoy limited access to Premium articles, exclusive newsletters, commenting, and virtual events with our leading journalists
Already have an account? sign in
Register for free to continue reading
Registration is a free and easy way to support our truly independent journalism
By registering, you will also enjoy limited access to Premium articles, exclusive newsletters, commenting, and virtual events with our leading journalists
Already have an account? sign in
Join our new commenting forum
Join thought-provoking conversations, follow other Independent readers and see their replies