Mitt Romney widens lead with victory in Illinois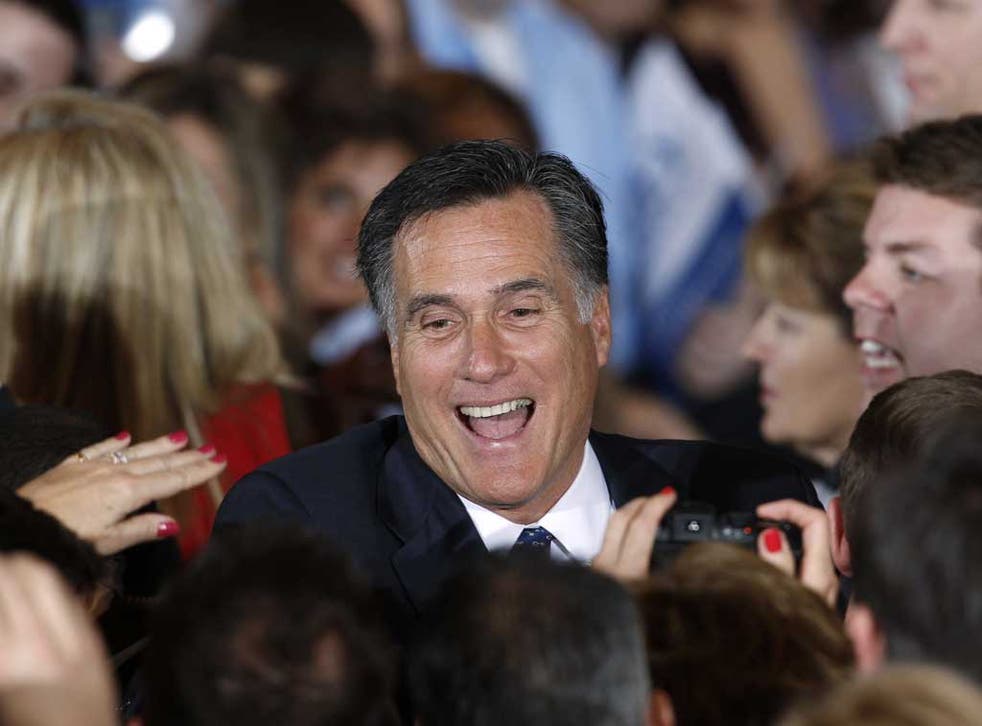 Mitt Romney last night solidified his aura of inevitability in the race for the Republican nomination by easily away putting away the Illinois primary, showing strength in a heartland state and the home of President Barack Obama.
"Elections are about choices, and today hundreds of thousands of people in Illinois have joined millions across the country to join our cause," Mr Romney told supporters in Schaumburg, Illinois, a Chicago suburb. "I'm offering a real choice and a new beginning," he said. "I have the vision and the experience to get us out of this mess."
With almost all the ballots counted, Mr Romney had 47 percent and Mr Santorum, a former US senator from Pennsylvania, took 35 percent. Ron Paul came a distant third while Newt Gingrich was relegated to fourth place.
The easy win will allow Mr Romney to claim he is at last starting to close the deal with grassroots Republicans. Even so, the exit polling showed continuing ambivalence among some voters in the state with 40 per cent of those who voted for either Mr Romney or Mr Santorum saying they "have reservations" about the man they chose.
There is now a growing sense in Camp Romney that while divisions in the party remain his new success in gathering delegates to the party's summer convention is making his challengers ever less credible. "There is no 'deus ex machina' that is going to change the math of the race," a senior adviser Eric Fehrnstrom, argued.
Illinois may look like a tipping point for Mr Romney but those who would like this race to be put out of its misery may have to wait. After days of fierce battle in Illinois, which last night was giving up a rich trove of 69 convention delegates, the candidates will tilt to this Saturday's primary voting in Louisiana, which for the moment at least looks favourable for Mr Santorum who now badly needs a fillip to prove he still has a rationale to keep running.
Even though Mr Santorum scored some high profile wins recently in Mississippi, Alabama and Kansas, the delegate math is against him. Mr Romney has won a series of barely reported contests in spots far from the mainland including last weekend in Puerto Rico, a US territory, where he snared 54 delegates against zero for Mr Santorum.
For Mr Santorum, the Illinois match-up proved rougher than he might have expected. He was scorched by Mr Romney after suggesting in a rally on Monday that he didn't care about the unemployment rate in America, a comment he was forced to row back on swiftly. The final results were surely a disappointment.
"We don't need a manager," Mr Santorum defiantly declared in his election night appearance referring to Mr Romney and his experience as a private equity executive. He was speaking in Gettysburg in his native Pennsylvania. "We need someone who is going to pull government up by the roots and throw it out." Of the next race, he added: "We're feeling very, very good about winning Louisiana on Saturday."
Supporters of Mr Santorum will doubtless point to the financial disadvantage he faced in Illinois as he has in other important battleground states, was daunting. According to some estimates he was outspent by a margin of at least seven-to-one in the state. In the Chicago area the spending rate was even more lopsided in favour of Mr Romney and the super-PAC that supports him.
Join our new commenting forum
Join thought-provoking conversations, follow other Independent readers and see their replies