'Most tortured man in Guantanamo Bay' freed without charge
Mohamedou Ould Slahi is the highest-profile Guantanamo detainee not connected with 9/11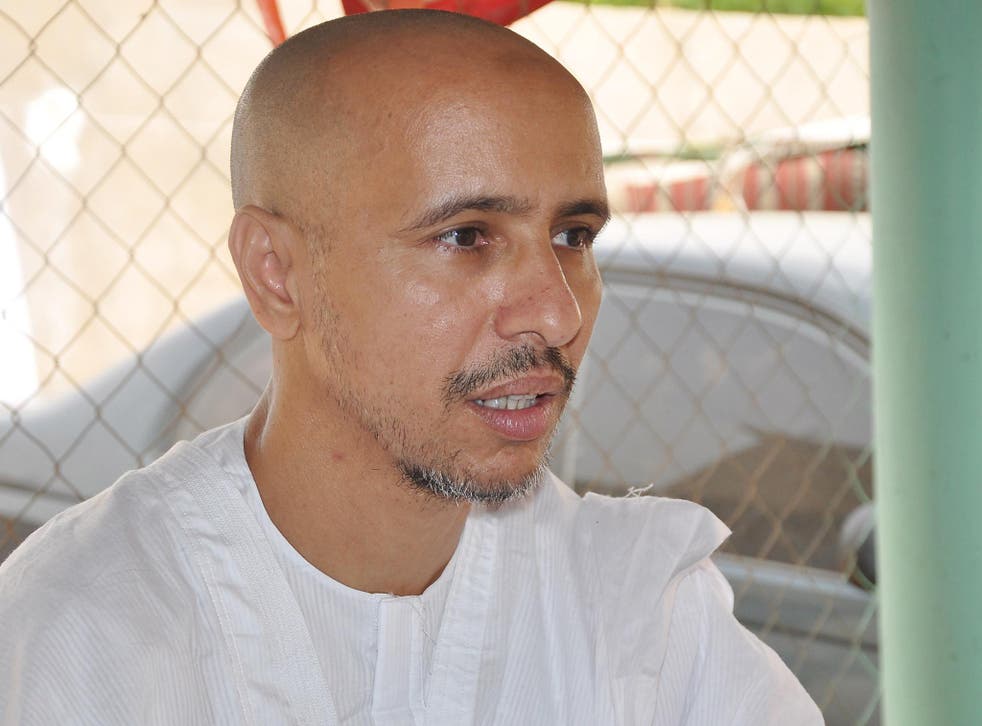 A man who is widely regarded as the most tortured prisoner in the history of Guantanamo Bay has been released without charge after nearly 14 years.
Mohamedou Ould Slahi, a Mauritanian national who wrote a best-selling memoir about life in the detention centre, was reunited with his family after US officials ruled he did not pose a strong enough threat to national security to continue his detention.
The Guantanamo Bay Diaries, published in January 2015, provided the first in-depth account of ritual humiliation and mistreatment suffered by inmates in the controversial American military prison.
In his memoir, Mr Slahi describes being shackled, blindfolded, made to stand for long periods, stripped naked, denied water and subjected to sleep deprivation, loud noise and threats of violence.
In one passage he describes being sexually abused by female interrogators. In another, he wrote that he was transported out to sea, forced to drink salt water until he vomited and then beaten in the face and ribs while immersed in ice to hide the bruising.
At the end of his tether in 2004, Slahi wrote that he resorted to making false confessions to keep his interrogators happy.
In Mr Slahi's first public comments after his release, he thanked the Mauritanian president Mohamed Ould Abdel Aziz for "his efforts to bring him home," according to Middle East Eye.
Mr Slahi was arrested by US forces in Mauritania following the 9/11 attacks in 2001, accused of travelling to Afghanistan in 1991 and 1992 to join al-Qaeda's fight against the communist-led government.
He was then taken to Amman by Jordanian armed forces where he was held in solitary confinement for seven months, before being flown to Guantanamo Bay in August 2003 on suspicion of involvement in a plot to bomb Los Angeles in 1999.
Mr Slahi's book, in which he also wrote about longing to be reunited with his children and starting a small business, made him the highest-profile Guantanamo detainee unconnected to the 9/11 plot.
He has reportedly been open about his actions in Afghanistan but publicly stated he had never been an enemy combatant against the US.
Guantanamo Bay - President Obama's shame: The forgotten prisoners of America's own Gulag

Show all 3
A US intelligence threat assessment of Mr Slahi in February 2016 said that "throughout his detention" he had "maintained his support for jihad, but clarifies that his notion of jihad neither condones the killing of innocent people nor supports [Osama] Bin Laden's version of justice".
The Pentagon announced the decision to release Mr Slahi after a parole-like review panel of six agencies recommended his transfer in July, citing his "highly compliant behavior in detention" and "clear indications of a change in the detainee's mind-set."
Nancy Hollander, one of his attorneys, said at the time: "We are thrilled that the PRB has cleared our client. We will now work toward his quick release and return to the waiting arms of his loving family. This is long overdue."
There are currently 61 prisoners remaining in Guantanamo Bay, 30 of whom have been cleared for release.
Register for free to continue reading
Registration is a free and easy way to support our truly independent journalism
By registering, you will also enjoy limited access to Premium articles, exclusive newsletters, commenting, and virtual events with our leading journalists
Already have an account? sign in
Register for free to continue reading
Registration is a free and easy way to support our truly independent journalism
By registering, you will also enjoy limited access to Premium articles, exclusive newsletters, commenting, and virtual events with our leading journalists
Already have an account? sign in
Join our new commenting forum
Join thought-provoking conversations, follow other Independent readers and see their replies