Thousands of birds killed after freak weather event leaves them with smashed skulls and internal damage
Waterfowl suffered 'massive blunt-force trauma', say wildlife authorities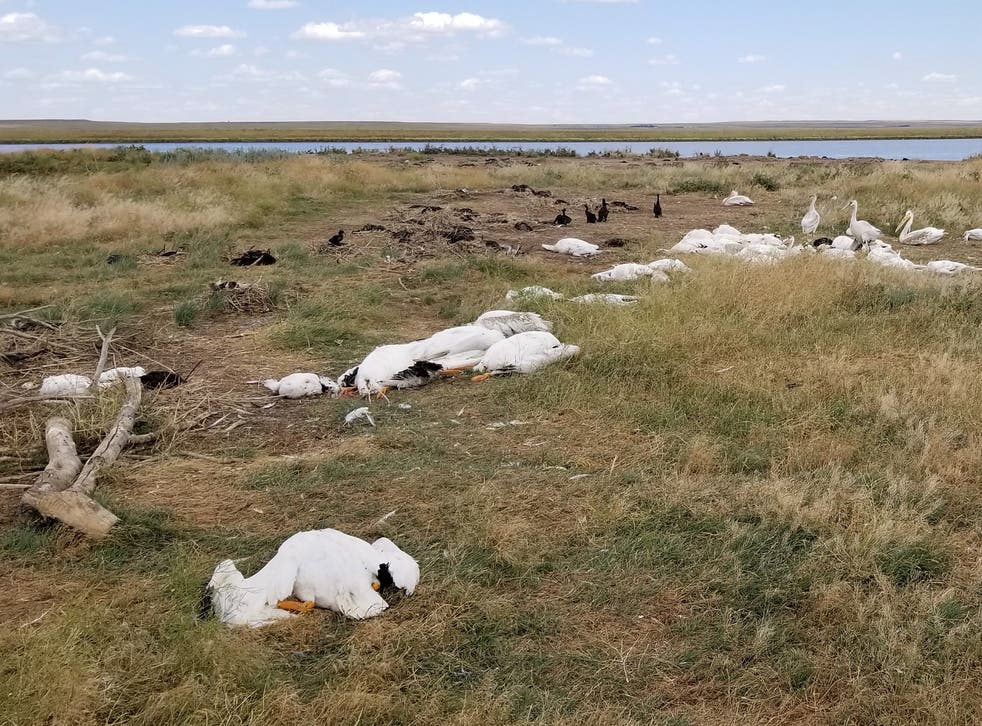 Baseball-sized hailstones and 70mph winds have been blamed for the deaths of thousands of birds at a lake in Montana.
More than 11,000 wetland birds and waterfowl were killed or seriously injured by a hailstorm that also caused widespread damage to homes and farms in the Billings area, authorities said.
The animals at Big Lake suffered "massive blunt-force trauma" and many of those that were not killed sustained broken wings and flight feathers, according to Montana Fish, Wildlife & Parks (FWP) officials.
"Biologists who visited the lake this week picked up dead ducks and shorebirds with broken wings, smashed skulls, internal damage and other injuries consistent with massive blunt-force trauma," the agency said in a statement on Friday.
"They reported thousands of additional dead or badly injured waterfowl and wetland birds in and around the lake."
World news in pictures

Show all 50
The agency added: "A neighbouring landowner reported baseball-sized hail that broke windows in the area on Sunday evening. Local weather reports said Molt and Rapelje suffered 2in hail propelled by a 70mph wind.
"FWP wildlife biologist Justin Paugh estimated that 20 to 30 per cent of the birds at the lake were killed or injured.
"Of the birds that still are alive, Paugh estimated that 5 per cent of ducks on the lake and 30 per cent to 40 per cent of living pelicans and cormorants show some sign of injury or impaired movement."
The Big Lake area is a shallow seasonal wetland that serves as a nesting area for numerous species including ducks, geese, cormorants, gulls, grebes and pelicans.
It currently covers about 4,000 acres following a particularly wet spring season, FWP said.
Mr Paugh added in a statement: "On a positive note, the lake is still covered with waterfowl that are alive and healthy. Life will go on."
Kevin Rose, FWP's Billings-area wildlife manager, told The Independent that the birds were killed while nesting or swimming on the lake, not while flying.
The sheer quantity of avian corpses poses a disease risk if they decay in the water, Mr Rose said, with botulism a particular concern. Wildlife workers have been moving as many as possible onto shore.
But officials have been helped by the ferocity of the storm itself, he added, because it "basically created a storm surge". He said: "Those birds that were killed were mostly pushed over to the side."
Register for free to continue reading
Registration is a free and easy way to support our truly independent journalism
By registering, you will also enjoy limited access to Premium articles, exclusive newsletters, commenting, and virtual events with our leading journalists
Already have an account? sign in
Register for free to continue reading
Registration is a free and easy way to support our truly independent journalism
By registering, you will also enjoy limited access to Premium articles, exclusive newsletters, commenting, and virtual events with our leading journalists
Already have an account? sign in
Join our new commenting forum
Join thought-provoking conversations, follow other Independent readers and see their replies