Canadian snowmobilers rescue moose trapped in snow
Moose drowns after people crowding to take pictures scare it into water
Exhausted animal had swum several kilometres to cross Lake Champlain
A moose has drowned in Vermont after a crowd of people taking photographs scared the animal into the water.
Vermont wildlife officials said the moose is believed to have already swum several kilometres to cross Lake Champlain from New York state, which borders the west side of the lake.
When it reached the shore at South Hero – part of Grand Isle in the middle of the lake, it caught the attention of bystanders who reportedly crowded around the animal while it was resting.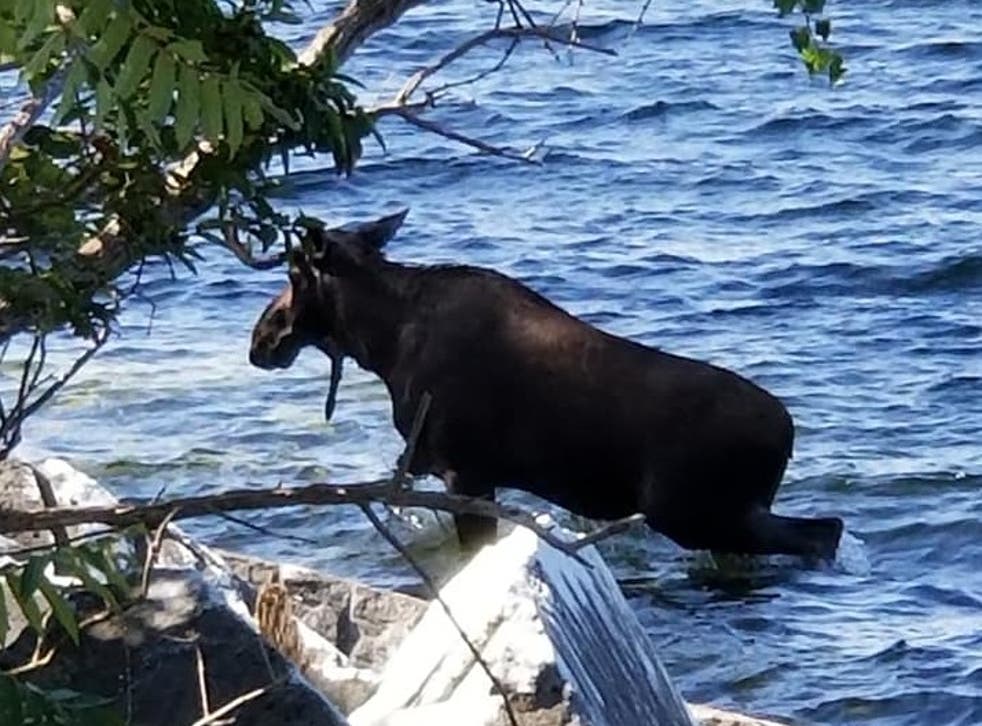 It then re-entered the water and drowned of exhaustion. Photographs on Facebook showed the body of the large animal bound by the legs and in the back of wildlife officials' pickup truck.
Fish and Wildlife Officer Robert Currier told news outlet WCAX3: "The best practice is to stay away from it, keep your distance. Don't crowd the moose.
"If a moose feels threatened it's going to respond by either leaving the area or it's going to respond with aggression, and obviously we don't want anybody to be the victim of the latter of those two."
Mr Currier added that it was uncommon for moose to swim across the lake, though not completely unknown.
Bernadette Toth, a teacher who saw the moose emerge from the water, told The Independent the area where it reached land was close to a bicycle path, which was busy during the tourist season. There were numerous boats and vehicles nearby, she added.
Wildlife Photographer of the Year People's Choice award

Show all 8
Lake Champlain also has a partial border with the Canadian province of Quebec.
Join our new commenting forum
Join thought-provoking conversations, follow other Independent readers and see their replies