Argentina bus crash: More than 40 people killed after vehicle falls off bridge
Some people are still believed to be trapped in the vehicle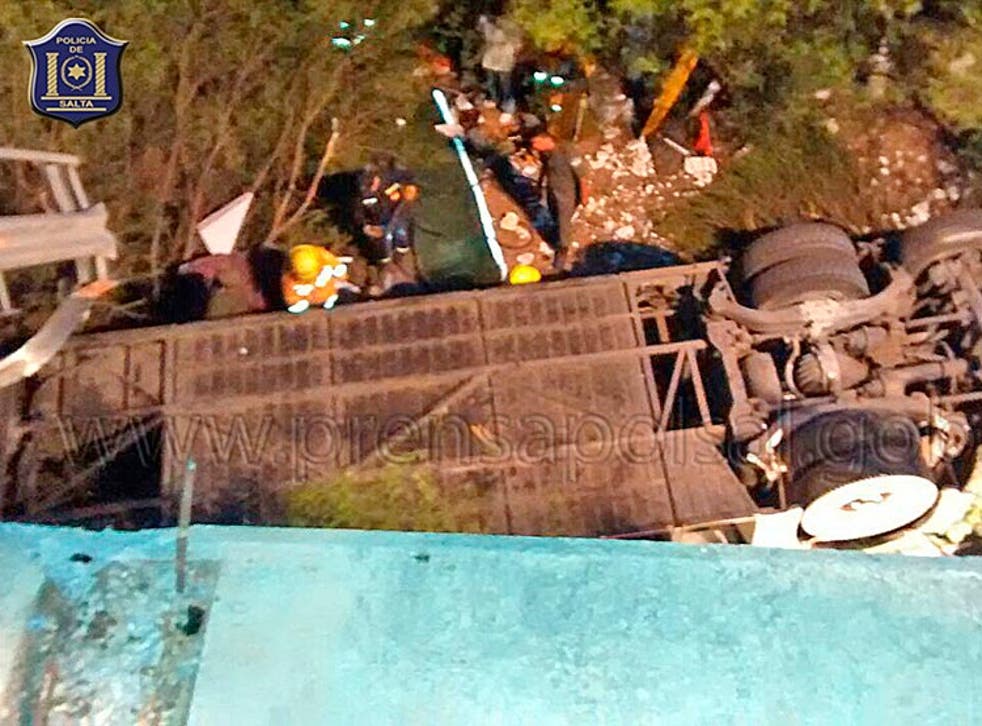 A police bus has crashed in Argentina killing more than 40 people.
The bus, which was reportedly carrying police officers, flipped and fell off a bridge. It crashed 20m down a ravine in Salta province early on Monday.
The bus had been part of a convoy of three vehicles travelling to the province of Jujuy. Angel Marinaro, civil defense director for the province, told local station TN that the driver lost control of the bus as the convoy was going over the bridge.
The death toll is believed to currently stand at 41.
Images on social media show the overturned bus.
Provincial emergency director Ernesto Flores told local radio station La Red: "Between 50 and 60 border patrol officers were on board. Some are still trapped."
It is believed that emergency workers are trying to free those who are trapped and survivors are being taken to a nearby hospital.
A statement from the National Gendarmerie read: "For reasons that are still unknown, the bus lost control while entering the bridge and fell into the creek bed below."
The road where the accident occurred is known to be in poor condition, Gustavo Solis, mayor of Rosario de la Frontera in Salta province, told AFP.
President Mauricio Macri offered his condolences to the victims' families. In a statement, he said: "It's for this reason that we need to improve the roads so that this doesn't happen keep happening.".
Additional reporting by AP
Register for free to continue reading
Registration is a free and easy way to support our truly independent journalism
By registering, you will also enjoy limited access to Premium articles, exclusive newsletters, commenting, and virtual events with our leading journalists
Already have an account? sign in
Register for free to continue reading
Registration is a free and easy way to support our truly independent journalism
By registering, you will also enjoy limited access to Premium articles, exclusive newsletters, commenting, and virtual events with our leading journalists
Already have an account? sign in
Join our new commenting forum
Join thought-provoking conversations, follow other Independent readers and see their replies