More than 80 vigilantes arrested in Mexico for battling drug cartels
A 'self-defence' movement started to combat the Knights Templar gang
Lizzie Dearden
Saturday 28 June 2014 10:39 Comments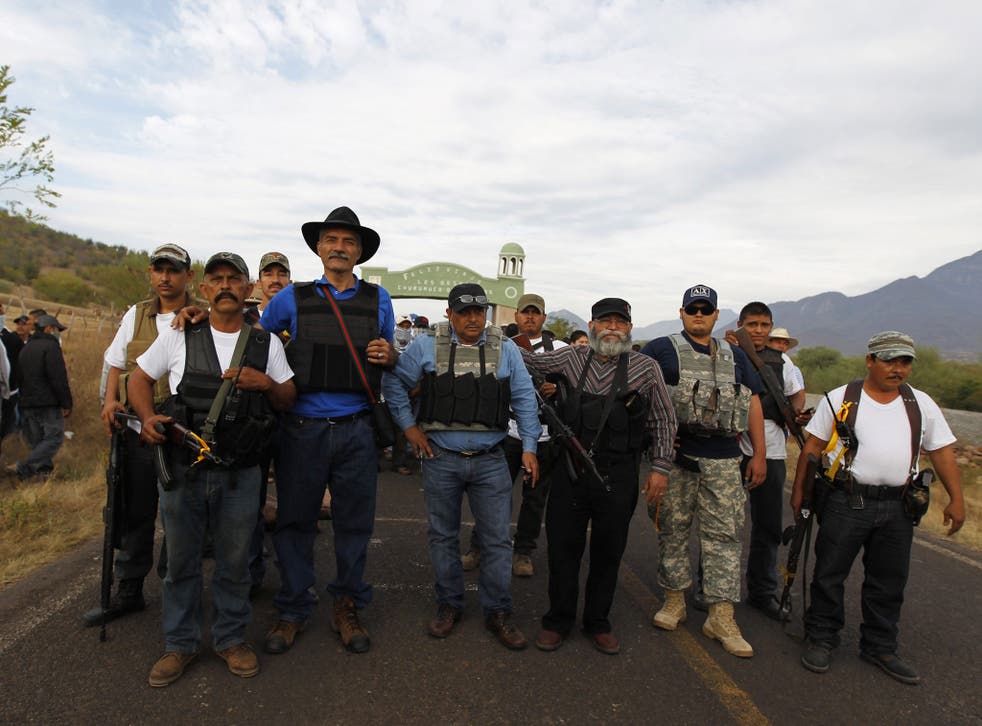 More than 80 suspected vigilantes have been arrested in Mexico for battling drug cartels.
Jose Mireles, a doctor and prolific leader of the "self-defence" movement was among the 83 detained on Friday after street wars in the western state of Michoacan.
Alfredo Castillo, the federal government commissioner, told Milenio TV Mireles was detained on Friday in the port city of Lazaro.
Mireles held an assembly with about 500 people to start a new group in the area and about 150 of the vigilantes had set up roadblocks, he said.
The vigilantes were allegedly carrying illegal guns and planned to travel to the state capital of Morelia.
Michoacan has been ravaged by the Knights Templar drug cartel, which had controlled much of the state until an uprising by armed vigilantes started in February last year when farmers and ranchers grew tired of their reign of kidnapping, murder and extortion.
The government first appeared to tacitly accept the vigilante groups but earlier this year authorities formed so-called rural police forces to incorporate the vigilantes and said anyone found carrying illegal weapons would be arrested.
President Enrique Pena Nieto sent soldiers into the state to restore order in January and since then, troops have captured and killed several leaders of the Knights Templar.
More than 85,000 people have died in drug-related killings in Mexico since 2007, when the former President Felipe Calderon sent out the army to battle cartels.
Additional reporting by AP and Reuters
Register for free to continue reading
Registration is a free and easy way to support our truly independent journalism
By registering, you will also enjoy limited access to Premium articles, exclusive newsletters, commenting, and virtual events with our leading journalists
Already have an account? sign in
Join our new commenting forum
Join thought-provoking conversations, follow other Independent readers and see their replies