Mosque set on fire in suspected 'hate crime' as police investigate threats against Muslim groups
The mosque in Peterborough, Canada, suffered $80,000 worth of damage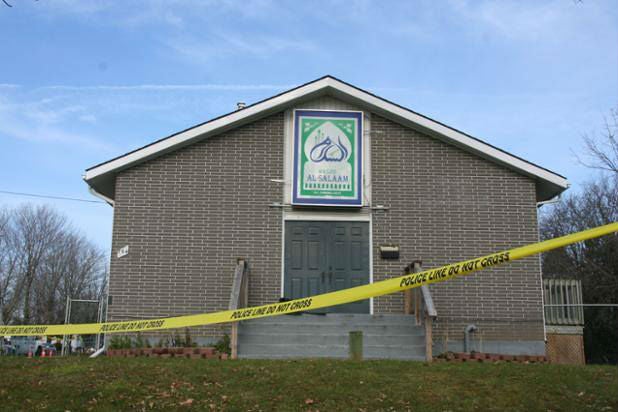 Police in North America are investigating threats to three mosques, among them an arson attack that members believe is a hate crime.
Members of the of the Kawartha Muslim Religious Association in Peterborough, Canada, gathered at their mosque Saturday night for a serve to mark the birth a new child. But some time after 11pm, the members noticed smoke rising from the building. The name of the Masjid Al-Salaam translates as the "Mosque of Peace".
Police are investigating whether the attack was linked to the multiple Isis attacks on Paris.
"Attacking a place of worship is a despicable act," Peterborough mayor Daryl Bennett wrote in a statement. "The faith communities are cornerstones of our city, contributing to charitable organisations and helping those who are less fortunate."
Although no-one was hurt in the attack, association president, Kenzu Abdella said the attack had left the mosque "unusable" and would require $80,000 to repair the damage.
The blaze occurred amid growing fears that the Paris attacks will fuel Islamophobia around the world.
In Florida, two mosques received bomb threats by phone.
"This act in France is the last straw. You're going to f—king die," said voice mails received by the Islamic Society of St Petersburg late on Friday night.
"I personally have a militia that's going to come down to your Islamic Society of Pinellas County and firebomb you, shoot whoever's there on sight in the head. I don't care if they're f—king 2 years old or 100."
A second message said: "I'm a red-blooded American watching the news in France…Guard your children. I don't care if you're extremists or not…Get out of my f—king country."
The FBI is investigating the threat, according to the Tampa Bay Times.
A news release from the Council on American-Islamic Relations reported that another Florida mosque received a similar voice mail that threatened to "bomb the location" and shoot people "at will."
Meanwhile in Orlando, a Muslim family came home from a charity event for the homeless Sunday morning to find a bullet hole in their garage door.
"Just a little bit of a black hole in a beige garage door, when we parked right there," Amir Elmasri told Click Orlando. "So, it's in front of my eyes and I said, 'What is that?'"
It was the result of a bullet that had gone through the garage and into their master bedroom.