Most feared gang in America 'sacrifices teenage girl to Satan'
The MS-13 is the only street gang the US government has designated a 'transnational criminal organisation'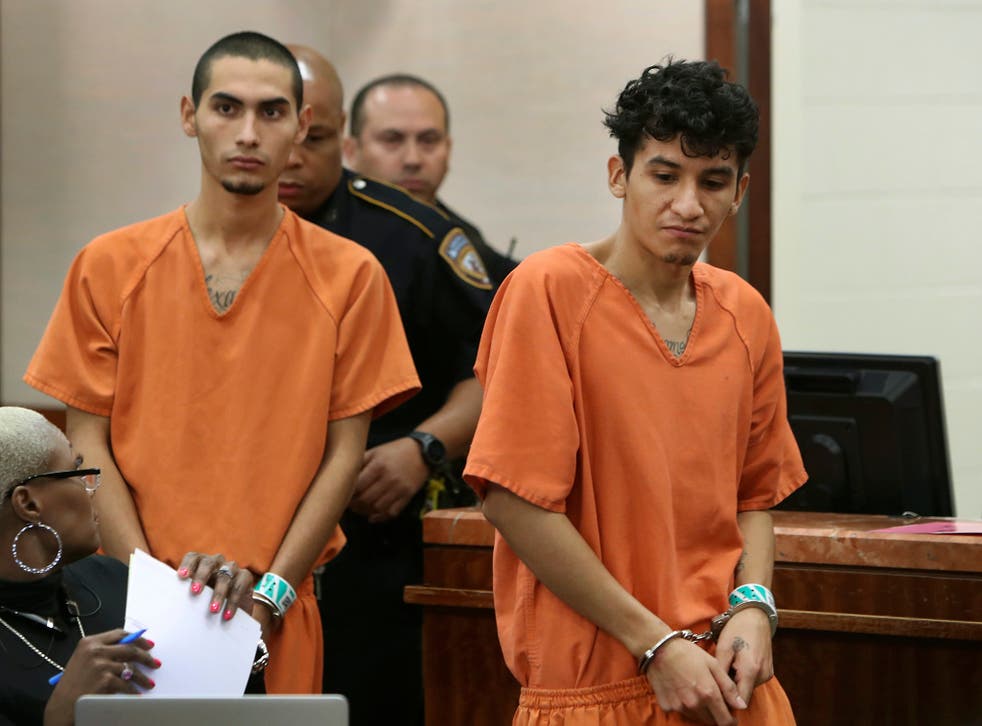 An infamous street gang from Los Angeles is believed to have murdered at least eight people across the US over the last month, including teenage school students some of whom it is claimed were killed as part of satanic rituals.
Members of Mara Salvatrucha, also known as MS-13, have been charged with murders including that of a 15-year-old girl in Houston, Texas, and also of two friends, aged 15 and 16 in New York's Long Island in September, whose bodies were found raped, beaten with baseball bats and hacked with machetes.
Two El Salvadoran suspects, Diego Rivera and Miguel Alvarez-Florez have been charged with the Houston murder.
It is alleged the pair killed their 15-year-old victim known only as "Genesis" when she challenged her captors' over their "satanic" beliefs in front of a shrine.
According to the New York Post, a court in Houston heard a testimony from a 14-year-old girl who had also been captured, drugged, sexually assaulted and tattooed by the group, and held in the same room as Genesis.
She told the court that after Genesis' outburst, gang member Alvarez-Florez offered a satanic statue in the shrine a cigarette.
"The beast did not want a material offering, but wanted a soul," Alvarez-Flores said, according to court documents.
The body of the 15-year-old was subsequently found in the middle of a road, with a bullet holes in the head and chest, both of which appeared to have been fired from close range, police said.
Meanwhile 14 members of the gang have been held, and 12 charged over the killing of the two girls in Long Island, after arrests this month.
Four face the death penalty at a trial of the 13 adult gang members that will be held on April 10.
"For far too long, MS-13 has been meting out their own version of the death penalty," Robert L. Capers, the United States attorney for the Eastern District of New York said at a news conference.
The MS-13 gang emerged in the 1980s and is the only US street gang the American government has designated a "transnational criminal organisation".
The group's activities extend through Canada and Mexico and as well as through several countries in Central America. Their activities, including people trafficking and drug smuggling, have helped make the Northern Triangle – Guatemala, El Salvador and Honduras – the most violent place in the world that is not at war, according to organised crime investigation group InSight Crime.
The gang is thought to be responsible for more than 30 murders on Long Island since 2010.
"For far too long, MS-13 has been meting out their own version of the death penalty," New York Attorney Robert Capers said.
But speaking to The Independent, InSight Crime co-director Steven Dudley said it is highly unlikely the gang is making a wholesale move towards Satanism.
He said: "There is a grain of truth in the satanic fascination of some of these gang members.
"But does it translate into mass, gang-wide rituals in which they execute young girls (thereby conforming to our worst, preconceived fears about them)?
"I highly doubt it. I think these are kids playing God, or Satan, as the case might be."
World's 10 deadliest street drugs

Show all 10
Mr Dudley added: "More troubling for me is their systematic effort to take new territory or reclaim old territory for the purposes of extortion and drug peddling."
Register for free to continue reading
Registration is a free and easy way to support our truly independent journalism
By registering, you will also enjoy limited access to Premium articles, exclusive newsletters, commenting, and virtual events with our leading journalists
Already have an account? sign in
Register for free to continue reading
Registration is a free and easy way to support our truly independent journalism
By registering, you will also enjoy limited access to Premium articles, exclusive newsletters, commenting, and virtual events with our leading journalists
Already have an account? sign in