Motel owner called 'greatest voyeur in the world' spied on guests having sex for 29 years
Gerald Foos bought a motel in Colorado and watched guests through fake vents for 'research'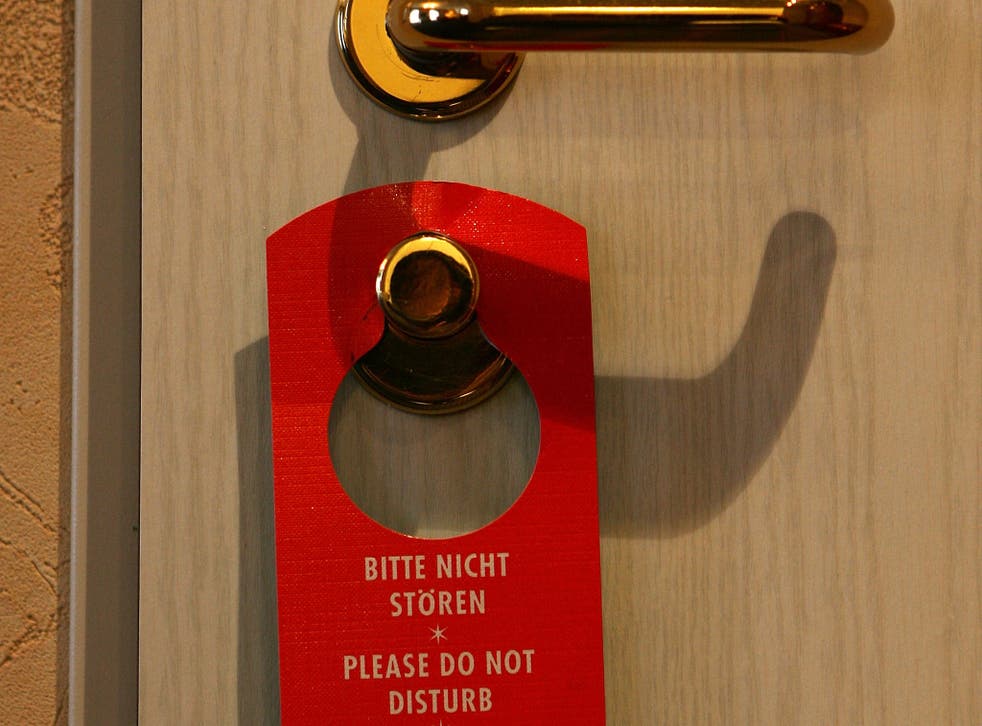 When checking into a hotel room, the first thing you might expect is some privacy.
But an extraordinary story has emerged of a motel owner in Colorado who spied on his guests as they had sex, argued and went to the toilet - while keeping a written record of everything he saw for 29 years.
Motel owner Gerald Foos, who bought the 21-room Manor House Motel with his wife Donna in the 1960s, is the subject of a new book by journalist Guy Talese.
Together, the couple fitted fake ventilation grilles in the ceilings of some of the rooms, allowing Mr Foos to watch and write down what was happening below, wrote Mr Talese in the New Yorker.
Mr Foos first contacted Mr Talese in 1980, sending a letter in which he claimed to have "witnessed, observed and studied the best first hand, unrehearsed, non-laboratory sex between couples, and most other conceivable sex deviations during these past 15 years".
The motel owner, who referred to himself as "the voyeur", would place younger and more attractive guests in his "viewing rooms", where he could watch them from above through the fake vents.
In his secret attic, Mr Foos would masturbate or have sex with his wife Donna. He told Mr Talese that the attic was "an extension of our bedroom".
By the time Mr Foos sold the Manor House Motel in 1995, he had amassed hundreds of pages of notes, which he sent to Mr Talese in installments.
These included 'end-of-year reports' in which he tried to document social trends, such as the rise in incidents of interracial sex over seven years.
In one year, 1973, Mr Foos wrote wrote that he witnessed 185 male orgasms and 33 female orgasms. He also attempted to categorise people according to their sex drive, describing 12 per cent of couples as "highly sexed" and 22 per cent "of low drive sexually".
He would also conduct 'honesty tests', leaving a suitcase with a flimsy padlock in a cupboard. Then he would then tell the guest that someone had just called to say they had left behind a suitcase with $1,000 inside.
In only two of the 15 cases he recorded did the guest return the suitcase; the others all opened it and then tried to get rid of it.
The last resort: More and more Americans are calling long-stay motels home

Show all 17
There is a possibility that Mr Foos even witnessed a murder.
In a journal entry from 1977, he wrote: "After fighting and arguing for about one hour, the scene below the voyeur turned to violence. The male subject grabbed the female subject by the neck and strangled her until she fell unconscious to the floor. The male subject, then in a panic, picked up all his things and fled the vicinity of the motel."
However, he said he could not act in this situation because he was only an "observer". Mr Foos said the woman's body was taken away and police were informed. However Mr Talese, who questioned how reliable some of Mr Foos' claims were, was unable to find any record of the murder.
Mr Talese visited Mr Foos and joined him in his secret attic to witness Mr Foos's voyeuristic activities.
But Mr Foos only agreed to go public with his story in 2013.
"I hope I'm not described as just some pervert or peeping Tom," he told Mr Talese. "I think of myself as a pioneering sex researcher."
The full story by Mr Talese, in a book titled The Voyeur's Journal, will be published later this year.
Register for free to continue reading
Registration is a free and easy way to support our truly independent journalism
By registering, you will also enjoy limited access to Premium articles, exclusive newsletters, commenting, and virtual events with our leading journalists
Already have an account? sign in
Register for free to continue reading
Registration is a free and easy way to support our truly independent journalism
By registering, you will also enjoy limited access to Premium articles, exclusive newsletters, commenting, and virtual events with our leading journalists
Already have an account? sign in
Join our new commenting forum
Join thought-provoking conversations, follow other Independent readers and see their replies