Mother fights back against internet trolls using picture of her disabled son to create cruel meme
AliceAnn Meyer found the trolls had taken her picture and turned it into a meme comparing son Jameson with a pug
Loulla-Mae Eleftheriou-Smith
Monday 01 February 2016 15:03 Comments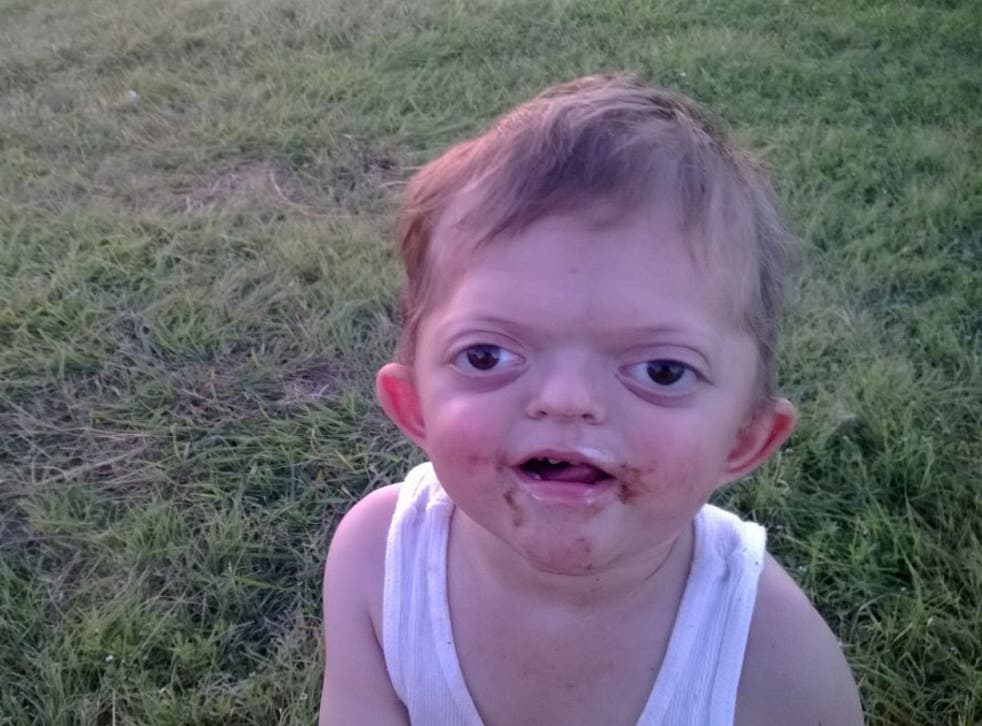 A Texan mother has spoken of her fight to get an image of her disabled son that had been turned into a cruel meme removed online.
AliceAnn Meyer posted a picture of her son Jameson with chocolate and marshmallows around his mouth on her blog in 2014, but recently discovered her picture had been taken by internet trolls and turned into a meme comparing him to pugs.
Jameson, who is now four-years-old, has Pfieffer syndrome, a rare genetic disorder that affects around one in 100,000 people. It causes the premature fusion of scull bones, causing abnormal growth of the bones in the head and face. It can cause issues with a person's ability to breathe, eat, see and hear, and Jameson has had tubes placed in his ears and soft palate reconstruction to help his breathing at night, among other procedures.
Ms Meyer is an active member of the craniosynostosis-community and keeps a blog called Jameson's Journey to document the family's journey with Pfeiffer syndrome. She used her blog to write about her fight to have the cruel meme using Jameson's image removed online.
"Someone, somewhere, decided for who knows what reason, to take that picture and create a meme comparing my son to a pug. What compels a person to do such a thing I will never understand. There is no way for me to know who did this, but for every post and share of this meme I will do everything in my power to get it taken down," she wrote.
The meme was discovered on six different Facebook profiles where it had been liked and shared thousands of times, while also finding it shared on Instagram, Twitter, 9gag and Tumbler.
Ms Meyer praised Twitter and Instagram for their reporting procedures and for swiftly removing the images of the meme, but told Facebook to "step up your game" over its reporting procedure, where it can take up to 48 hours to have an image removed.
But the mother has also been inundated with support and thanked the people who have sent her messages.
"Thank you from the very bottom of my heart to every person that has stood up for Jameson," she wrote.
"The outpouring of love and support has been overwhelming. I appreciate each and every one of you that has commented, reported, and reached out to us. I can't put into words what it means to know you are taking your personal time to fight for Jameson."
Ms Meyer has vowed to keep reporting the images until they are all taken down and has urged people report the meme when it is seen online.
Register for free to continue reading
Registration is a free and easy way to support our truly independent journalism
By registering, you will also enjoy limited access to Premium articles, exclusive newsletters, commenting, and virtual events with our leading journalists
Already have an account? sign in
Join our new commenting forum
Join thought-provoking conversations, follow other Independent readers and see their replies