MS-13 stabs man 100 times, beheads corpse and rips out heart near Washington DC, police say
Miguel Angel Lopez-Abrego arrested and held in county jail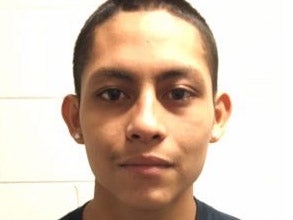 A man was murdered by MS-13 gang members who stabbed him more than 100 times, removed his head, and ripped out his heart, Maryland police say.
The body was discovered on Tuesday in Wheaton Regional Park, on the outskirts of Washington DC, in a grave that had been dug before the killing. A medical examiner ruled the death was homicide by sharp force injuries.
Miguel Angel Lopez-Abrego, 19, has been arrested and charged with first-degree murder after detectives received information it was committed by MS-13 members.
According to court records obtained by The Washington Post, the victim, who has not been identified, had been lured into the park by up to 10 gang members who were speaking with each other over walkie-talkies.
Mr Lopez-Abrego was "the first individual to thrust a knife into the chest" of the victim, Assistant State's Attorney Kelly McGann said in court.
"The victim had been stabbed over one-hundred times, decapitated, dismembered, and his heart had been excised from his chest and thrown into the grave," court papers said.
Mr Lopez-Abrego was later arrested after being found in an apartment with two other suspected MS-13 members.
Italian and Nigerian gangs: A deadly alliance
Show all 2
Kevin Frye, Avery County Sheriff, said the three alleged gang members were "new arrivals" and "no one really knew who they were".
Officials from Immigration and Customs Enforcement said Mr Lopez-Abrego is an El Salvadoran and is in the US illegally.
Jeff Sessions, the US Attorney General, last month declared that the US Justice Department's organised task force will destroy MS-13 "just like we took Al Capone off the streets".
Though there is little evidence MS-13 is more dangerous that other gangs in the US, its methods are particularly brutal and recent high-profile murders have generated a spate of news headlines, including the torture and murder of a 15-year-old girl in January.