A mushroom cook and her killer family lunch that left three dead: The mysterious case gripping Australia
A bizarre case has enthralled people all across the globe – involving mushroom poisoning, a series of deaths, a tearful interview and now reports of a past mystery illness. Tara Cobham and Bevan Hurley report
Saturday 19 August 2023 13:28 BST
Comments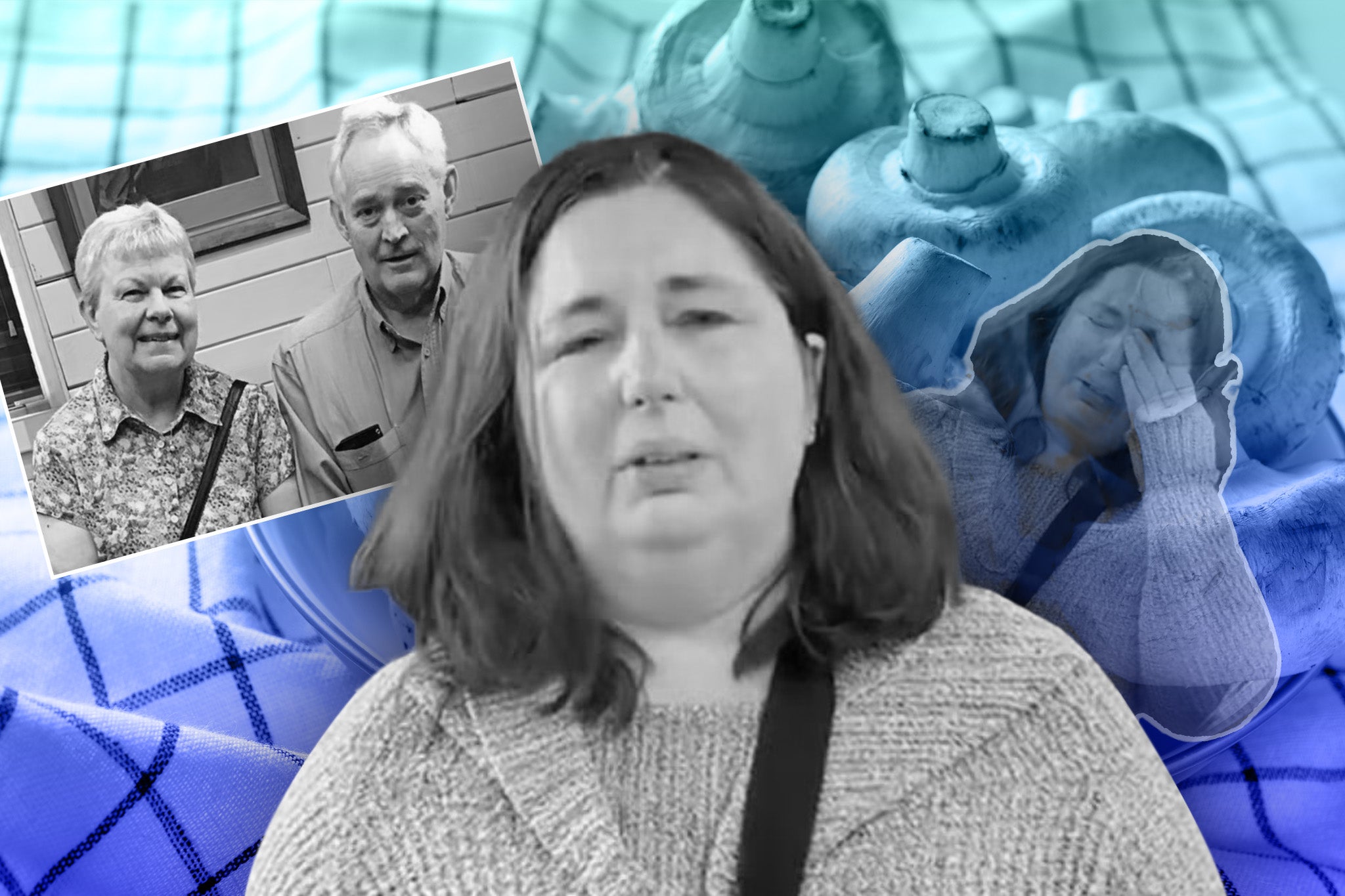 It was supposed to be a family meal where differences could be reconciled and future plans made for the sake of the estranged couple's children.
Instead, it kicked off events that could have come straight out of a murder mystery novel or the board game Clue.
Four of the five people sat around the table fell gravely ill, three of them later dying with the fourth left fighting for his life.
The fifth, meanwhile, appeared to escape unscathed – curiously the very same person who prepared and cooked the meal for the other four guests.
What has since emerged is a bizarre case that continues to enthrall people all across the globe – involving mushroom poisoning, a series of deaths, a tearful interview and now reports of a past mystery illness.
It all began one fateful day on 29 July, when Erin Patterson prepared a special meal of beef Wellington with "lots of mushrooms" for lunch at her home in Leongatha, a rural town in the Australian state of Victoria.
Present at the church-mediated lunch — set up to sort out visitation rights for her two children — were her in-laws Gail and Don Patterson, both 70, Gail's sister Heather Wilkinson, 66, and her husband Ian, 68.
All four of her elderly in-laws fell violently ill that night from suspected mushroom poisoning.
Gail, Don and Heather, all teachers, died in hospital days later, while Ian, a local pastor, has been left fighting for his life.
Erin's estranged husband Simon Patterson had skipped out on the meal at the last moment, while the couple's two children had also left their mother's home to see a movie just before the meat and pastry dish was served.
Victoria Police have since launched a homicide investigation, and at a press conference last week confirmed Ms Patterson is a suspect in the killings.
Erin, an experienced wild mushroom forager, reportedly told investigators she used dried fungi that she had purchased months earlier from an Asian grocery store and a fresh button variety bought recently from a local supermarket.
She later admitted lying to investigators about dumping a food dehydrator used to prepare the meal in a local refuse site after the deaths, according to the ABC.
In a statement obtained by the Australian public broadcaster, she said she was at the hospital with her children "discussing the food dehydrator" when her former husband asked: "Is that what you used to poison them?"
The 48-year-old mother-of-two has vehemently maintained her innocence, and in an interview this week claimed she is unfairly being painted as an "evil witch".
As the poisoning mystery has shaken the small rural community 136kms southeast of Melbourne, and gripped Australian and international media, more disturbing details continue to emerge – with Simon Patterson now claiming that he once spent 16 days in an induced coma from a mystery gastro illness after eating food prepared by his wife.
Deadly dinner party
In a police statement obtained by the ABC, Erin reportedly told investigators that she had prepared a meal of beef Wellington with a "lot of mushrooms".
Erin claimed she had purchased dried mushrooms from an Asian grocer several months ago, and button mushrooms from a local supermarket recently – using both in the dish.
Yet she reportedly could not remember exactly where she had bought them, according to the ABC.
She stated that she stored the dried mushrooms at a home she owns in Melbourne, before bringing them to the home in Leongatha.
"I used the dried mushrooms as they been in my cupboard for some time and I wanted to use them up. I rehydrated them and put them into the dish with the mushrooms that I had bought at [the supermarket]," according to the ABC.
Erin said she served the others and allowed them to select their own plates, before taking the last plate.
The two elderly couples fell violently ill that night and were taken to local hospitals before being transferred to a facility in Melbourne.
Gail and her sister Heather died on 4 August, while Don died the next day. Ian, a pastor from the local Baptist church in Korumburra, remains in critical but stable condition and is awaiting a liver transplant.
Police have said the victims' symptoms were consistent with them having ingested death cap mushrooms, one of the deadliest fungi in the world that are usually found near oak trees.
Erin has said she also fell ill after eating the beef Wellington and was taken to Monash Medical Centre in Melbourne by ambulance for treatment.
She said her two children, who were initially thought to have been present at the lunch, had gone to the movies before the others ate.
When they returned that evening, she claimed that the two children did then eat the dish – but that she had scraped off the mushrooms as they didn't like them.
Then, after learning of her in-laws' illness, Erin said she preserved the meal and handed it over to toxicologists. However she initially refused to speak to police.
In the statement, Erin has now said she had received advice immediately after the deaths to decline to speak to police.
"I now very much regret not answering some questions following this advice given the nightmare that this process has become," she said.
Erin said she found the police interview "terrifying and anxiety-provoking".
In another bizarre twist, Victoria police told NBC News that the police statement appears to have been provided to the ABC by Erin's legal team, and did not come from them.
In response to a request for further details about the case, Sergeant Julie-Anne Newman told The Independent they were not expecting to be able to release more information about the case for some time.
A tearful interview
Speaking to reporters outside her home in Leongatha last week, the mother-of-two broke down as she said she was "devastated" by the deaths.
"I didn't do anything," she insisted.
In a separate interview this week, the mother-of-two again protested her innocence.
"I lost my parents-in-law, my children lost their grandparents,' she told The Australian.
"And I've been painted as an evil witch. And the media is making it impossible for me to live in this town."
Police have said they are keeping an open mind about what happened.
"I am now devastated to think that these mushrooms may have contributed to the illness suffered by my loved ones," Erin said in a statement provided to the ABC.
"I really want to repeat that I had absolutely no reason to hurt these people whom I loved."
Past mystery illness
In yet another twist to the saga, it has now emerged that Erin's estranged husband also reportedly once suffered a mysterious illness after eating his wife's food.
Erin and Simon Patterson separated "amicably" after living apart for several years, according to investigators.
But a mystery illness he suffered in 2022 is now forming part of the investigation into the poisoning.
Back in 2022, Simon allegedly spent 16 days in an induced coma after being served a meal by his wife.
According to The Herald Sun, Mr Patterson detailed the health scare in a post on Facebook,
"I collapsed at home, then was in an induced coma for 16 days through which I had three emergency operations mainly on my small intestine, plus an additional planned operation," Mr Patterson wrote.
"My family were asked to come and say goodbye to me twice, as I was not expected to live."
Experienced foragers
Speaking to The Independent last week, local mayor Nathan Hersey told of the utter "shock, disbelief and grief" reverberating throughout their close community and more widely in the wake of the tragedy.
"I'm hearing from people regularly about their shock and disbelief and how they're coming to terms with such loss," he said. "People so well connected, loved and respected in the local community have been struck down and died so suddenly."
Mushroom foraging is popular in the area even though "there's risk involved", said Mr Hersey, adding that "a lot of people would know what they're looking for".
A friend of Erin's told the Daily Mail this week that Erin and her family were all experienced mushroom foragers in the Gipplands area around her hometown.
In the ensuing fallout from the deaths, the Australian Mushroom Growers Association (AMGA) has also defended its supply chain and said there was no way poisonous mushrooms would be found on any commercial farms.
"This fungus only grows in the wild," the association said. "Commercial mushrooms are grown indoors in environmentally controlled rooms with strict hygiene protocols and food safety standards.
"The only mushrooms you can be sure are safe are fresh, Australian-grown mushrooms bought from a trusted retailer."
As the community reels from what has happened, the Patterson and Wilkinson families said in a statement in a local newspaper on Sunday that they were grateful "to our wider communities for their outpouring of love, support, and prayers".
"This support extends not only to those we have tragically lost but also to our family member who continues to bravely fight for his life in the hospital," they added.
Mr Hersey said he had personally met the Wilkinsons, describing them as "lovely and caring people with integrity".
He said a close friend of the couple had told him, "We've lost a real level of kindness in our community this week because of these deaths." But he added: "The community is rallying around and supporting one another."
Death cap mushrooms
While toxicology reports have not conclusively proved what the three relatives died from, police have said the symptoms are consistent with death cap mushrooms.
Death caps, or amanita phalloides, usually grow up to round 15cm across and 15cm tall, have greenish caps and white stems, and are commonly fund near oak trees in summer and autumn.
The toxins are resistant to heat, so cooking does not reduce their deadly effects, and just half of one mushroom contains enough poison to kill a human being, according to the CDC.
Initial symptoms can include muscle weakness, agitation, rapid heart rate, and headaches, followed by nausea, vomiting, stomach cramps and diarrhoea.
In 2017, it emerged that 14 people had fallen ill after eating the death cap variety in California. Three required liver transplants, while an 18-month-old girl who consumed them has permanent neurological damage, according to a CDC report.
It is not yet clear if these mushrooms are the same type the victims ate at the family lunch in Victoria.
And if they are, there will be many more questions to answer.
Join our commenting forum
Join thought-provoking conversations, follow other Independent readers and see their replies