Muslim man hospitalized after panicked police follow up false claim that he pledged allegiance to ISIS
The 41-year-old businessman was talking on his phone outside a hotel when he was approached by multiple officers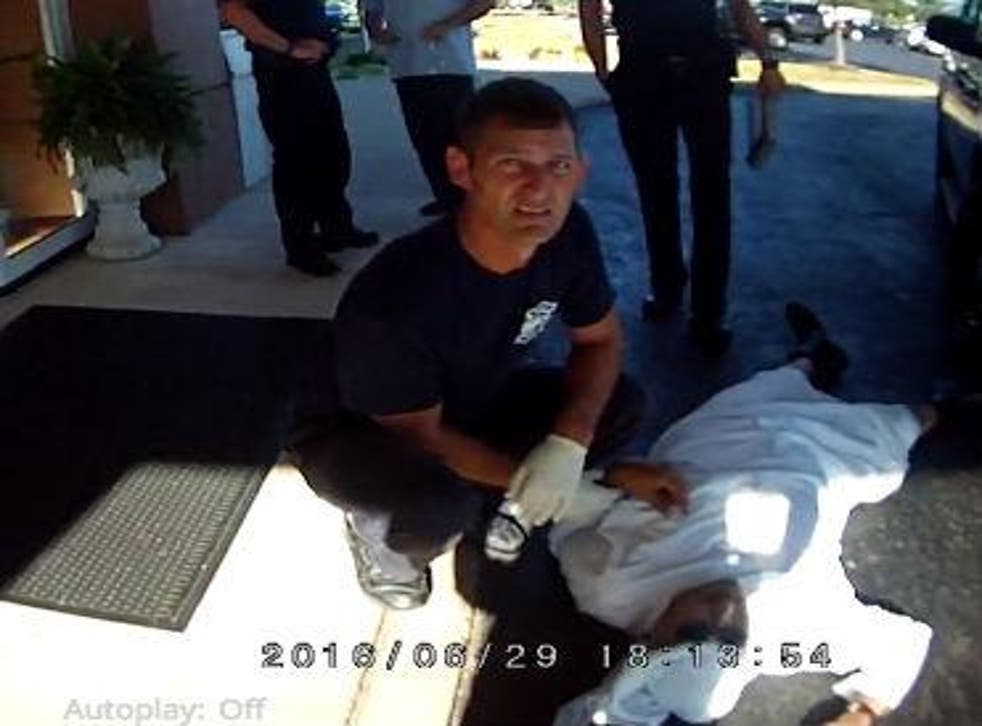 A video has captured the panicked police response to an inaccurate claim that a Muslim man had "pledged allegiance" to Isis.
41-year-old Ahmed Al Menhali, owner of a business marketing company from Abu Dhabi, was standing outside a hotel in Avon, Ohio and talking on his cell phone in Arabic when he was approached by at least five police officers with guns, yelling at him to get on the ground.
Mr Al Menhali, who is married with three children, has since been hospitalized and a local representative of the Council on American Islamic Relations (CAIR) told The Independent he might have suffered a stroke.
Julia Shearson, the executive director of the CAIR in Cleveland, said she visited the businessman in hospital where he is staying at least one night.
"He's traumatised and can't speak right now. The great irony is he was looking for a hotel room because the apartment he was staying in was being used for the RNC," she said, referring to the upcoming Republican National Committee's conference.
He had been in the US for medical reasons.
"The fact that the police referred to his clothing in their report as a criminal indicator is very concerning," she added. "Police need more diversity training. This is shocking to have happened in Avon, one of the most affluent and suburban nieghbourhoods outside of Cleveland."
"I am a tourist. This is not good," Mr Al Menhali says repeatedly in the video as he is lying on the floor.
"Yeah, it's not good. That's right," a police officer responds.
They had been responding to a 911 call from the sister of a woman working as a hotel clerk at the Fairfield Inn and Suites in Avon. She said her sister had told her there was a man in the hotel lobby "in full head dress with multiple disposable phones pledging his allegiance to Isis."
The clerk's father also called 911 and requested police to come to the hotel.
In the video, the police shout at Mr Al Menhali to "relax" while ordering him to turn to his side, then to stand up.
Authorities point guns at him, put him in handcuffs, carry out a body search, go through his wallet and take off his shoes without giving him any explanation.
"You've broken my telephone also," he complains.
"Yeah? Well you've broken my nail," replies one of the policemen.
Police did not find any weapons on Mr Al Menhali.
They talked to the clerk and discovered he had not made any statements relating to Isis.
An ambulance at the scene transported him to hospital where he was visited by Ms Shearson from CAIR.
Avon Police could not be contacted immediately for a comment.
Mr Al Menhali, who wrote a message to his translator, told The Independent: "Please tell Donald Trump to stop hating Mexicans and Muslims. Please tell Donald Trump to stop hating people."
The Republican has been criticised for calling for a temporary ban on all Muslims entering the US, which CAIR has blamed for a spike in anti-Muslims incidents.
Register for free to continue reading
Registration is a free and easy way to support our truly independent journalism
By registering, you will also enjoy limited access to Premium articles, exclusive newsletters, commenting, and virtual events with our leading journalists
Already have an account? sign in
Register for free to continue reading
Registration is a free and easy way to support our truly independent journalism
By registering, you will also enjoy limited access to Premium articles, exclusive newsletters, commenting, and virtual events with our leading journalists
Already have an account? sign in
Join our new commenting forum
Join thought-provoking conversations, follow other Independent readers and see their replies