Nabra Hassanen: Police investigating whether murdered Muslim teen was sexually assaulted
Hassanen's death has sent shock waves through the Fairfax County Muslim community
Emily Shugerman
New York
Tuesday 20 June 2017 23:49 Comments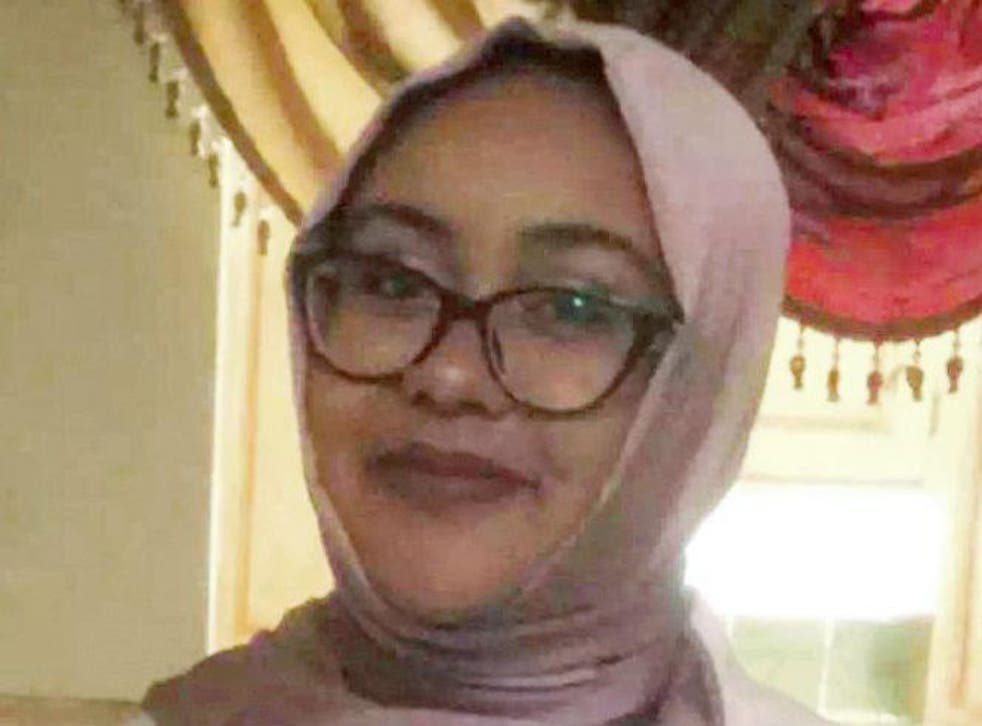 Police are investigating whether the Muslim teenager who was allegedly murdered on her way to a local mosque was also sexually assaulted, The Independent has confirmed.
Police say 17-year-old Nabra Hassanen was kidnapped and killed by a passing motorist in her home of Fairfax County, Virginia. The teenager's death sent shock waves through the local Muslim community, which was celebrating the holy month of Ramadan.
Now, police say they are looking into whether Ms Hassanen's abductor sexually assaulted her before her death.
"Part of our investigation is to determine whether the victim was sexually assaulted," a Fairfax County Police spokesperson told The Independent. That determination is pending the results of a medical examiner's evaluation.
The Daily Beast reported - citing two sources with knowledge of the probe - that police suspected Ms Hassanen may have been raped. The sources claimed that a pair of women's underwear had been found near Ms Hassanen's body, and that investigators had submitted vaginal swabs for testing.
The Fairfax County Police Department would not comment to The Independent about any items that may be submitted for evidence.
Asked if Ms Hassanen had been raped, Chief of Police for Administration Tom Ryan said at a press conference that there had been "two assaults" that night – one in Fairfax County, and one in neighbouring Loudoun County. He declined to elaborate on the nature of the attacks.
The suspect in Ms Hassanen's death, 22-year-old Darwin Martinez Torres, is currently in jail facing a single second-degree murder charge.
World news in pictures

Show all 50
Meanwhile, there has been a heated debate in the community as to whether her killing should be tried as a hate crime.
Ms Hassanen's father, Mohmoud Hassanen, told reporters he believes "100%" that his daughter was targeted for her religion. Hassanen was dressed in an abaya – a traditional robe worn by some Muslim women – at the time of her abduction.
Local police, however, told The Independent there was no indication that the murder was motivated by race or religion. Police have instead labelled the killing a "road rage incident".
"Nothing indicates that this was motivated by race or by religion," Fairfax County Police Spokeswoman Julie Parker said at a press conference. "It appears the suspect became so enraged over this traffic argument that it escalated into deadly violence."
Police say Mr Martinez encountered Ms Hassanen and a group of her friends heading back to their local mosque early Sunday morning. Mr Martinez allegedly began arguing with members of the group, particularly another young man on a bicycle.
The detectives say Mr Martinez followed the group with his car over a curb and into a McDonald's parking lot. The group scattered, at which point Mr Martinez allegedly grabbed Ms Hassanen and took her into his car.
Some of Hassanen's friends ran to a local mosque for help, setting off a police hunt for the missing teenager.
Police believe Mr Martinez drove his alleged victim to at least one other location before killing her. Autopsy reports reveal Hassanen was killed by blunt force trauma.
Police would later find her body in a pond in Loudoun County.
"A horrific tragedy such as this should never, ever happen in our community," Sharon Bulova, chairman of the Fairfax County Board of Supervisors, said on Monday. "...I am confident that justice will be served."
Register for free to continue reading
Registration is a free and easy way to support our truly independent journalism
By registering, you will also enjoy limited access to Premium articles, exclusive newsletters, commenting, and virtual events with our leading journalists
Already have an account? sign in
Join our new commenting forum
Join thought-provoking conversations, follow other Independent readers and see their replies