Naked student who got lost in woods for a month 'was on meth', say police
Bullock County Sheriff Raymond Rodgers says Lisa Theris 'was probably so under the influence on drugs that she stripped her clothes off. She was in a strange place'
Jeff Farrell
Friday 25 August 2017 08:30 Comments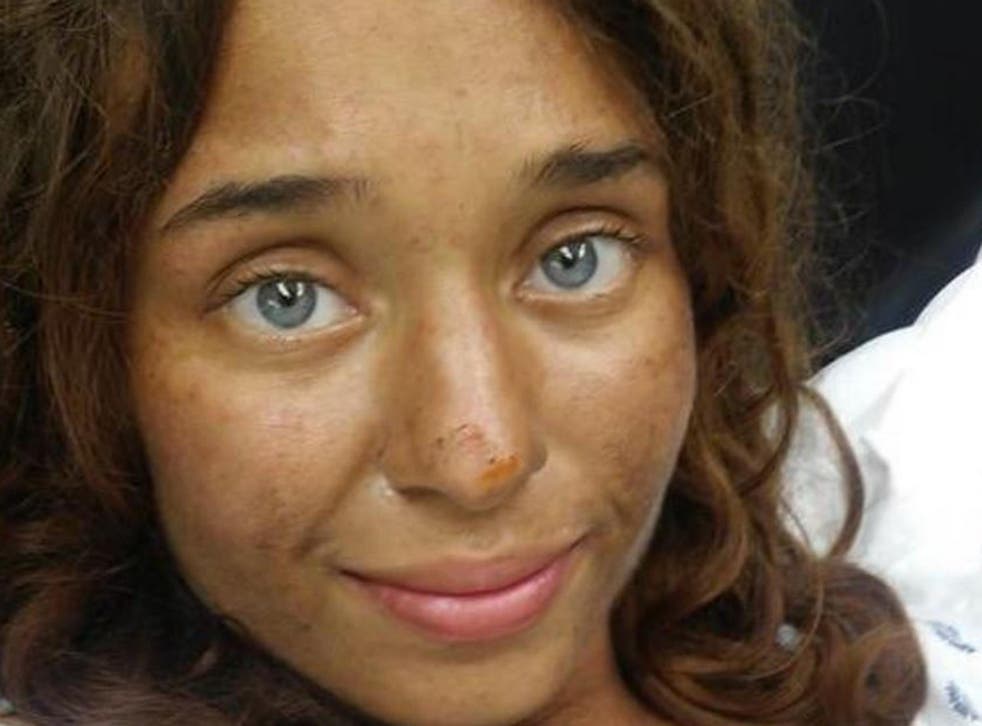 A student who wandered alone and naked in the wilderness for almost a month may have gotten lost and disorientated after she had taken methamphetamine, police suspect.
Lisa Theris lost 40 pounds after she hobbled around in circles in dense woods just a mile from the American highway where she was eventually found covered in mud and scratches.
Detectives meanwhile had been questioning Manly Davis, 31, and Randy Oswald, 36, after she went missing in Midland, Alabama - and the pair blamed each other for the 25-year-old's supposed murder.
Ms Theris was with the two men when they allegedly broke into a hunting lodge when she wandered into the woods that day on 19 July.
Mr Davis is said to have explained to the police that she jumped out of their truck as they tried to ram the metal entry gates and fled.
Mr Oswald is reported to have told detectives that Mr Davis had shot the girl in the head and threw her body into a creek.
Speaking after her resuce, Ms Theris said she survived in the woods by eating berries and mushrooms but has not revealed how she got lost.
It has since been revealed that she started taking drugs in the months before her disappearance.
World news in pictures

Show all 50
"We are thinking they were all pretty much on drugs," Bullock County Sheriff Raymond Rodgers told DailyMail.com. "Me personally, I think she was on meth, she was hallucinating and she just got lost in the woods.
"She was probably so under the influence on drugs that she stripped her clothes off. She was in a strange place, she came to, she didn't know where she was. I don't know how much drugs she took but I believe she was in there the whole time."
Ms Theris told NBC12 that she "just did what I could" to survive.
"I just knew that when I was thirsty, I had to drink, no matter if the water was dirty or what," she said. "I had to get as much of it as possible. Sometimes it would make me very sick."
She added: "I thank God for the berries. There were always pretty much berries."
Mr Oswald's father George, 56, criticised his son but doubted Ms Theris would have gotten lost in the forest for 25 days.
"I'm extremely p***ed with my son, he's embarrassed my name, he's stolen from my good friends and he's got a lot of questions to answer," he said. "But if she's a sweet little princess who got lost in the woods for all this time then I'm the f***ing Pope - it's just not possible."
Elizabeth Theris said her sister Lisa was unwell and unable to explain how she wandered around a patch of of forest for nearly a month despite being just a mile from a highway.
Elizabeth said: "I haven't pushed her too much on anything. It's upsetting to her that she can't remember what happened."
Sergeant Chad Faulkner, who led the investigation for the Bullock County Sheriff's Office, said he had no evidence to dispute Ms Theris' account of her disappearance.
"This is a unique story, we still need some answers but we are not gullible or stupid. We are simply going off all the evidence."
Mr Davis and Mr Oswald are being held in Bullock County Jail on $250,000 (£195,000) bond after being charged over the burglary.
However, police have not yet ruled out charges against Ms Theris.
Register for free to continue reading
Registration is a free and easy way to support our truly independent journalism
By registering, you will also enjoy limited access to Premium articles, exclusive newsletters, commenting, and virtual events with our leading journalists
Already have an account? sign in
Join our new commenting forum
Join thought-provoking conversations, follow other Independent readers and see their replies