Nasa rocket explosion: Antares 'hazardous materials' warning
'Souvenir hunters' warned to stay away from potentially dangerous debris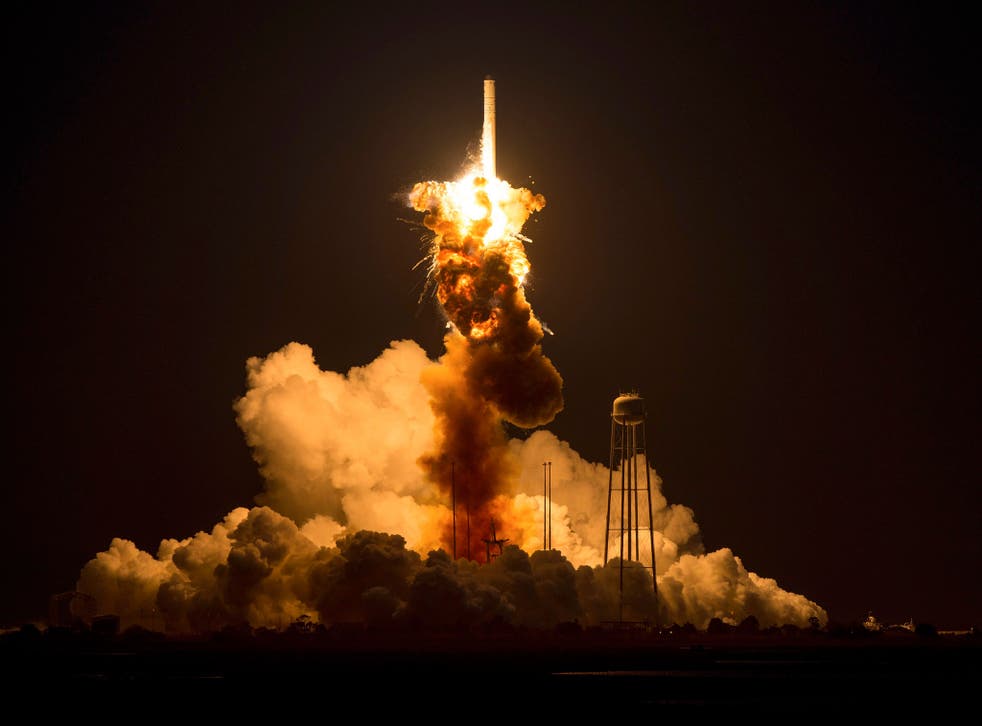 An unmanned rocket which exploded seconds after lift-off was carrying hazardous materials that could be dangerous to the public, experts have warned.
Footage released by Nasa showed the 14-storey supply ship, which blew up at a commercial launch pad in Virginia at around 6:20pm on Tuesday, transformed into a huge fireball and showering the surrounding area with debris.
Frank Culbertson, executive vice president of Orbital Sciences - which has been controversially contracted by Nasa to make deliveries to the International Space Station (ISS) - said that he wanted to 'warn the public' of the dangers of hunting for detritus at the site.
He told a news conference: "I do want to caution the public…This is an accident site and it is a rocket. It had a lot of hazardous equipment, hazardous materials on board, that people should not be looking for or wanting to collect souvenirs over."
Mr Culbertson added that anyone who finds anything should not touch it, keep others away from it and contact the local authorities.
No injuries were reported during the incident and the cause of the explosion is not yet known. Nasa mission control in Texas called it a "catastrophic anomaly" - while engineers said the countdown had gone "according to plan" and there were no apparent issues with the machinery.
Nasa spokesman Rob Navias also claimed none of its cargo was needed "urgently" by the six astronauts on the ISS, which orbits 260 miles above the earth.
The rocket was carrying a Cygnus spacecraft packed with nearly 5,000lb (2,200kg) of food, supplies and materials for space experiments - including a nitrogen tank to manage the ISS' air supply and some Maryland crab cakes for the space station crew.
The mission, known as CRS-3, was to be Orbital's fourth trip to the ISS. Cygnus had been due to remain in orbit until 2 November, when it would have flown itself to the station to allow astronauts to use a robotic crane to retrieve the capsule and its contents.
The rocket and cargo ship were valued at £123m, and were part of Orbital's £1.1bn contract with Nasa for a total of eight supply missions, following the retirement of the space agency's own space shuttles.
Join our new commenting forum
Join thought-provoking conversations, follow other Independent readers and see their replies